Memorial Day weekend! Any fun plans?? We are going to be with my parents all weekend and hopefully will enjoy the start of pool season- wahoo! I hope you have a fantastic weekend!
As always, come link up any funny/cute/top five laugh post. Please do not link up posts, that do not fall into these categories. If you like please grab my button, as well as helping me promote on social media sites. This is not mandatory though, just appreciated.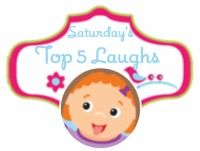 Now for my laughs:
5. Hayley has no clue of days. She thinks everything is tomorrow or yesterday. When someone asked her when she got back from Hawaii, she replies, "We got back yesterday."
4. Zane and his pacifier!! I accidently misplaced his pacifier on Tuesday and I lost the other one last week. I had all intents to go out to replace the one I lost last week, but never got around to it. Anyway, since we were down to zero pacifier, I tried my best to rock him and put him to sleep. He would not have it! He slept 1 hour that night and cried if I was not holding him. I think we are in a bit of trouble when we finally break him of that habit.
3.  Zane loves food! Although I have to be very careful with his food allergies, I try to make the best of it and try all different types of foods. This week was soybean butter and he squealed when he had it. The rest of the family hates it so we designated it Zane's jar.
2. Zane now blows kisses complete with the sound effect. It melts my heart!
1. I will admit that I am reading the Fifty Shades books. I am slighly enthralled with them. Anyway, Hayley asked me if I could read the book to her. I think not!!
Now your turn: