If you read my blog (which I am hope you do) and/or know me in person, you know that I lost 40 pounds 10 years back and have not gained a single pound back. Sure, I got pregnant twice but quickly lost the weight. One might ask how and I always say diet and exercise. I know you hear all the time to eat healthy and workout but truly this is the dynamic duo. While I am not the best eater (I have some bad days when I just snack on the kids leftovers), I do workout 3-4 days a week! It is not an option- working out is the only way to make me feel better physically and emotionally.
I do have a routine that I follow for working out depending on the time of the year. From September thru the end of May, I play doubles, as well as, singles tennis three times a week. Occasionally I will get on the treadmill during the off days, but my tennis is my sole source of exercise. Once indoor tennis ends, I switch up my routine and take a boot camp class 2-3 times a week which is held outside. Actually, I am just starting to gear up for my first boot camp class of the summer in 2 weeks times. I also supplement that with running outside, which I recently began to love. If it wasn't for exercise, I am not sure I would be the peppy girl that I am. Exercise gives me the energy to sustain my day with two small kids, along with being on my feet, as a dentist.
When I work out, I always make sure I am comfortable. Usually I wear a nice cotton pair of pants/shorts with a  breathable top. However, I am always on the hunt for good exercise clothes, as I am sure most of us are. Thankfully I got selected to review two awesome Russell Athletic workout outfits which I am so glad about because I truly did not know how comfortable these clothes are. I received the Full Coverage Performance Tank, Cotton Stretch Capri, DriPower 360 Round Neck T Shirt, and Semi-Fit Performance Capri. I can easily mix and match any of these 2 tops with the capri bottoms for different outfits. I have to admit while these are my new workout staples in terms of clothes, I have been wearing them around the house or even to do some grocery shopping. Some days my husband comes home and I am still in my "workout" clothes. If you have an outfit that looks good and feels great, why would I want to take it off?
Here is me in my first outfit that I tried on: The full performance tank and cotton stretch capri.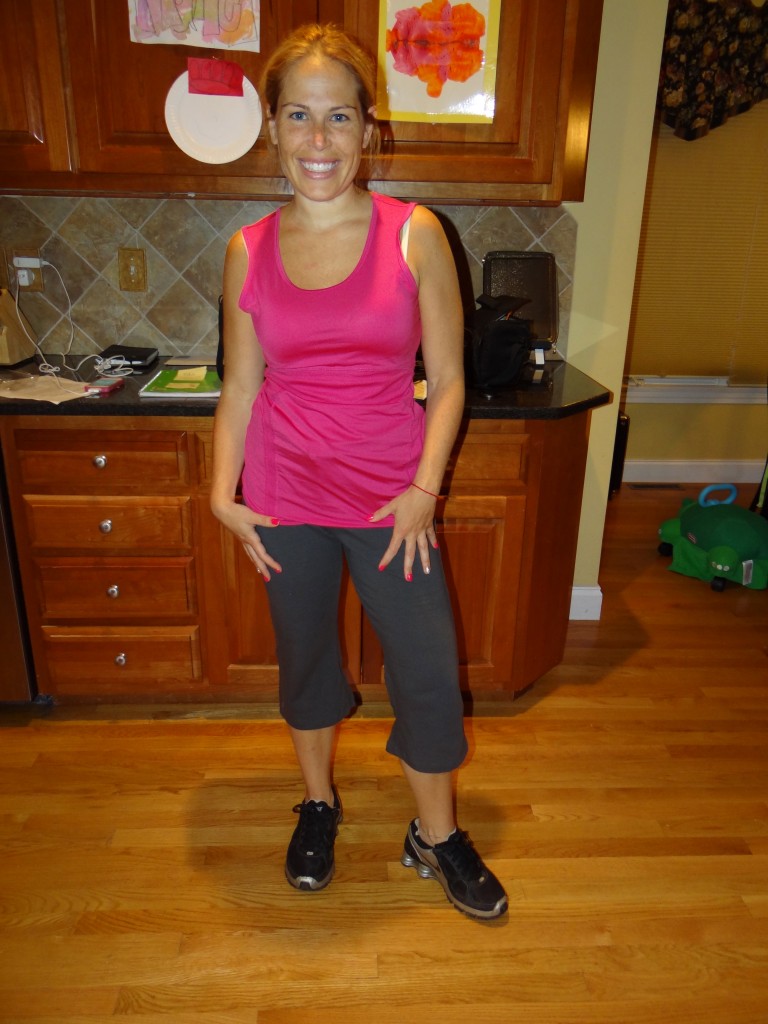 Can you totally see me going out anywhere in this outfit? Without tooting my own horn, I think it looks cute on and feels simply marvelous. Some features of the tank include Dri-Power moisture wicking fabric, front/back insets, three-needle overstitch inserts on body, two-needle topstitch binding on neck and armholes, two-needle hem bottom, logo outside back area, and 87 % Micro Polysester/ 13% Spandex. The lines on the shirt give great definition to anyone's body!  The cotton stretch capris I loved because of the drawstring type design which allows me to tighten up the pants to my liking. It is also the perfect lounging out pants. Some of the features include the rib waistband, two-needle hem leg bottom, two-needle overstitch waistband, outside flat twill drawcard, logo on lower right leg, and 60 % Cotton/40% Polyester.
Here is my second outfit I tried on: The Dri-power360  round-neck tee and semi fit performance capris.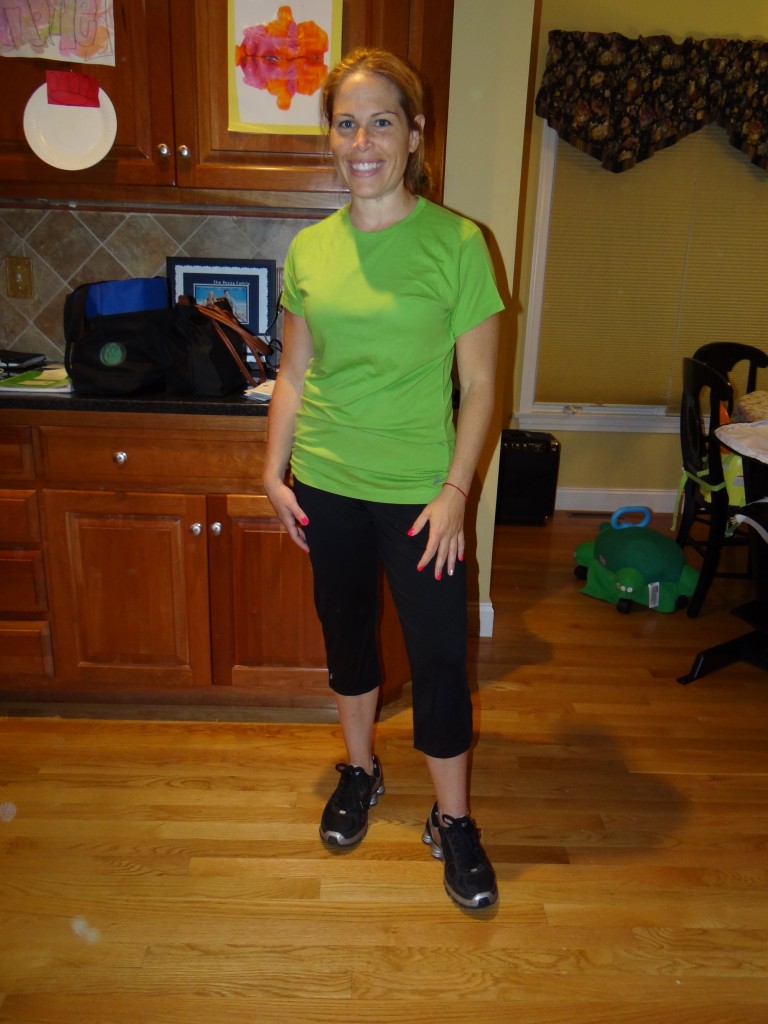 When I first received the top, I was slightly nervous because it looked long and I am a short girl at a whopping 5'2. However, when I put it on, I was ecstatic as it hid some of the trouble areas like my belly, while still letting me retain my figure. Anything that can do both of those, is a win in my books. Again, it features the Dri-power system to keep you comfortable all day long. Some features of the Dri-power 360 tee include Dri-Power moisture wicking fabric to keep you comfortable and dry all day long, single-needle topstitch collar, ribbed collar, two-needle hem bottom and sleeve, logo on lower left front, and 55% cotton/45% Rayan.
The semi-fit performance capris are made to keep you cool and dry all day long. I love the fact that these pants have back leg vents, and a back waistband zipper pocket. Seriously, how cool is! I can put my keys or my gym card in the back of pants in the zipper pocket and never have to worry where I put them. I think this is an ingenious idea. Some other features include the Dri-Power moisture wicking fabric, semi-fit, waist-yoke solids, three-needle hem leg bottom, back leg vents, back waistband zipper pocket, logo on lower right leg, and 90 % Polyester/ 10 % Spandex. The Dri-Power moisture system is fabulous as I hardly know that I am sweating. It keeps me cool and in the wicked hot summers we have here, this is a huge plus!
These outfits from Russell Athletic are fabulous, comfortable, fashionable, and very affordable. You can buy a complete outfit for under $50! I challenge you to find a good quality, brand-name workout set for under $50.  Check out Russell Athletic  for the full workout line!
*I wrote this review while participating in a campaign by Mom Central Consulting on behalf of Russell Athletics and received a product sample to facilitate my review. As always, all my opinions are my own and not swayed by outside sources.