I am so excited to present this next review because it is simply COOL! When I was flying home from vacation,  I opened up the SkyMall Magazine and saw these Mouth Man Hoodies in the first couple pages of the magazine. Hayley was looking at the magazine with me and said, " Mommy, look at that shirt- It is so cool!"  I couldn't agree more with her statement! Lucky for us, we were contacted three days later, to see if I wanted to do a review and then do a give away of one of these hoodies for my readers. I jumped at the chance because they are truly awesome!
So you might be asking what  Mouth Man Graphic Hoodie is? Mouth Man hoodies are patented, custom designed that are printed in full color shirts with sharp detailed graphics. They way they are designed is that there is a graphic on the sleeves of the shirt that would form a mouth that would open and close when you put your arms together. For example, we reviewed the Shark Graphic Hoodie and when Hayley crossed her arms, it looks exactly like the sharks mouth with teeth. It looks as if Hayley can come at you, and the shark on her shirt, would bite you. That is how amazing the graphic is! They are detailed, sharp, and amazing. Some of the other graphics that could be used on the shirts include raptors, T-Rex, Frog, Cobra, Gator, Tiger, Whale, XOXO (love), Skeleton, Drago, Dolphin, Sock Monkey, Bear, Triceratops, and Lady Bug.  They even have Simpson 20th Anniversary Shirts! These are just some of the child offerings for the graphics on the Mouth Man Graphic Hoodies. I know I looked at these shirts, and knew instantly that I wanted one for myself. Lucky for us, Mouth Man makes these graphic hooded shirts in adult sizes as well!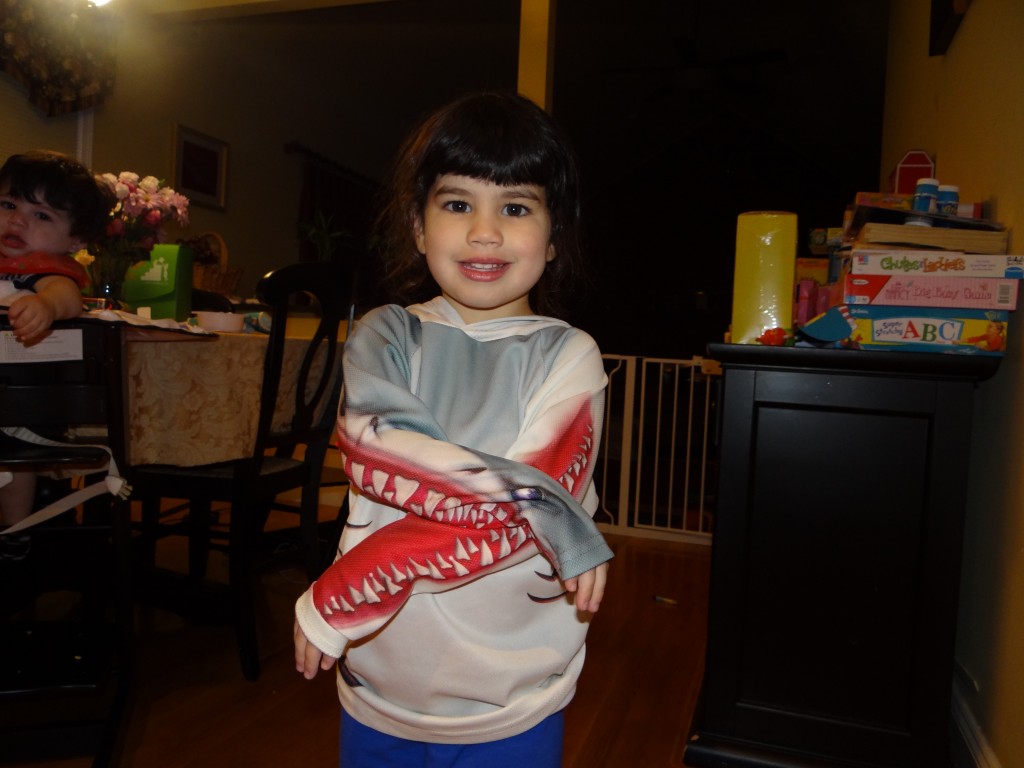 I love how these shirts instantly transform into animated animals, just by wearing the shirt. Hayley  loves to go around the house and say, "Daddy, look- I turned into a Shark." The excitement in my three year olds eyes is enthralling. I love the fact that although my three year old can wear it, these shirts span many ages. I can easily see a 12 year old, wearing the shirt to school. He would be such a cool dude! Best of all, the fabric is so soft and it is easily able to be washed.
While the concept of these Mouth Man Graphic Hoodies is fantastic , the story of how these shirts were created is even more amazing! Mouth Man was actually founded by Ross Valory, Original Member and Founder of the rock band Journey.
Some background:
The Concept……
One day, on a short break from touring, Ross was visiting friends in Arizona, sipping coffee and "just hanging out" … as his friend's kids were tearing around the house doing something they referred to as the "JAWS"… According to Ross, the kids were running through the house in a single line..arms crossed one over the other , elbows
splayed out in front, and opening and closing in a chopping fashion… and making monster noises.
He thought it was cute, and didnt think much else of it…..
until another day…  some 20 years later, when that very memory just arbitrarily "popped" into his head…
Ross "hugged himself" in the same fashion those kids did years ago, and thought…"hmmmm, it would be cool if
there was a shirt with a graphic on the sleeves that would form a face with a mouth that would open and close when
you put your arms together!"
That was the lightbulb moment for Ross Valory!
And the soon to be "Mouth Man" Enterprise was concieved.
He quickly called his friend and fellow Journey founding member Prairie Prince, an accomplished drummer who also
happened to be a world reknowned graphic artist!
Prairie's initial designs were remarkable custom airbrushed works of art…the concept-implemented perfectly.
In 2009 Mouth Man opened its first satellite office in Pacheco, California and in 2010 opened a state of the art printing facility in Benicia, CA. It is from this location that future dreams are unfolding as Mouth Man continues to surge into the exciting apparel industry-
These shirt are adorable  and fun! Why not let your kids have some fun with their wearing apparel? Plus, you can say that their clothes are designed by the founding members of Journey. These shirts are durable, eco-friendly, and exciting- what more can you need in a shirt.
Some additional information on the shirts:
·        Made in the USA in two California locations
·        Made of recycled fabric from plastic bottles
·        Fabric is UPF 50 so creates a great sunshield for kids at the pool or outdoor athletes
·        Moisture wicking fabric great for layering for year-round activities
Buy it: You can buy the children sizes of any of the Mouth Man Graphic Hoodie Shirts for $29.99. The adult sizes are priced at $39.99. Please check out Mouth Man if you are interested in purchasing any of their wonderful shirts. Mouth Man is also giving my readers a coupon code of 25 % off entire orders with the coupon code "kidstuff". This is valid until July 1st so hurry to receive yours!

Win it: One winner will receive their choice of a Mouth Man Graphic Hoodie Shirt in their choice of style and color. This giveaway is run via rafflecopter so please click continue reading to see the actual giveaway to enter. The only mandatory entry is to tell me which graphic you would like in the comment section proceeding the post. While the other entries are optional, I highly recommend to fill them out to increase your chances of wining. US only. Good Luck!

a Rafflecopter giveaway

*Thanks to the PR firm for supplying me a Mouth Man Graphic Shirt for reviewing purposes. As always, all my opinions are my own and not swayed by outside sources.