When you have young kids, you always seem to buy their toys from a few trusted names. I know for me, and I am sure for you, one of those trusted names is Little Tikes. Little Tikes is a household name for children that makes truly durable, great, and exciting toys. Pretty much anytime I have to purchase a gift for one of Hayley or Zane's friends, I turn to Little Tikes. I know they would not steer me wrong as we have a ton of their toys currently in our household, and I have only had the greatest compliments on their products.
When we recently had the chance to test the new Little Tikes Pillow Racer, I was so excited. Originally, I thought Zane would be the one using the toy, as the ages are 18 months- 3 years. However, when the UPS delivered the Little Tikes box, and my husband opened it, Hayley instantly claimed the Little Tikes pillow racer hers! While she is above the upper end of the age limit, I can assure you that even a 4 or 5 year old would have fun on this ride-on toy. The weight limit goes up to an outstanding 50 pounds so if you have a smaller 3, 4, or 5 year old- they will thoroughly enjoy this toy!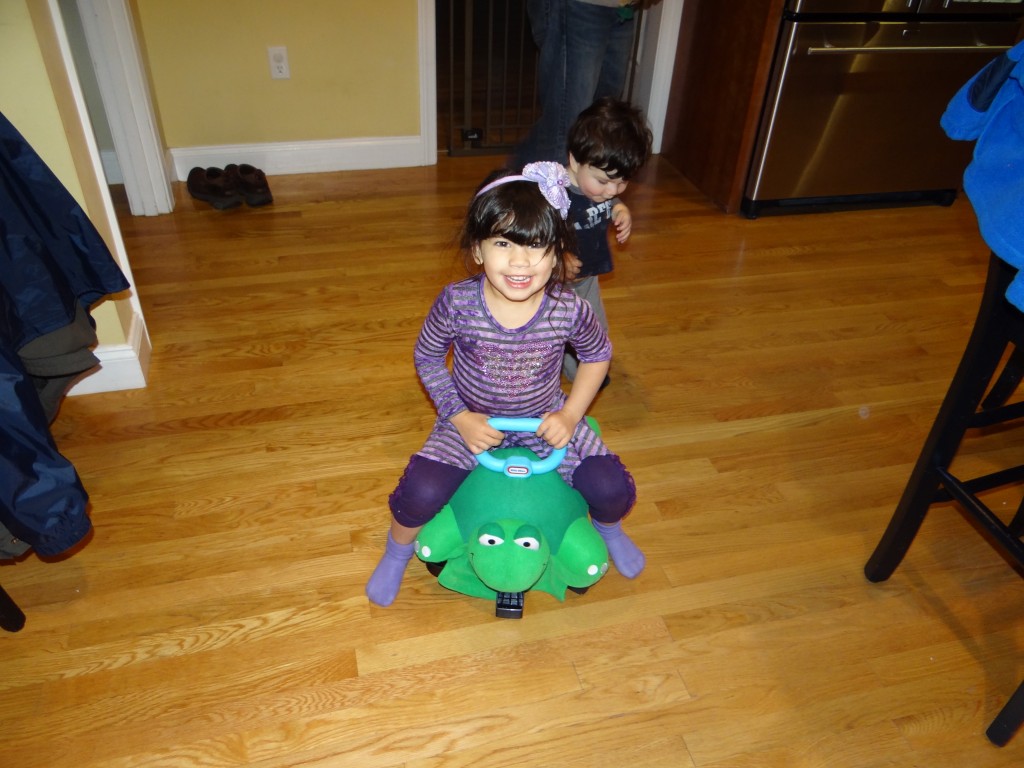 So, you must asking what exactly is a Little Tikes Pillow Racer? It is basically a ride-on toy, stuffed animal, and a comfortable pillow all wrapped in one excellent product! One can easily ride on it, sit on it or lay on it of fun. These pillow racers are available in the Turtle, Dino, and Lady Bug characters. When we first received our turtle pillow racer, assembly was a real cinch. All we needed to do was attach the wheels and secure the handlebar and we were all set to go. It took all of five minutes to get it attached. While we can alternatively remove the wheels, and use it as a pillow, in my household, this has not been done yet. Once we put on the wheels on, Hayley was zooming all around the house. She had no interest to take off the wheels, however, I did try and it was very easy to do. I didn't need any help from my husband to do this and as most of you know, I am not a handy girl! He helps with installation of everything in my household. With the pillow racer, I can take off and put on the wheels solo. I love toys like this!
This soft character toy is perfect for racing around! The pillow racer has four caster wheels that readily allows the character to turn in any which direction and the easy to grip handlebars make little ones readily hang on for an exciting ride. This new ride-on toy is sure to be a great time had by all in your household. Best of all- if anything happens and it gets dirty, you can easily throw it in the washing machine and it will be brand new.
Some additional features about the Little Tike Pillow Racer:
• No hardware required for assembly!
   • Soft, cushion body
• Turtle cover easily removes from the base for cuddling or washing
• Caster wheels allow for easy, quick turns
• Easy grip handle
• Maximum number of kids: 1
• Maximum weight limit up to 50lbs.
• Pillow is hand wash only
I have nothing but great compliments about this Little Tikes Pillow Racer. The kids had a blast using it and I love the fact that they could get exercise at the same time! I can assure you, that you can not go wrong by purchasing the Little Tikes Pillow Racer. It is truly a great invention! My only small suggestion is to start your kids out on a carpeted area first. Hayley is older so she had no problems controlling the speed, however, if your kids are younger, they might not have the coordination to control the speed. This ride-on does go fast on hardwood floors, so I would probably advice to practice on carpet first. Once they get the hang of it, they will excel on the hardwood floors.
Buy it: Little Tikes products can be bought at Amazon, Babies R' Us, Toys R' Us, Target, and many fine retailers across the country. You can also buy the Little Tikes Pillow Racer directly from Little Tikes for $39.99
Win it: One winner will receive their own Little Tikes Pillow Racer. This giveaway is run via rafflecopter so click continue reading to see the actual giveaway. The only mandatory entry is to tell me what other Little Tikes products you presently own or would like to own. While the other entries are optional, I highly suggest you fill them out to increase your chances of winning. US only. Good luck!
* Thanks to Little Tikes for providing me the Pillow Racer to review. As always all my opinions are my own and not swayed by outside sources.