I have to admit, I am more than thrilled to be working with Britax. Before I even started my blog, I LOVED Britax. We currently own two convertible Britax carseats that we bought due to the high safety ratings and on the recommendations of the employees of Babies R'US, as well as, friends' recommendations. I have never been more happy with these car seats. Zane's Britax convertible car seat is backward facing till he turns 2 and Hayley is enjoying her car seat. While I am in no rush to change her to a booster in my car, I was looking for a seat for her to use in our babysitter's car for the days that she drives her to school. I needed a booster seat that could be used in harness mode due her age/weight. Thankfully, Britax sent us the Britax Frontier 85 car seat, and I have to say, that Britax did it again with developing an ingenious booster car seat!
The Britax Frontier 85 is the highest capacity booster seat on the market today. Britax redesigned the Frontier 85 so it now can hold even greater weights with higher age limits. In the harness mode, children must be two years of age and weigh between 25-85 lbs (11.4-38.6 kg) and stand 30-57 in. (76.2-144.8 cm) in height. To be sure that your child should be in harness mode, their top of their ears must be below the top of the head restraint when seated and the harness straps must be located at or above the child's shoulder when seated. For the booster mode, the child must be at least 40- 120 lbs (18.2-54.5 kg) and stand 42-65 inc. (106.7-165.1 cm) in height. For the harness mode, the top of the child's ears must be below the top of the head restraint and the vehicle belt must be appropriately positioned at or above the child's shoulder through the shoulder belt guide. Britax recommends booster mode only be used after the child outgrows harness mode. It is also recommended through the American Academy of Pediatrics, that the longer the child remains in a booster, the safer they are.
When we first received the box, I was nervous because my husband was out of town and I needed to put it together myself- this is a first for me! Of course, we will only be using Hayley in the five point harness mode so I simply read the detailed instructions that Britax included to put it together. It was SO EASY to put together. You can readily install the Frontier 85 via a latch system or with a belt buckle. We have the latch system but if you have the belt system, they have offered two different path options depending on the length of the belt buckle, for easy access and installation. Britax, however recommends only the vehicle's lap and shoulder belt system when restraining a child in booster mode. They also recommend if you use the long belt path, that  you never use with a latch or a lap belt.    Prior to doing this, I had Hayley sit in the car seat to make sure all the harness adjustments were made. The Britax Frontier 85 has very similar adjustments to the two Britax convertible car seats we own. To loosen the harness, there is a lever between the area where your child's legs will be. You simply release the lever and pull the harness straps together. You then lift and slide the harness height adjuster into the desired position, and release. Ensure the adjuster is seated securely between the notches and you are set to go.  I did take me one or two times when I first got my convertible car seat to make sure I was doing it correctly. However, after a few times, I became a pro and had zero problems with the Frontier 85.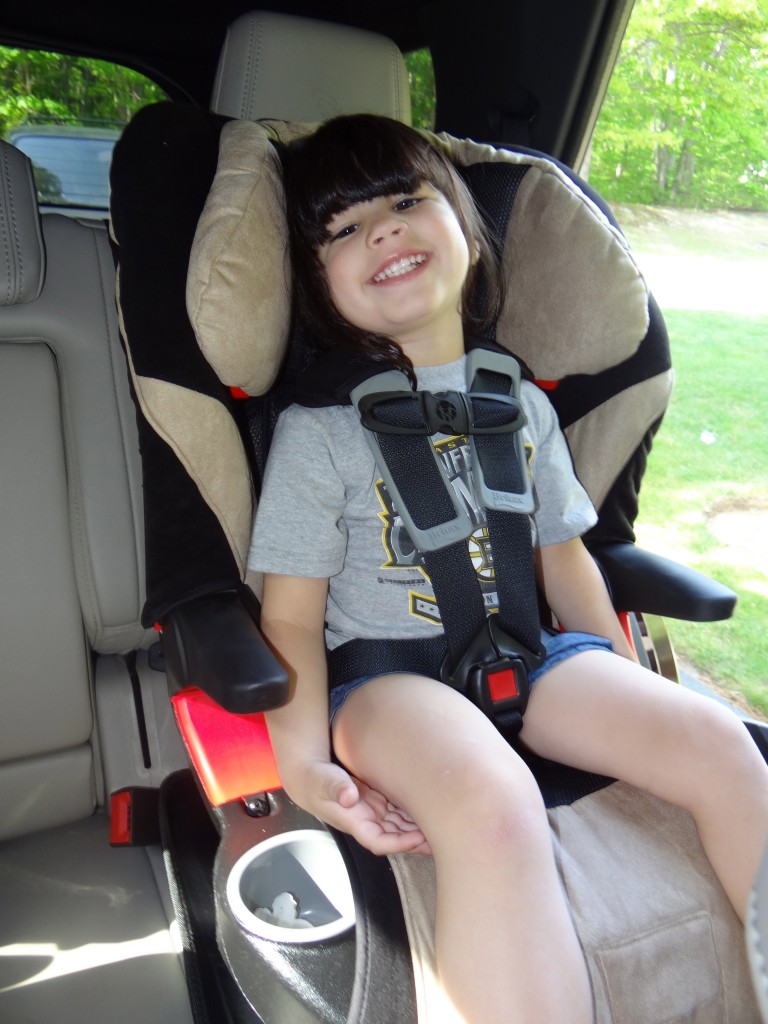 The buckle positioners were very easy to adjust, as well as the chest clips that are on the Frontier 85. These chest clips are the same ones used on the regular convertible Britax car seats. For some reason, when I thought about the booster, I didn't imagine having the same chest clips that are used in our other cars. I love these chest clips as they are easy for Hayley to close but difficult enough that she can never open the clips without my help. I have seen other car seats where kids have found a way to open up the chest clips- not the way with any of the Britax car seats!
In terms of safety, Britax, according to Consumer Safety, rates #1. The Britax Frontier incorporates many safety breakthrough technology including  True Side Impact Protection, Versa-Tether,  HUGS, and more. Besides being my #1 choice, I also love the extra features that are seen with the Britax Frontier 85. In addition to the comfy and very plush seats, they have added built in cup-holders which are not seen with their other convertible carseats. I love the fact on long rides, she could take a drink with her without the thought of it spilling all over our nice car. Hayley also loves to rest her arms on the arm rests. It makes her feel like a big girl!
I give the  Britax Frontier 85 an A +. I loved Britax to begin with, but when testing this car seat my love for the company doubled. I know there are cheaper boosters on the market, but truly none that have all the features and safety rating of the Britax Frontier 85. Look no further than Britax for all your booster needs!
Buy it: You can the Britax Frontier 85 can be bought at Amazon, Babies R' Us, Buy Buy Baby, Diapers.com, and many other retails where Britax products are sold. They retail for $299.
Win it: One winner will receive their very own Britax Frontier 85. This giveaway is run via rafflecopter so click continue reading to see the actual giveaway. The only mandatory entry is to visit Britax and tell me what your favorite product is, in the comment section proceeding this post. While the other entries are optional, I highly suggest you fill them out to increase your chances of winning. US and Canada. Good Luck!

a Rafflecopter giveaway

*Thanks to the PR firm representing Britax for supplying me with a Britax Frontier 85 to review. As always, all my opinions are my own and not swayed by outside sources.