A good blanket is very hard to come by these days. Yes, many blankets claim to be soft and cuddly… Yes, many blankets claim to keep your kids warm… Yes, many blankets claim to terrific. However, in all my experiences with baby blankets, I have never found one truly as fantastic as Minky Couture blankets. Truth be told that while these are supposed to be  kids blankets, I have stolen my sons and use it to sleep with nightly. Shhh.. don't tell!  The Minky Couture blankets are truly the top of the line!
Minky Couture offers the irresistible softness and luxury of an incredible blanket. I am not saying that it is just soft- it is way beyond that. When I use it, I melt away in my dreams and rest comfortably all night long. Hayley loves her minky blanket so much that she has to use it whenever we take her stroller. She wraps it around her and stays warm/comfortable through all various temperatures that us Rhode Islanders have! Zane uses his (that is when I am not stealing it) to roll around with and it has become his lovey. I think he realizes how awesome this blanket is, because he gives me the biggest smile when he is on it.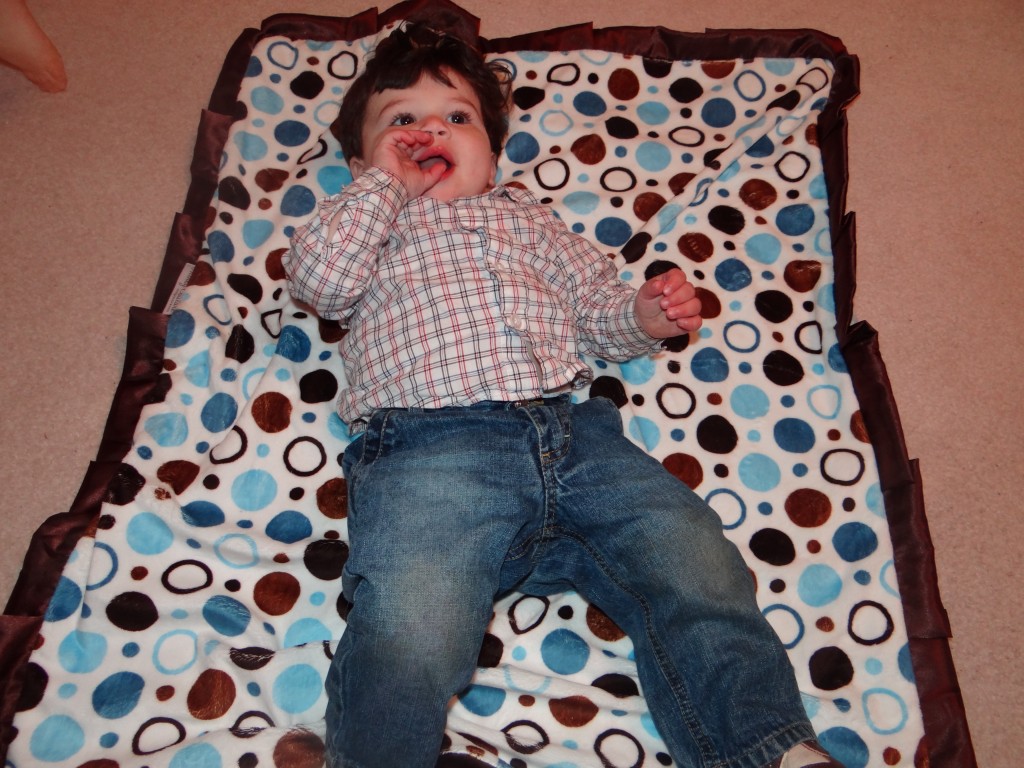 At their online store, you can find many blankets including designer, satin blankets, kids/baby blankets, seasonal blankets, home decor prints, mothers day selections, and much more. In doing my search for kids/baby blankets, I saw almost any design that I could ever dream of. Here are some samples that you could buy:
While I LOVE all the selections available, the best part of Minky Couture is you can customize your own blanket. Simply, select a print, a solid, and a color- and you can develop your own Minky Couture Blanket for your kids.  While they do sell a lot of baby blankets, you can also buy a big Minky Couture blanket for yourself. I can tell you that this is my next step as Zane is starting to really get attached to his blanket. The sizes include:
   Mini (10″ x 18″) – $20.00
   Infant (36″ x 30″) – $65.00
   Tween (36″ x 50″) – $85.00
   Adult (50″ x 60″) – $125.00
   Monster (60″ x 72″) – $145.00

You can also get the blanket embroidered for an additional $15.00 for up to 10 characters.
These blankets are most definitely my favorite baby blankets. If you are looking for the perfect baby gift, you really shouldn't look any further than Minky Couture. These are some other gift ideas that will incorporate the wonderful Minky Blankets. I know I am raving so much about these blankets, but they are truly spectacular!! LOVE is the word to describe my obsession with these blankets.
Special Occasions

Baby Shower – Welcome a new baby into the world with a cuddly baby minky blanket. You can choose a premade baby minky blanket from our online store or custom design one of your own.
Birthday party – Whether your friend or loved one is turning 6 or 60, you can help them celebrate another year with a luxurious minky blanket.
Graduation – Reward years of studying with a monster minky blanket. Your graduate can take their new blanket to college, trade school, or anywhere their road takes them.
Christmas – Bring Christmas cheer by warming up your friend, child, or spouse with a warm and cozy minky blanket.
Hanukkah – Celebrate the festival of lights with a comfy minky blanket of any size. Regardless of which day you gift the blanket, you will be sure to excite the person who receives it.
Wedding – Give your newlyweds quality snuggle time with one of our minky blankets. They can keep the minky on their bed for decoration and then wrap up in it for a relaxing romantic evening.
New home buyers – Help new home buyers decorate their new home with a minky blanket they can put over their couch, on their bed, on a dresser, or in any other part of their new home.
Retirement gift– Help your parent, grandparent, boss or coworker relax after years of hard work with a soft minky blanket. Retirement is a reason to celebrate and they've certainly earned the gentle comfort our minky blankets provide.
Buy it: You can buy Minky Couture Blankets online at their website. Prices range from $20-$145.
Win it: One winner will receive their own blanket, valued at $65. This giveaway is run via rafflecopter so click read more to see the actual giveaway. The only mandatory entry is to tell me who you would use the Minky Blanket for (note this is a kids sized blanket) in the comment section proceeding this post. While other entries are optional, I highly suggest filling them out to increase your chances of winning. Good Luck!!
*Thanks to the PR firm for supplying me blankets to review. As always, all my opinions are my own and not swayed by outside sources.