I have to admit, I am not a great cook but I am a great baker- I am not sure how I have limited cooking abilities but have some great baking skills but it is true. I love baking! Whenever someone has a cook out or a party, I am always in charge of desserts. I love creating recipes using real ingredients as opposed to taking the easy route and buying the deserts. Not only is it fun to bake, but it is a learning process for me. Each time I bake, I come up with new ideas where I can make my desserts even better!
One of the main components of my deserts, is incorporating the ever famous McCormick products into my recipe repertoire. I use McCormick products for basically every meal that I make and I have to say, that I might actually own all of the McCormick spices on the market. It is true- every time I pass the spices aisle, another McCormick product gets added to my basket. Lucky for me, I was able to review some of the main McCormick spices including pure vanilla, ground nutmeg, ground ginger, ground cinnamon, pure lemon extract, and assorted food dyes. I have been using all of these spices for some time now but I wanted to use some of them to create a great recipe for my sons birthday party.
The first place I stop to find the greatest recipes is the McCormick Look Book.  I found so many fantastic recipes here but I wanted to try out the Easy Lemon Mousse. I am a big fan of any type of lemon deserts and knew my friends would love it to, so I figured I would give it a try!  For this recipe, I needed the McCormick Pure Vanilla Extract, as well as the McCormick Pure Lemon Extract.
The recipe is:
4 ounces (1/2 package) cream cheese, softened
1/2 cup sugar, divided
1 1/2 cups heavy cream
3 tablespoons lemon juice
1 teaspoon McCormick® Pure Lemon Extract
1 teaspoon McCormick® Pure Vanilla Extract
Directions:
 1. Beat cream cheese and 1/4 cup of the sugar in large bowl until smooth and creamy.
2. Beat heavy cream, remaining 1/4 cup sugar, lemon juice and extracts in large bowl with electric mixer on medium speed until stiff peaks form. Add 1/2 of the whipped cream mixture to cream cheese mixture; stir until well blended. Gently stir in remaining whipped cream mixture. Cover.
3. Refrigerate until ready to serve. Spoon or pipe into dessert dishes to serve. Garnish with lemon slices, fresh berries and mint leaves, if desired.
I have to say, that my Easy Lemon Mousse came out divine! Here are some pictures of how it looks. Doesn't it look great!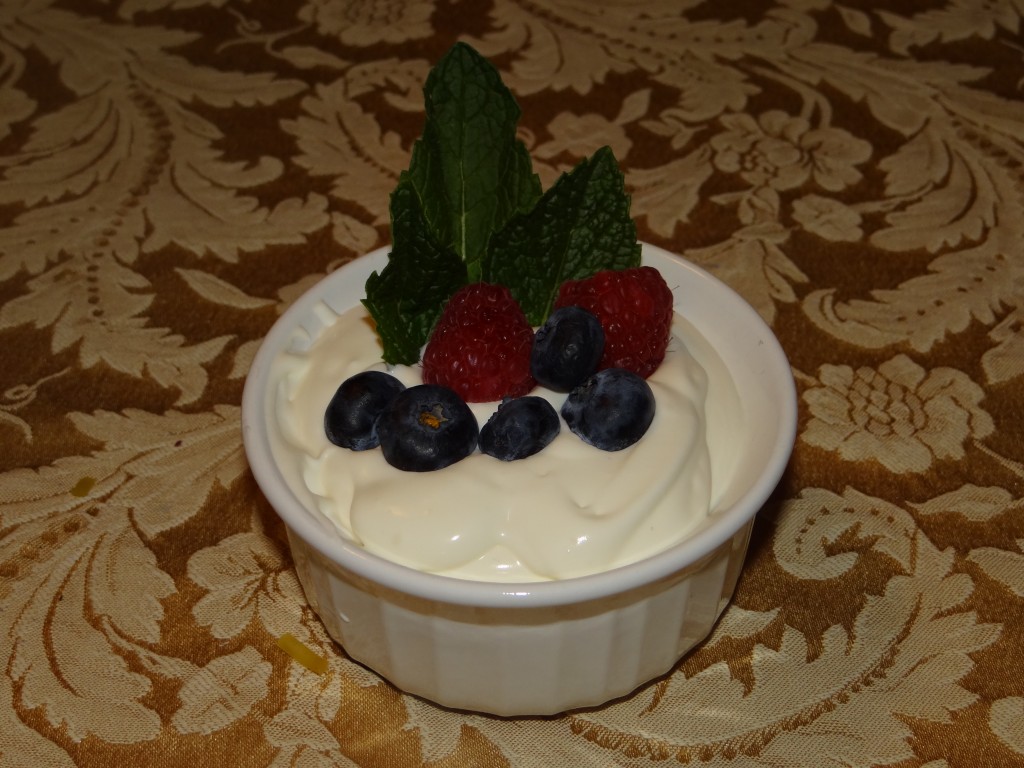 I am going to plan to use the McCormick Look Book from now on for my cooking needs. The McCormick Look Book gave me so many wonderful ideas such as Lemon Rosemary Chicken, Montreal Peppered Steak, Summertime Slaw, Vanilla Fruit Salad, Onion Baked Chicken, Shrimp Scampi, and so much more!  I can find basically any recipe for any type of meal on there. I just do a keyword search and voila… the recipe shows up and tells me which of my McCormick spices I can use! So easy.. So quick.. So good!
*I participated in a campaign on behalf of Mom Central Consulting for McCormick. I received product samples and a promotional item to thank me for participating