Sorry, I was a few minutes late getting this post up. I was relaxing with a nice, and very needed, manicure and pedicure. I hope you all have a fantastic weekend!
This is a blog hop only for cute, funny, or top five laughs. Please do not put your link in, if it doesn't classify as one of these, as it is not fair to the others, who come here to laugh! Also, feel free to grab my button and share my hop through social media sites. It is not required at all. The only thing I want for everyone to take away from this hop, is to laugh!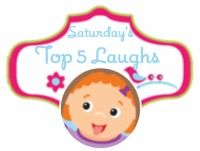 My Top Five Laughs:
5. On Tuesday, I ended up washing the clothes and realizing I forgot detergent. Mommy brain to the finest. Wouldn't you know, that Wednesday, I did the same exact thing!
4. Zane wanted so badly to taste our sushi when we were eating it. So, I gave him the smallest taste of eel and he loved it! I didn't want to give him a lot because I am not sure too much eel is good for a 11 month old. Tell me another 11 month old who loves eel! Crazy Zane!
3. Hayley came home yesterday and I quote her directly, "I have Beiber fever." What???
2. I was not sure if I felt comfortable sharing this one but we are all adults here, right:) My husband and I were having a little "quiet" time mid afternoon, when we thought the kids were napping. All of a sudden, Hayley proceeds into our room without saying a word. She taps my husband on his back, and says, " What you guys doing?" I was completely mortified. I hope she doesn't ever remember this!
1. This is my favorite laugh of this week. I was downstairs playing with Hayley's American Doll girls, itty bitty babies. I was staring at them so intensely all the while thinking to myself, that they resemble a certain two I know. These itty babies were brought when Hayley was 10 months old. Can you see that they look like my kids? How hysterical!!
Click read more to see the hop.