How was everyone's week? This coming week is going to be busy for me because I am planning little Zane's first birthday party. He is turning 1 in 7 days- crazy!!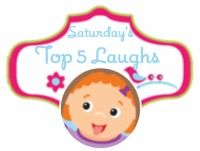 Anyway, I am looking forward to reading your laughs. As always, please only link up, if you have a cute/funny/top five laugh post. Also, feel free to help me share this hop via social media sites. If you would like to take my button, feel free to but this is not required.
Top 5 laughs:
5. Zane has this habit of waking up in the middle of the night the last few days. It happens around midnight where he becomes hysterical. I go in and when he sees me, he gives me the greatest smile. Then I have to pick him up, because he is too darn cute! I have to admit, I love snuggling with him even at that hour. I know- I need to stop!
4. Hayley is telling everyone that her brothers birthday is next week. Since Elmo is coming to the party, Hayley is gearing up what she wants to ask Elmo when she sees him. Every night, she makes me right down another question to ask Elmo at Zane's birthday party. Too bad, Elmo is not allowed to talk at the party,lol.
3. Zane has a funny habit of throwing everything out of the crib. He will wait till we all leave the room and throw his pacifiers and books, out of his crib. After he realizes he can't reach it, he cries. I go in and put everything back. Just when I am leaving, he starts to throw everything out again. It is his little game.
2. Hayley told me this week, that the color of my shirt didn't look good on me. Fashion advice from a three year old!
1.  We found out this week that Zane has some pretty severe allergies (more to come on that in another post). Anyway, we told Hayley that we can't let Zane ever have any of her foods since some of his allergies will make him very sick. We said it so many times that she turns to him and says, "Zane, I will make sure you never get sick because I love you." Melts my heart!!
Now your turn: