So, before I begin and I am dedicating this post to my son, Zane, who turns 1 tomorrow, March 31!!  Happy Birthday Baby Boy!  Mommy/Daddy/Hayley LOVE you with all our hearts and hope you have a fantastic birthday weekend! If you haven't checked out my Wordless Wednesday with all his monthly shots, please do- They will make you smile:)
As usual, I would love for you to link up your funny/cute/top five laughs. I promise I will get to reading all your laughs- it just might take me to the end of the weekend but I will do it!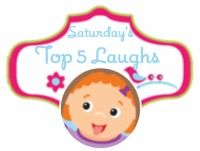 My Top Five Laughs:
Here are my laughs. It is more cuteness than laughs since it is all centered around Zane.
5. Zane is officially in size 2 clothes. Yes, he is turning 1 tomorrow, but he is wearing size 2. He is my chubbette- a cute chubbette though!
4. The kid loves his food. His favorite at this moment is chicken. He tries to grab the whole chicken drumstick and put it in his mouth. He really is so funny when hunger strikes.
3. Every morning, I hear Zane say, "Mama" "Mama". I can hear that all day long in his cute baby voice.
2. He is infatuated with Elmo. Elmo is going to be making a special appearance at his birthday party on Sunday. I can't wait to see how excited he is going to be. If he hears Elmo's voice, he is giddy!
1. 3 days before his first birthday, he took his first 3 steps. He isn't walking yet, but this is the start to something great.
HAPPY BIRTHDAY ZANE! Now your turn.