I hope you all had a great week! Of course, Zane is sick again, so I am hoping he feels better soon. I have no idea how he gets sick so much, as he mostly at home. I just want my little man to be happy again soon.
Anyway, I can't wait to read your laughs. I hope you enjoy my laughs as well! If you would help me promote this blog hop on twitter/fb/google plus, that would be appreciated. It is such a cute hop, so would love to get as many people as we could to participate. I personally go through every single one and you all make me crack up weekly. Truly a great way to start the weekend! There is only one rule and that is to not link up any post that is not a top 5 laugh, cute, or funny post. It wouldn't be fair to those who participate to read these posts.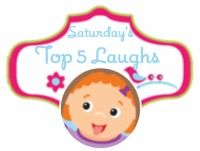 My top 5 laughs:
5. This is not so much funny as it is cute. Zane, at the age of 10 months, wants nothing to do with cuddling with me anymore. He just wants to crawl around and be active. This morning he had a very high fever and he just sat with me on the rocking chair and fell asleep. I waited about 20 minutes to try to transport him to his crib. He was not having it. He just wanted to sleep with me. We slept that way for over 2 hours and there was really nothing better than having my sweet baby boy really need me. I just loved the cuddles.
4. Zane has a tendency to pull Hayley's hair. Hayley is getting to the point where she doesn't think it is cute anymore. The other day when Zane was doing it, Hayley turns to me and says, "Mommy, you better put him in time out because he doesn't listen well."
3. As most of you saw my earlier sleep post from the week, I need sleep, you know that I have not been sleeping much this week. I recently told Hayley to say "aboogawaga" if she gets scared in the middle of the night. So, at 2 am last night, she says, "Aboogawaga." Next things she says, "Mommy, I said the word. I think you need to come here and say it for it work." LOL!
2. I am not sure if I told most of you Zane's 9 month stats but he was 80 percent in weight and 30 percent in height. Enough said!
1. Last night we took Hayley to Mary Poppins, which was fantastic! During intermission, she tells me "Mommy, can we invite Mary over tomorrow. She is just too cool." I told her Mary was busy performing in another show tomorrow night and she says, "That's Okay, we will invite her over next week!"