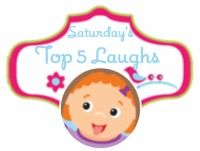 This week has been a tough one for me so I am really looking forward to doing some laughing this weekend by reading your posts. As most of you know I am a kid's dentist and this week we are beginning the transition to a completely paperless office. This system is going live on Monday and we will no longer have paper charts. I am stressed out and worried that I will not do it right, but I'm sure once I get the hang of it all will be well. It is a big change for me! I also am dealing with a very sick boy who had a 104 fever yesterday and has a double ear infection. He was fine until Thursday night – we even went to two playdates on Thursday. Then, out of the blue, he gets a terrible fever. It is so very hard when they are sick!
On an unrelated note, I am also extremely busy on my blog which I am grateful for!! I am almost at the 1,000 follower mark which is amazing! I am thankful to each and everyone of you for supporting my blog. More important than the numbers though, is the amazing "friends" and blogs I have came to love. My husband laughs at me because I really love going through my google reader and commenting on all the wonderful blogs out there. It is really amazing to connect with so many bloggers. I had no idea this world even existing before July 31, 2011. I hope you enjoy reading my blog too!
As usual, I have some winners to announce all chosen via random.org. The winner of my 5 pack Kingston DVR pack was Heather. The winner of my Rowdy Sprouts giveaway was Maria. The winner of the Belle Baby Carrier was Sara. You will all be notified about your winnings and Congrats!! I have many other giveaways on my side bar and many more to come! Come enter! The more people that enter my contests, the more new giveaways I will be able to bring to all my faithful readers. I have 1-2 more each week leading to Christmas, so stay tuned!
Now onto the real reason you are here: my Saturday laughs! I love reading all your laughs so if you have a have a top five laugh post or funny post, please link up! Please do not link up if you do not have a funny post, as it makes it unfair for this kind of hop. My link up is directly below and my cute button is on the top.
My Top Five Laughs:
5. Hayley slept on a big girl bed at my parent's last weekend. The crib needed to be used by Zane so Hayley got the bed. I threatened her with the evil stare not to get out of the bed. So, at 4 AM, I hear her call, "Daddy, come here. I dropped my pillow." Daddy asked her why she didn't just pick it up and she said, "Mommy told me to never get out of the bed." I guess she really listens.
4. Zane is a crawling machine now. The other day he went to grab Hayley's toy. Hayley is new to the whole "sharing her toys with her brother" thing. She goes up to him and says, "Zane if you want to use it, just ask me- please do not just take it." I wonder where she gets that from.
3. This one is non-kid related but funny. My husband was putting up the bed rails for Hayley's bed in my parent's house. I go in after an hour and I see him and my dad, struggling to put up the bed rails. For the life of me, I don't understand how it takes 90 minutes to do this. He rebuts and says, "You try." That was enough for me to back off.
2. Most of you know that Hayley is obsessed with princesses. We told her that we are going to the new Disney resort in Hawaii in a few months. She now says all the time to her friends, "I am going to see where Mickey and Minnie are from. I will tell them you say Hi." Her friends then ask me if they can come see where Mickey and Minnie live. Sure, I can take everyone to Hawaii- no problem!
1. The last one is just sweet. Since Zane has been really sick, Hayley has taken on the role of caretaker. I find her today telling Zane, "I am going to make you feel better." I then see her proceed to the freezer to whip out the frozen teething ring. It is the thought that counts.