Yah for another weekend! My parents are here this weekend so it should be fun. Today, I enjoyed a spa outing with my mom. I need to do that more often. Mommy needs a break sometimes!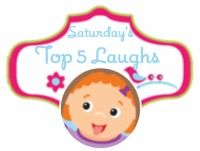 Before I begin my post, I want to announce the winner of the adorable bib/burp cloth giveaway. The winner according to random.org is #56 – Nykki. Congratulations! I will email you shortly. Don't forget I have three other wonderful giveaways going on for the fabulous PlasmaCar, adorable Rowdy Sprouts vintage kids clothes as seen on celebrities, and a 5 pack of flash drives for one lucky winner. Click the side links to enter all the contests.
This is a blog hop so please feel free to write your own Saturday top five laugh post or link up any funny post you have written in the past. The weekends are always a great time to enjoy and what better way than to read funny things that others write. Join the blog hop right after my top five laughs.
Now for my top five laughs:
5. Hayley is really big into playing games with me lately and she always manages to win. Yesterday we were playing a game called Zingo and Hayley giggles at me and says, "Mommy, are you ever going to win?" I feel like a reject losing constantly against my three year old.
4. Zane is now sleeping 12 hours a night and two 2-hour naps during the day. When I go get him in the morning he looks at me and constantly yawns. Takes him about 10 minutes before he stops yawning. You would think the little guy never sleeps.
3. Yesterday I was putting one of her million Barbies away and I accidentally dropped it. She started hysterical crying. I asked her what was wrong and she said, "Mommy, you hurt Barbie. Barbie is so sad that you hurt her." Kids!
2. Hayley is obsessed with the smurfs. Today my mother brought her a smurf when she came up to visit and she responded, "This is the best Papa Smurf ever. I will let him sleep next to me all the time and make sure he is happy."
1. MY FAVORITE OF THE WEEK: I was showering this morning and Hayley yells to me from the shower, "Mommy, come her quickly: Zane is crawling." I instantly got out of the shower and realized we officially have a crawler. He looks so cute. He sticks his butt up and sways back and forth to get momentum before he moves. Time to baby proof again!