Hope you will join me in commenting on your childrens laughs from this week. Have a great weekend!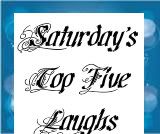 5. Zane eats everything! It is so funny because Hayley as a baby was such a picky eater and continues to be to this day. I am not used to this eating from a 5-month-old boy. I give him carrots, peas, avocados, sweet potatoes, cereal. He eats it all and then looks at me like he needs more!
4. This should come as no suprise because of #5 but he is in 12 month clothes. I went to try on his clothes for the fall and nothing fits. His onesies from 6-9 months look like they belong on a doll instead. So, off we go straight to the 12 month size. Seriously, you are 5 months! Slow down baby boy!
3. Hayley is developing into her own person. The other day we were playing the memory game and she declares, "Mommy, this game is too easy. I had enough". Yes, she won 9/10 games. Parenthood has taken my memory skills away. Sad that a 3 year old can beat me!
2. Hayley "yells" at Zane all the time for crying when she is trying to nap. I constantly hear from her room, "Zane, please be quiet. I can't sleep." She tries covering her ears to sleep. Cracks me up!
1. All I have been hearing about the last few weeks is her birthday. Before she goes to sleep every night, she has to tell me, "Mommy, I need birthday balloons, birthday hats, birthday candles, birthday fire (I am assuming she means the candles), birthday cupcakes, birthday games." I tell her that is fine, I will get it for her and leave the room. 3 minutes later she yells down, "Don't forget my beautiful birthday dress and beautiful shoes". Repeat this ritual everynight. You think she is excited for her birthday?
Now, your turn!