Last week I told you all about our awesome experiences at the Hershey Lodge.  One of our favorite parts of visiting Hershey, PA is obviously Hersheypark! Hersheypark is the ultimate amusement park destination for the entire family. HersheyPark was originally created by Milton S. Hershey as a leisure grounds for employees of Hershey's Chocolate Factory. Today, their family amusement park in Central Pennsylvania is complete with 15 thrilling roller coasters & a massive water park. HersheyPark is also open most of the year including now for the upcoming Halloween and Christmas holidays. New this year for the Halloween holiday is the Auntie Mortem's Abattoir Haunted House, Fallout Zone Scare, and the brand new Wildcat Revenge, which we all loved so much!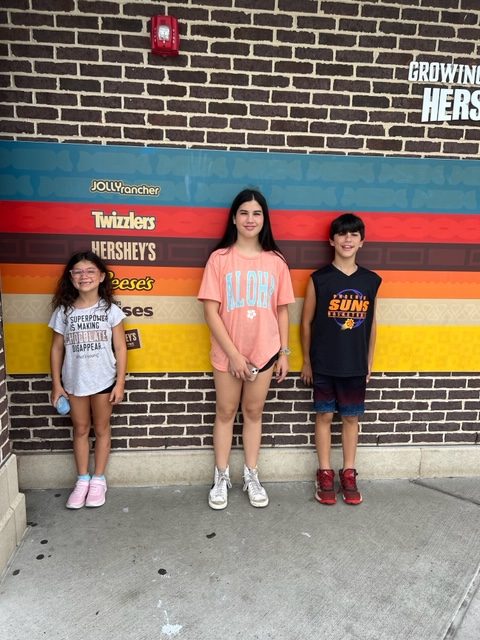 We spent two full days at Hersheypark and still could not finish it all.  From the start to the end, every part of Hersheypark is full of amazing rides, games, food, and so much more. Our first stop in HersheyPark was the world famous Comet Ride. The Comet Ride is the oldest rollercoater at Hersheypark  and has been delighting families with their amazing drops and bunny hills for 75 years. The Coaster reaches a speed of 50 miles per hour and climbs 96 feet high. All 5 of us went on it and I highly recommend if you can wait for the front, do it! After that we went on Great Bear. Tay Tay was too small for it but we all think this rates in the top 3 of best rollercoasters at Hersheypark.  This is an inverted steel coaster which leaves your feet dangling as it lifts 90 feet off the ground into loops, corkscrews, and zero g roll!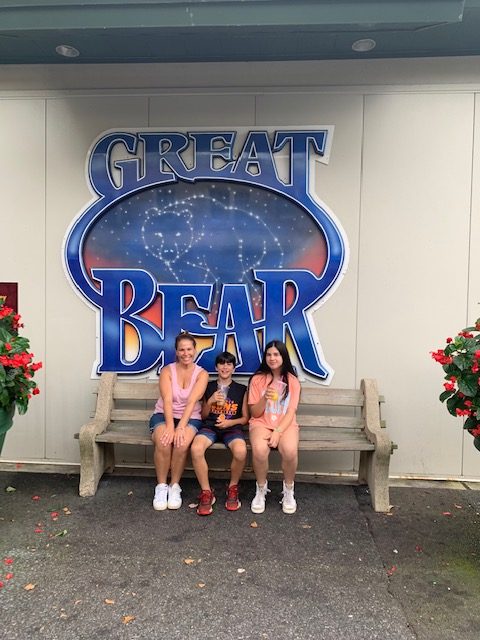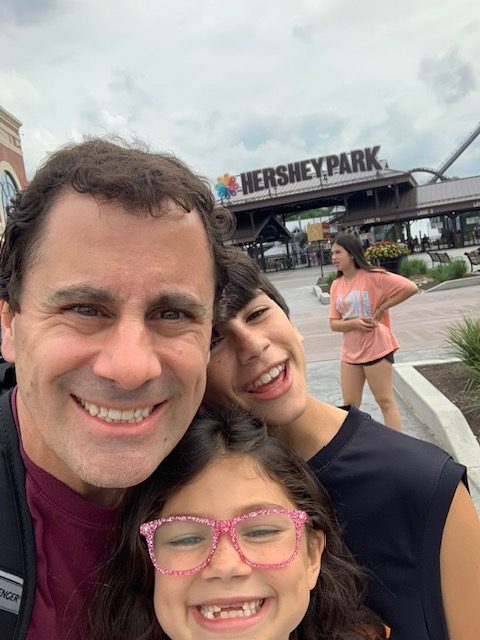 Of course before leaving that area we needed to go on the famous sooperdoopLooper which features a loop and is great for those 46 inches and taller. It is a great introductory rollercoaster and is just plain fun! In the parks, you can also pick up the "I survived the sooperdooperLooper rollercoaster" shirt. Then it was time for Tay and I to take a break while my older kids and husband went on Skyrush. I get scared looking at that ride but the kids think it might be the coolest ride of any amusement park. With this ride, you ride the edge and feel the rush! It  climbs 200 feet into the air before flying downhill at 75 mph. Experience 4 high speed turns, 5 zero-G airtime hills – all from a thrilling, winged-seat coaster train! WOWZERS! After finishing this, they also went on Candymomium. This is  the tallest, fastest, longest, and sweetest coaster in Hersheypark.  It has a 210 foot ascent up the tallest hill and then drips into thrilling drops including 7 camelback hills all with a candy theme.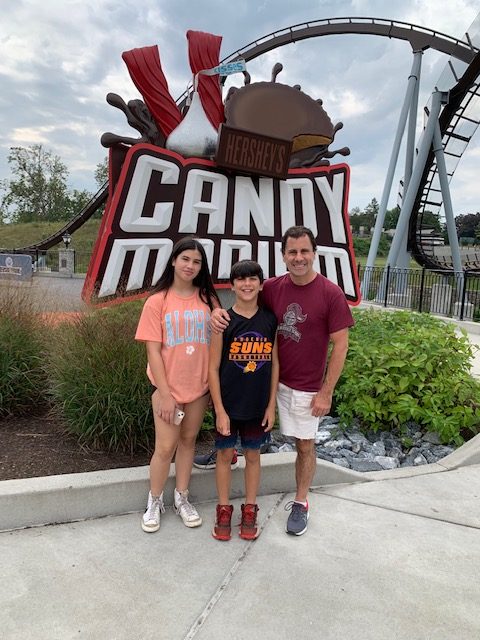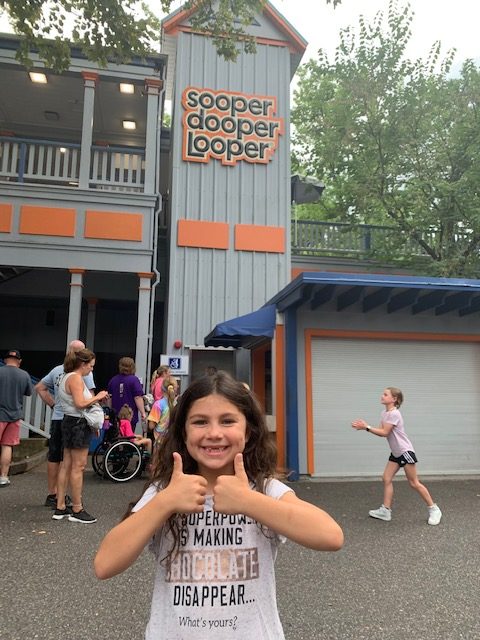 This year, we all went on the new Wildcat's Revenge. This ride is an absolute MUST see in Hersheypark! We rode it a total of 5 times over 2 days. It is now a hybrid rollercoaster which means it features all new wood and steel hybrid so it has parts of both for the ultimate ride experience. Riders go through one-of-a-kind thrills found only at Hersheypark. It climbs a 140 feet hill and reaches max speeds of 62 MPH Climb a 140 foot hill into an 82-degree drop, invert 4 times, and stalk your prey through the World's Largest Underflip on three custom trains. It is truly EPIC!  Another fan favorite of my family is Laff Trakk which is  the first indoor, spinning, glow-coaster in the United States. This family friendly house of laughs spins riders through an exciting adventure of sights and sounds complete with glimpses of colorful characters, a dizzying hall of mirrors, and more! Laff Trakk is the fun house of the 21st century offering a new experience with every ride!
All scattered throughtout Hersheypark are the best food stops and snack shops. Of course the theme is chocolate but there is so much more and a variety of ethnic cuisine. If you are planning to visit the parks and you like soda, they have a deal for $19.99 for a large cup and refills that you can use throughout your stay. They also have great entertainment and themed days for the holidays. If you are looking to get the best price on season tickets, do it now!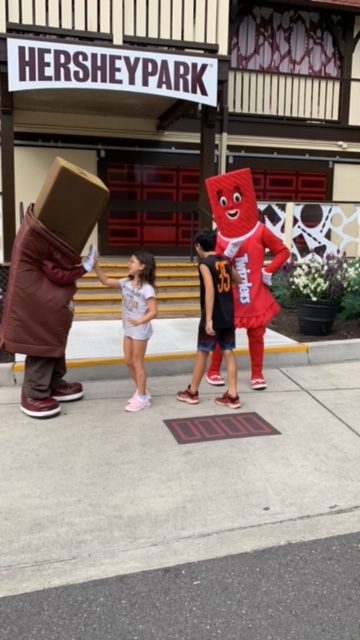 We love Hersheypark and hope you do too! It is our favorite destination that we love visiting yearly and look forward to it every single year! We make so many memories at Hersheypark. For more information on pricing, hours, and more click here: Hersheypark. Let Hersheypark allow your family to make memories for many decades!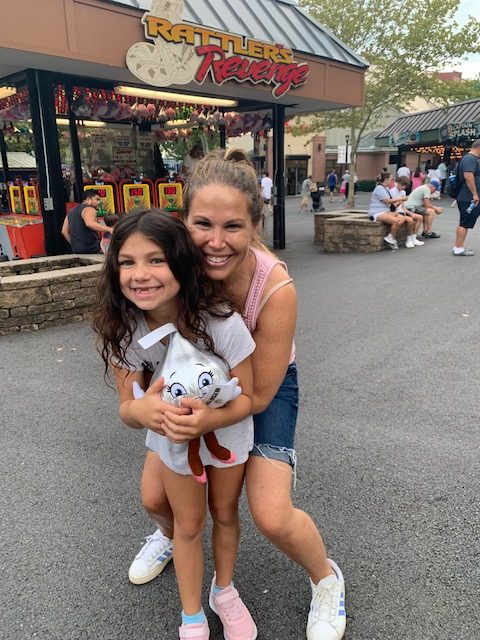 *Thanks to Hershey for sponsoring us. All opinions are my own and not swayed by outside sources.*