I am so excited to see  The Little Mermaid, which hits theaters this Friday. I remember seeing the first trailer at D23 this past summer and remarking how this will be the movie of the year! Halle Bailey is absolutely breathtaking and her voice is simply magical! I plan to take my family opening weekend and I am counting down the days to this. Be sure to see The Little Mermaid this weekend!
The film's stars Halle Bailey, Jonah Hauer-King, Daveed Diggs, Jacob Tremblay, Javier Bardem, Melissa McCarthy, Noma Dumezweni and Art Malik were in attendance, as were director/producer Rob Marshall, producers Marc Platt and John DeLuca, composer Alan Menken, executive producer Jeffrey Silver, and guests including James Corden, Stanley Tucci, Guy Ritchie, Sir Tim Rice, Alexander Molony, and others.
SYNOPSIS:
"The Little Mermaid" is the beloved story of Ariel, a beautiful and spirited young mermaid with a thirst for adventure. The youngest of King Triton's daughters and the most defiant, Ariel longs to find out more about the world beyond the sea and, while visiting the surface, falls for the dashing Prince Eric. While mermaids are forbidden from interacting with humans, Ariel must follow her heart. She makes a deal with the evil sea witch, Ursula, which gives her a chance to experience life on land but ultimately places her life – and her father's crown – in jeopardy.
The film stars singer and actress Halle Bailey ("grown-ish") as Ariel; Jonah Hauer-King ("A Dog's Way Home") as Eric; Tony Award® winner Daveed Diggs ("Hamilton") as the voice of Sebastian; Awkwafina ("Raya and the Last Dragon") as the voice of Scuttle; Jacob Tremblay ("Room") as the voice of Flounder; Noma Dumezweni ("Mary Poppins Returns") as The Queen; Art Malik ("Homeland") as Sir Grimsby; with Oscar® winner Javier Bardem ("No Country for Old Men," "Being the Ricardos") as King Triton; and two-time Academy Award® nominee Melissa McCarthy ("Can You Ever Forgive Me?" "Bridesmaids") as Ursula. "The Little Mermaid" is directed by Oscar® nominee Rob Marshall ("Chicago," "Mary Poppins Returns") with a screenplay by two-time Oscar nominee David Magee ("Life of Pi," "Finding Neverland"). The songs feature music from multiple Academy Award® winner Alan Menken ("Beauty and the Beast," "Aladdin") and lyrics by Howard Ashman, and new lyrics by three-time Tony Award® winner Lin-Manuel Miranda ("Hamilton,' "In the Heights"). The film is produced by two-time Emmy® winner Marc Platt ("Jesus Christ Superstar Live in Concert," "Grease Live!"), Miranda, two-time Emmy winner John DeLuca ("Tony Bennett: An American Classic"), and Rob Marshall, with Jeffrey Silver ("The Lion King") serving as executive producer.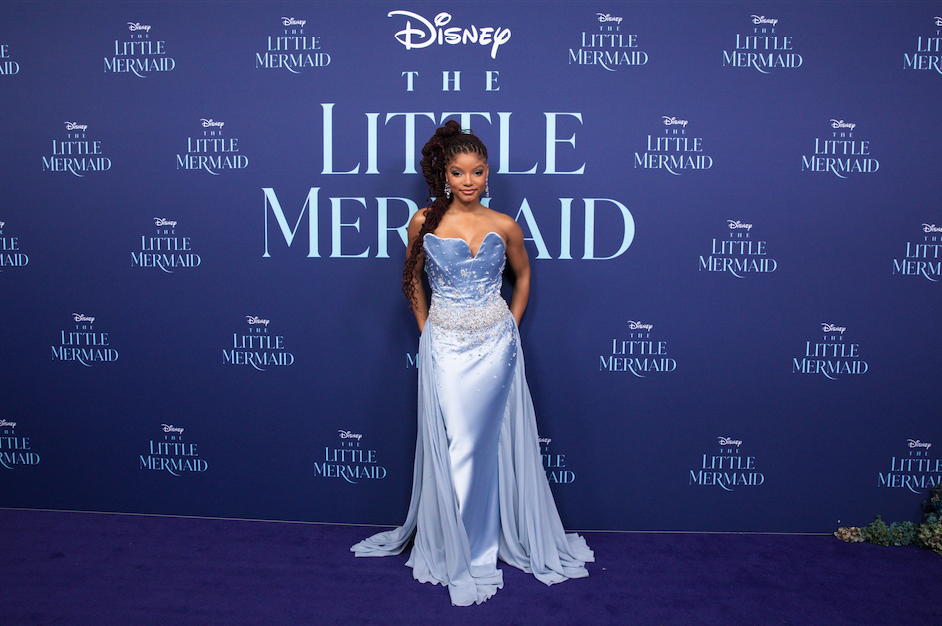 PRESS JUNKET:

I had the chance to talk to Halle Bailey ("Ariel") , Melissa McCarthy ("Ursula") , Javier Bardem ("King Triton") , Daveed Diggs ("Sebastian") , Awkwafina ("Scuttle") , Jacob Tremblay ("Flounder") , Jonah Hauer-King ("Prince Eric") , Noma Dumezweni ("Queen Selina"), Rob Marshall (Director/Producer) , Lin-Manuel Miranda (Producer/Composer) , Alan Menken (Composer) and John DeLuca (Producer) about the live action The Little Mermaid.
Awkwafina, talk to us about the rehearsal  process and the way you went through? 
She said it was definitely for her the first time she  read a scene with other actors. Usually, you're in the booth and a lot of the times the other actors and  the directors just read them. But we were all able to do it together for this one.  She said it pretty crazy and awesome they got to do it all together.
2 What do you think made them so perfect for this  film?  -asked about Rob and John to Noma
She said Rob and John are theater babies and grew up in the theater. Having a rehearsal on set is such a rare thing when moving into the TV and film world.  She said it was such a joy to go all right, this is what we're aiming  for, so we know it and then they can be free when they are doing it. It was so joyous to have them do this movie and they bring such value to each of their performances.
3. Halle, I wanna come back to you because,  Ariel is the Disney princess, and now you have been bestowed that. Do you feel like you have kind of a kinship with her just any way? Do you feel like  you and Ariel have things in common? 
Halle said absolutely. She says she feels like Ariel has helped her find herself and this young woman version of her since it has been five years of her life.
"From 18 to now being 23, these are very intense transformative years as you're developing into a young woman. But I feel especially these themes of  the film and what she had to go through with her passions and drive and speaking up for herself, and even though it  may be scary, she went for it. I feel like those things I  really try to adopt and give to Halle now. So, she's  taught me so much, for sure. "
 4 . King Triton has to be a helicopter parent,  and you were the ultimate helicopter parent.  What was your relationship like with Halle? Did you have a little bit of paternal feeling over here?  
Javier said in the minute he met her, he just fell for her. He said you can't not love her unconditionally.   They had so much fun together and the process was easy because they just connected. He was mesmerized by the quality of her as a performer, let alone the singing. But  as an actress, how willing and courageous she is. And in going to the places that she had to go to. And that was  amazing.  
5. Awkwafina,  what does seeing this cast, the diversity of it, just  the naturalness of it and what it means to audiences. What  do you think about that?  
Awkafina says she loves that it reflects the world that we live in. She said everyone deserves to see themselves on the screen. This movie celebrates those amazing performances. 
6. Was Scuttle like your favorite?  Do you feel a kinship  with Scuttle?  
She says she does feel a kinship with Scuttle. She joked that after two margaritas she is Scuttle. 
7. Jacob, the original movie came out  before you were born.  Were you familiar with Flounder or did you go back and  watch the film multiple times?  
Jacob said it came out quite some time before he was born. However, it was a big part of his childhood. He absolutely loves the original film. He watched it a few times because he wanted to get Flounder's personality just right. He did want to make it his own though.
The visionary director Rob Marshall's "The Little Mermaid" opens exclusively in theaters nationwide May 26, 2023.