Now on DVD is Magic Mike's Last Dance. Channing Tatum and Salma Hayek have all the chemistry in a satisfying sendoff that celebrates the art of dance.

"'Magic Mike's Last Dance' Is Wish Fulfillment at Its Sexiest"
Embark on Magic Mike's last hurrah, featuring Channing Tatum reprising his role as Mike Lane when "Magic Mike's Last Dance" now arrived on Premium Digital Ownership. The film is directed by Steven Soderbergh from a script by Reid Carolin, with help from Soderbergh's creative team behind the scenes includes production designer Pat Campbell (TV's "The Bastard Son & The Devil Himself"), costume designer Christopher Peterson ("The Irishman") and music supervisor Season Kent ("KIMI," "Let Them All Talk"), with choreography by Alison Faulk and Luke Broadlick, both part of the "Magic Mike" franchise, starring "Magic" Mike Lane (Tatum). The film also stars Salma Hayek Pinault ("House of Gucci," "Hitman's Wife's Bodyguard"), along with dancers from the "Magic Mike Live" shows in London and Las Vegas. The film is available on  Blu-ray and DVD now.
The film also stars Ayub Khan Din (TV's "Ackley Bridge"), newcomer Jemelia George, Juliette Motamed (TV's "We Are Lady Parts") and Vicki Pepperdine ("Johnny English Strikes Again"). The film was produced by Nick Wechsler, Gregory Jacobs, Tatum, Carolin and Peter Kiernan with Julie M. Anderson executive producing.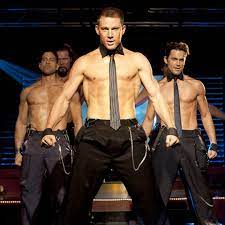 Magic Mike's Last Dance is available on Blu-ray and DVD. Magic Mike's Last Dance will also continue to be available to own in high definition and standard definition from participating digital retailers. Magic Mike's Last Dance  can be enjoyed at home with Filmmaker Mode TM. Developed by studios, TV manufacturers and some of Hollywood's leading directors, Filmmaker Mode disables all post processing (e.g. motion smoothing), preserves the correct aspect ratios, colors and frame rates, and enables your TV to display the film precisely as it was intended by the filmmaker. Filmmaker Mode is available on televisions from select manufacturers.
Magic Mike's Last Dance will also be available on Movies Anywhere. Using the free Movies Anywhere app and website, consumers can access all their eligible movies by connecting their Movies Anywhere account with their participating digital retailer accounts.
SYNOPSIS
In "Magic Mike's Last Dance," "Magic" Mike Lane (Tatum) takes to the stage again after a lengthy hiatus, following a business deal that went bust, leaving him broke and taking bartender gigs in Florida. For what he hopes will be one last hurrah, Mike heads to London with a wealthy socialite (Hayek Pinault) who lures him with an offer he can't refuse…and an agenda all her own. With everything on the line, once Mike discovers what she truly has in mind, will he—and the roster of hot new dancers he'll have to whip into shape—be able to pull it off?
BE SURE TO PICK UP THIS FUN DVD TODAY!