From 20th Century Studios comes an epic crime thriller hitting theaters next Friday, October 7th. Are you all ready for Amsterdam?

From 20th Century Studios, New Regency, and acclaimed filmmaker David O. Russell comes "Amsterdam," an original crime epic about three close friends who find themselves at the center of one of the most shocking secret plots in American history. A fascinating and richly intricate tale that brilliantly weaves historical fact with fiction for a timely, cinematic experience, the film Written and directed by five-time Oscar® nominee David O. Russell, "Amsterdam" is produced by Arnon Milchan, p.g.a., Matthew Budman, p.g.a., Anthony Katagas, p.g.a., David O. Russell, p.g.a., and Christian Bale, with Yariv Milchan, Michael Schaefer, Sam Hanson, Drake, and Adel "Future" Nur serving as executive producers.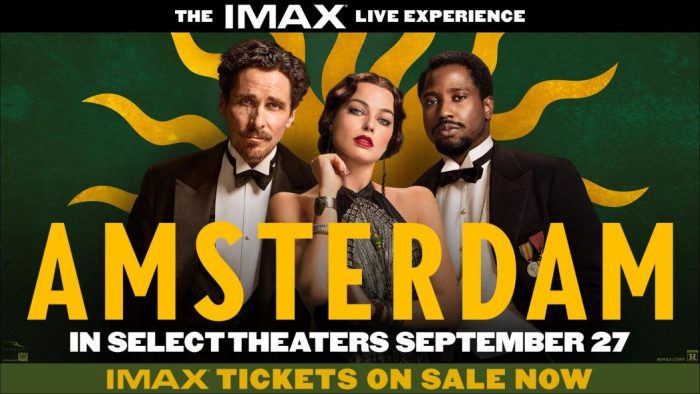 INTERVIEW TIME:
I had the chance to interview Christian Bale, Margot Robbie, John David Washington, Robert De Niro, Rami Malek, Mike Myers, Michael Shannon, and David O. Russell(Writer/Director/Producer).
1.  Can you tell us a little bit about the history and then bringing together this amazing cast.  -asked to David
He said Christian and him were very interested in creating original characters that they would want to hang out with and be around. Characters they have never seen before. They started with a doctor and they went from there. They wanted three best friends who were fixers and who can handle any situation.
2. A lot of the characters in your films, David, are kind of the underdog, but they retain this resilience.  And Margot, your character Valerie, really has that too.  And I know that you were really collaborating on who she was going to be, and the inspirations from history.  And can you tell us a little about that process?  -asked to Margot
Margot said she had a lot longer time to prep Valerie years before Valerie was Valerie but also because of Covid.  Margot fell in love with her because she marches to her own drum and her friendship pact with Harold and Burt is everything to her. With Valerie, I infused some characteristics of myself in her.
3. We're talking a lot about friendship. That's a core theme in the movie. John David, can you talk about the three best friends and their pact together?  What was that dynamic?- asked to John David
He said the bedrock of this set was one of humility and optimism. They started with a lot of love and respect for each other. There were no egos on set. That made it easier to let their guard down and be vulnerable. Christian Bale was a great leader in that way.
4. What brought you back? -asked to Christian
He said like any great filmmaker, David is very unique and special.  He has his own perspective.  It is what makes great filmmakers fascinating, and he's one of the greats.  And he loves that they met and that he invites him back.
5. What brought you back?- asked to Robert
Robert said he's worked more intensely with David and he carried the films, but David and him have had a terrific time. They will  talk about a script or the new thing he's working on, and he'll tell him about the character. This is how they did Amsterdam. They evolve the characters together.
6.  So Mike and Michael, you're new to the David world, and you play friends and coworkers and avid birders.  Did you do research about the birders?  I know they're kind of based on characters. -asked to Mike and Michael
Michael said he never really considered bird watching for a personal hobby.  But now that he has done this movie, he pays a lot more attention to birds.
7. Since part of the film deals with finding a blissful space to create art and love, what were the moments filming this where you felt that similar sense of creative collaboration?- asked to Rami and Andrea
Andrea said her character is a little bit of a mixed bag in the sense that her psychology makes about as much sense as a bowl of frogs.  She is representative of the upper echelons or the aspirations to be part of the upper echelons of New York society and sort of triumphs and fails at every turn, but really wants desperately to connect.
All she wants to do is connect.  And she misses the love that she feels.  She misses Emily Dickinson.  She misses her husband.  She misses what she felt was real life internally.  But she's not brave enough to live it with the vivacity, perhaps that these three friends are.  She's on the periphery in a certain sense.  And so to be in that environment in this production, this many tendril production with these extraordinary creatives, it felt like playing Beatrice in that environment was like lying on a cloud,
There were moments of true connection with every single person when we each spoke to one another or caught the glimpse of an eye.  And it was so vast that we weren't always necessarily processing it in conversation.  But internally it was really meaningful and a changing experience.
Rami said that this is a once-in-a-lifetime experience.  This film spoke to him.   When you have something as simple as weighing love versus hate and to have that resound throughout your film, when you can deliver that as this great comedic thriller and deliver us this amazing, shocking, untold history but all the while have these themes that just resonate to all of us.
"And I think when we're done with this film, you asked yourself, what is my Amsterdam?  What is that moment where I had emotion, but I also had this great connection with human beings that led me to a place where I was able to transcend.  And I think it'd be a part of a film that will have audiences feeling that as they walk out is something that will be a sacred thing for me long after this premieres.  And yeah, it's going to  stand the test of time."
AMSTERDAM OPENS EXCLUSIVELY IN THEATERS OCTOBER 7th!
*Thanks to Disney for inviting me to this press conference. All opinions are my own and not swayed by outside sources*