One of my all time Marvel characters is the Hulk! When I found out they were doing a series called She-Hulk I was completely pumped. After watching the first four episodes, I can tell you that YOU DO NOT WANT TO MISS WATCHING THIS! Action, comedy, and some awesome Marvel surprises wrapped into a bow. For any Marvel fan out there, you will not be disappointed. She-Hulk: Attorney at Law will debut on Disney + on Thursday, August 18th!
Synopsis of She-Hulk: Attorney at Law:
In Marvel Studios' "She–Hulk: Attorney at Law," Jennifer Walters (Tatiana Maslany)—an attorney specializing in superhuman-oriented legal cases—must navigate the complicated life of a single, 30-something who also happens to be a green 6-foot-7-inch superpowered hulk. The nine-episode comedy series welcomes a host of MCU vets, including Mark Ruffalo as Smart Hulk, Tim Roth as Emil Blonsky/the Abomination, and Benedict Wong as Wong, as well as Jameela Jamil, Josh Segarra, Ginger Gonzaga, Jon Bass and Renée Elise Goldsberry. The series is directed by Kat Coiro (Episodes 1, 2, 3, 4, 8, 9) and Anu Valia (Episodes 5, 6, 7) with Jessica Gao as head writer. Executive producers are Kevin Feige, Louis D'Esposito, Victoria Alonso, Brad Winderbaum, Kat Coiro and Jessica Gao. "She–Hulk: Attorney at Law" streams exclusively on Disney+ beginning August 18, 2022.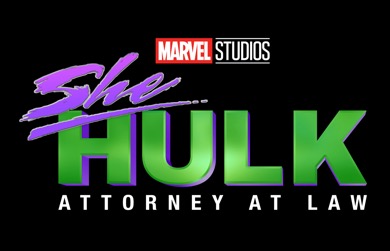 INTERVIEW TIME:
I recently had the chance to talk to Tatiana Maslany "Jen Walters", Ginger Gonzaga "Nikki", Kat Coiro / Director (Episodes 1-4 & 8-9) / Executive Producer, and Jessica Gao / Head Writer / Executive Producer from She-Hulk: Attorney at Law. Hope you enjoy the interview!
1. Welcome to the MCU.  How did you feel when you heard that you would be going from heels to hulk, as MCU's newest superhero?- asked to Tatiana 
She said it was really fun to do this movie. It has huge Marvel elements in it with big sets. There were a lot of sweet moments that excited her to do the show.
2. Talk about your love of the She Hulk comics as a kid?- asked to Kat
Kat said she remember very vividly being a little girl and seeing the cover of a She Hulk comic in amidst the sea of male comics. She did not know who she was but was moved by it. Taking up space and being "large" and in was really the culmination of a real dream.
3. Marvel Studios is known for playing around in different genres.  What genre would you say She Hulk: Attorney at Law is and what can audiences expect from each episode of this series?- asked to Kat
She said each episode had its own distint flavor. The easy answer is that it's a half hour legal comedy. However  it also has huge cinematic scope and elements of drama, action, suspense. It really is a little bit of a peek behind the curtain at the everyday, sometimes even mundane life of a superhero, which we do get to experience in this long form series.
4. When you first got the call that you were going to be a part of this amazing project, what was your first reaction?  What did you do to celebrate? -asked to all
Ginger said she was very excited! She joked that her puppy relieved herself right when she found out. Jessica said was elated because it was a dream job. She was rejected by Marvel on three different previous projects so she said the 4th time was a charm.
5. How does She Hulk break the fourth wall in a way that's unique to her character specifically? 
Kat said she like to think of her doing it long before Deadpool or Fleabag.
"It went through a lot of evolutionary steps.  A long journey of, how much should she talk to camera?  Is she talking directly to the audience?  Is there another meta element?  Is she talking to somebody else, that's more behind the scenes? At one point, there was an iteration in the scripts where, instead of really talking directly to camera, there were text boxes that were editor's notes, like the comic books, how there were editor's notes in comics.
And she was actually interacting with the editor's notes that would be onscreen.  I mean, we did eventually scrap that idea.  But I mean, we went through a lot of different versions of how she would do it.
And ultimately, it was about finding the balance, to where breaking the fourth wall does connect to the audience and draws us in.  But not so much so that we're not connecting to her story and the world that we've built."- Jessica
6. Why was Tatiana so right for this role?  What does Tatiana bring to the character that's unique? -asked to Jessica and Kat
Jessica said there was  nobody else and no other discussions. She had a huge range and can embody many elements of the human experience. Tatiana also maintains her sense of self and yet her sense of self is influenced by the way she presents when she changes, it's a different way of walking through the world.  And so it required a nuance of performance that really only Tatiana could give.
7. She-Hulk is better equipped than most to accept her new superhero lifestyle.  What did you find most relatable about Jennifer Walters that convinced you to join the project?-asked to Tatiana
She said it was actually her conflict with it that she found most interesting. Her resistance to it and her kind of like she's built this life for herself that she does not wanna let go of it. She's worked so hard to be a lawyer and she has to constantly prove herself.  So she's in this path.  And then when this thing happens to her, she has to contend with a whole other perception being placed on top of her and expectations societally of  how she should be and who she should be.
*Thanks to Disney for inviting me to this press junket. All opinions are my own and not swayed by outside sources.*