Raising Dion Season 2 is now streaming on Netflix. I know you all wanted a season 2 and after some time it is back! I will say it is full of twists and turns. This series will be binged in no time so be sure to check it out today!
ABOUT RAISING DION SEASON 2:
SHOWRUNNER/EP: Carol Barbee
EXECUTIVE PRODUCERS: Michael B. Jordan, Kenny Goodman, Dennis Liu (EP/D), Michael Green, DarrenGrant (EP/D), and MACRO's Charles D. King, Poppy Hanks, Marta Fernández
CAST: Alisha Wainwright, Jason Ritter, Ja'Siah Young, Rome Flynn, Josh Ventura, Griffin Robert Faulkner, Gavin Munn, Sammi Haney, Jazym Simon, Ali Ahn, Aubriana Davis, Tracey Bonner
SYNOPSIS: Raising Dion follows the story of Nicole (Alisha Wainwright) and her son Dion (Ja'Siah Young) after Dion starts to manifest several mysterious, superhero-like abilities. Two years after defeating the Crooked Man (Jason Ritter), Season Two follows Dion as he continues honing his powers with the support of his mom and Tevin (Rome Flynn), his Biona trainer who catches Nicole's eye. After befriending new student Brayden (Griffin Robert Faulkner) – a fellow powered kid – a series of alarming events unfold, and Dion learns that danger is still looming. Navigating twists, turns, and surprise visitors, Dion and Nicole must prevail again — not just to save themselves, but the entire city of Atlanta.
I had the chance to interview Alisha Wainwright , Rome Flynn, and Jason Ritter about the new release of Season 2 of Raising Dion. I hope you enjoy learning more about Season 2 and tune in now!
INTERVIEW TIME:
1. Was it hard shooting during a Pandemic?
They said yes and it was very hard, but they put protocols in place ready to go in.  They felt very safe filming.
2.  Is there any favorite filming locations around Atlanta?
They didn't get to film at the Fox theater in season 2 but Alisha said she loved filming there for season 1.  She also loved doing a walk around the park that was outside her house. She said Atlanta has great neighborhoods with good food.
3. What drew you to your roles?
Alisha said she came on in the beginning and never saw anything like it before.  To see woman like her on screen, she loved. She also loves the response of the audience. Rome said it was a joy to get this role and what the show represents. Having to work with the wonderful cast made Rome accept right away.
4. What would you say to fans who have been waiting for season 2?
They both said they would tell fans thank you for waiting and bugging Netflix on social media to make a season 2. Netflix is driven by what people want and they are so appreciative of their fans.  They said season 2 is amazing and I agree!
5. What episode were you most excited to film?
Alisha said it was one episode at the end where everyone is working together. This season, Alisha was separate from everyone but loves being around her fellow cast members.
6. What fun facts about yourself or your character?
Alisha said Nicole was a dancer previously and finding her love of dancing. This season dance becomes less of a priority and more about learning physical defense skills. Nicole throws a mean right hook that she aquired from the time between season 1 and 2.
7. Is there someone you got inspiration from for your characters?
Alisha said yes it was her mom since she was a single mom and raised her. She implemented this into how she did her role. Rome said he wanted to draw from lack there of,  instead of what he had.
8. How did it feel that you were coming back?- asked to Jason Ritter
He said he was so excited but nervous too!
9. How was it playing a villain?-asked to Jason Ritter
He said it was so fun to do play villain in this but also challenging at times too. It was also nice to play a likable character but has other elements as well. It was hard but fun to lead into both of them.
10. What are you most excited to explore with your character in season 2?
Jason said he has this idea of himself that this Crooked Energy came in and made him do all of these things. However with Pat, he does have these things that have his own flaws, outside of his supernatural characteristics. All of the lying and trying to justify, is all Pat. He is definitely a very complicated character.
11. Was there a scene you were most excited to film? -asked to Jason Ritter
He said probably the first time Nicole and Pat see each other was one of his favorites. He has thoughts of how do I win her over and how quickly can I move past of it.
12. What are some fun facts about season 2?-asked to Jason Ritter
He told us it is really interesting to see how this season grew. It was hard to think of a fun fact because so much really happened in season 2.
13. How was the dynamic on set?- asked to Jason Ritter
He said all the kids were so great. He said Griffen, who played Brayden, was so outgoing in real life. They all had such a great dynamic and they are all hilarious. They all had amazing set energy.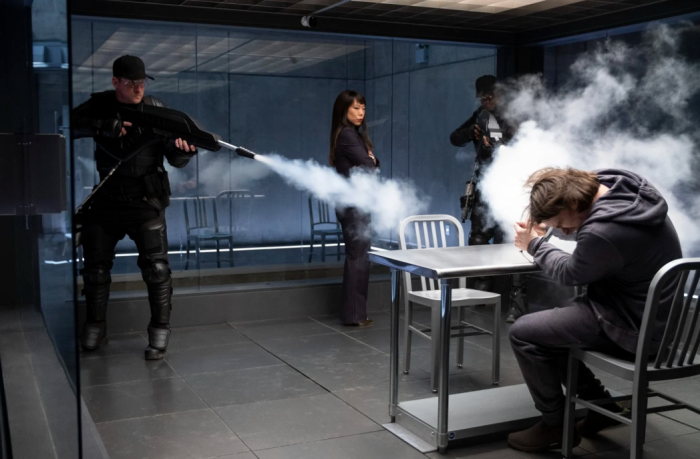 Season 2 of Raising Dion is now streaming on Netflix!
*Thanks to Netflix for inviting me to this press junket. All opinions are my own and not swayed by outside sources.*