If you've never heard of Name Stories, then I'm so glad you came by. They're a company specializing in unique, personalized gifts for any occasion, and they've really won my heart. I've always been a fan of handmade or personalized gifts. They have so much meaning, and they show the person you're giving them to that you care enough to take the time to do something special. That's especially true around extra special events like birthdays or Valentine's Day. Name Stories takes the idea of personalized gifts and really amps it up.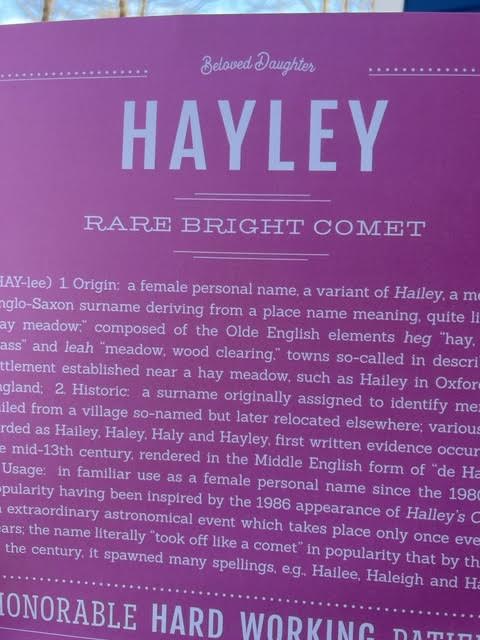 How Name Stories Makes Personalized Gifts Even More Special
Name Stories makes personalized gifts even better with, well, stories about names. These beautiful stories come framed, and they take the most personal thing of all – our names – and explain them. These stories give a complete origin and history of your loved one's name, including where it came from, fun facts about it, some history surrounding it, usage, and then at the bottom, fun adjectives associated with the name.
They also come in a variety of colors to choose from, so you can gift that special person in your life with a beautiful, framed piece that perfectly reflects their tastes and personality. They're fully customizable, personalized gifts from start to finish, making for a gift that won't soon be forgotten. These are perfect for being a constant reminder of how much your giftee is loved because they hang on the wall. Every time your loved one looks at their framed Name Story, they'll remember just how much you care.
My Name Story
Hayley received a Name Story in pink, and I was blown away! Just take a look.
I also looked up my name. My name is from Ancient Greek and it literally means "honeybee", which I think is so cute. In history, my name was the name of a mountain nymph in Greek mythology who hid Zeus as an infant from his father, Cronus. In literature, it was used in an epic poem by Italian poet, Ludovico Ariosto. At the bottom, the traits common among people with my name include, family-oriented, affectionate, energetic, loving, and kind. Anyone who knows me knows that these are all spot on.
Make Name Stories Your Gift of Choice This Valentine's Day
I love the idea behind Name Stories, and I think your loved ones will, too. There's no great gift than the one that shows that special person in your life just how much you care, and these beautiful personalized gifts are the perfect way to do that. With so many colors to choose from and such an in-depth history of each name, this gift makes the perfect Valentine's Day present. It's also a great idea for birthdays, Bar Mitzvahs, Bat Mitzvahs, Hanukah, or Christmas. If you're looking for the perfect personalized gift, then Name Stories is just the thing.
*This is a partnered post. All opinions are my own and not swayed by outside sources.*