Last week I had the chance to attend a hosted trip with Disney where the primary focus was on the different resorts and restaurant options. Over the period of 4 full days, we were able to see more than 18 different resorts and experience cuisines (breakfast, lunch, dinner, and snacks) in quite a few of these resorts. While I know about the parks, I absolutely loved learning about the resort options so I can tell all of you. I will note that a couple of people on my IG stories asked my favorite resort and honestly this is a loaded question to answer because what could be my favorite, could be your least favorite. Each resort and dining option had their own vibe and feel to it. So in turn, I decided to split up my coverage to tell you about the various resorts I went to and then you can make your own decisions when you book your fabulous Walt Disney World Vacation.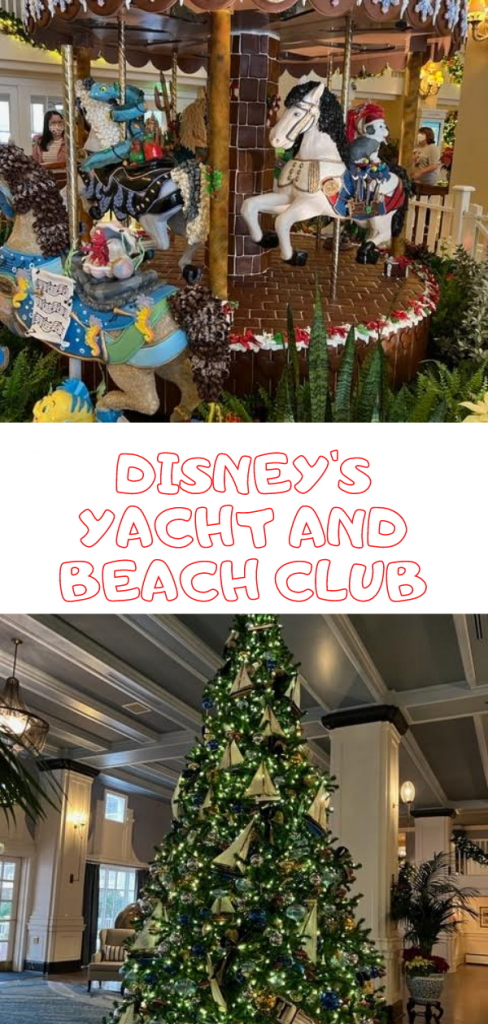 The first two restorts we visited were both deluxe level resorts, The Walt Disney World Yacht Club and the WDW Beach Club. These two resorts were a fabulous way to start our resort tour. We were able to tour each of these resorts and then experience the new Skyliner which I will talk about a bit at the end.
Walt Disney World Yacht Club:
Delight in the formal grace of a grand New England-style yacht club at this lakeside hotel. Relax in
the inviting elegance of a plush lobby replete with nautical touches and explore the whimsical 3-
acre sand bottom Stormalong Bay. Sharing many amenities with its pastel-toned sister, Disney's
Beach Club Resort, Disney's Yacht Club Resort is walking distance to EPCOT and a convenient boat
or Disney Skyliner ride to Disney's Hollywood Studios.
We started our morning at the Yacht Club at the Ale and Compass restaurant located in the lobby of this resort. They currently serve breakfast 7 AM to 1:30 PM and dinner between 5-9 PM.  This restaurant has New England comfort food situated in a backdrop of a New England lighthouse. Being a fellow New Englander, I absolutely loved seeing all the boating and nautical themes throughout this restaurant and the Walt Disney Yacht Club.  For breakfast that morning, I had bagels and lox which was divine. Being born in NY, I know good bagels and lox and the Ale and Compass had a sandwich just as good as any NY deli.  The waiter told us about the various other options such as omelet, dark chocolate waffles (the waiters favorite), salted caramel-apple French toast or a protein bowl. They also have lighter fares such as fruit smoothies. It is an open air kitchen so you can see the food being made. While we did not have dinner here, the waiter said we should not miss the New England Pot Pie and Lemon Pound Cake. Other restaurants choices at the Yacht Club include The Market at Ale and Compass, Cape May Cafe, Beaches and Cream Soda Shop (do miss out on getting ice cream here), Yachtsman Steakhouse and many more!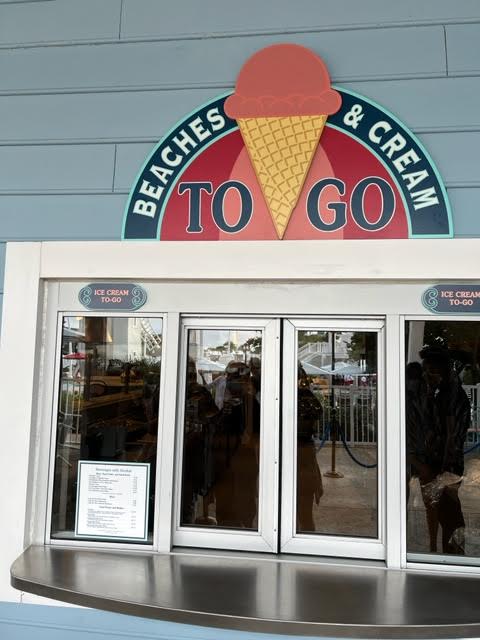 We then took a tour around the resort and all the Christmas themed decorations were amazing. Each resort had their own Christmas themes which was very exciting to see. If you go during Christmas time, you will be able to see this and do your own resort hopping to see all the decorations. With the Yacht Club, the nautical and boat themes were seen throughout. There is a captain that greets you upon entering the resort. It was simpy gorgeous decor and our tour guide said this resort has a sand bottom pool and a lazy river, which are both heated. It also features an arcade in the resort for the kids.  One of the main selling features of the Beach Club and Yacht Club is the close proximity to Epcot. While you can take the skyliner, you can also walk along the path right to Epcot, which is what we did one night.
The rooms at the Yact Club were recently renovated. They include raised platform beds and beautiful coloring. They also put in solid surface floors with the renovation that happened 2 years ago. The featured room at the Yacht Club are the Water View which can sleep up to 5 adults. Rooms and Suites include the Garden or Woods View, Standard View, and 2 Bedroom Suite (sleeps 6). They also have rooms with Club Level Service on property which sleeps 4.
After touring the Yacht Club, it was time to enter the Beach Club. We did not have a room tour of this property but having stayed here a few times, it was on the same caliber as the awesome rooms at the Yact Club.
Walt Disney World Beach Club:
When we entered the Walt Disney World Beach Club by walking the Boardwalk, we immediately were greeted with a beautiful and completely edible carousel featuring 21 different Hidden Mickeys. Every year the Beach Club has a different themed gingerbread carousel. They start working on this months in advance to be ready for the guests who come Christmas time.
Food options at the Walt Disney Beach Club include the restaurants located in the Yacht Club such as Ale and Compass mentioned above, Beach Club Marketplace, Cape may Cafe, and others. Since these two are located in close vicinity and connected via the boardwalk, they share similar restaurants and ammenities.  Similarly you can get to resorts and parks via the water taxi, bus, or walking paths.   Rooms include the standard view, garden or woods view, water view, deluxe room (sleeps 6), and Newport Presidential Suite (sleeps 7). There is also the club level which includes standard view, garden view, water view, 1 bedroom, 2 bedroom, and Nantucket VP Suite. The recreational activities include Fantasia Gardens and Fairways Miniature Golf, Pirate Adventure Cruise, Movies Under the Star, tennis, fishing, and more. Campfires and movies are seen at a lot of the Disney resorts.
We also ate at  Trattoria Al Fornia Italian restaurant located in the Boardwalk, walking distance from the lobbies of the Yacht and Beach Club. It features authentic Italian food with recipes hailing from Milan to Rome.  They are famous for their Bolignase and Lasagna. That night I had the Truffle Gnocchi which was out of this world. Next time I come to Disney, I am definitely coming back here! The ambiance, the chef and staff, and the food made for a wonderful dinner.
Skyliner:
The Skyliner opened a few months before the pandemic started. You are able to ride around the Walt Disney World Resorts and a few of the parks with these aerial gondolas. Each gondola features Disney themes and takes you to different places in style. You can pick up the Skyliner from the Riviera Resort, Art of Animation, Carribean Beach Resort, and Pop Century Resort. From the Yacht Club we walked over to Epcot and took the gondolas to Art of Animation. This is a very efficient way to get places outside the traditional modes of bus, boat, and monorail lines. If you are in Walt Disney World, definitely check out the Skyliner.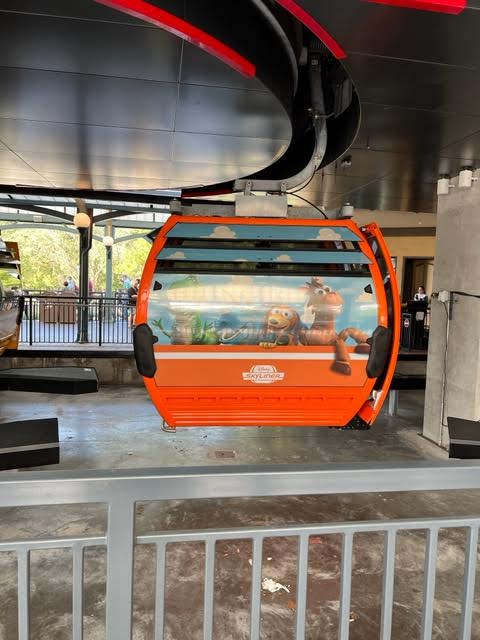 To find out more about pricing and availability of Disney's Yacht Club resort, click here: Yacht Club. To find out pricing and availability of Disney's Beach Club resort, click here: Beach Club.
Stay tuned for lots more restorts over the next few weeks!
*Disney hosted me on a press trip to learn about their various hotels and food on Disney property. All opinions are my own and not swayed by outside sources.*