I'm not sure who it was that first said, "a clean home is a happy home" but I am a firm believer that the phrase is spot on. Being a busy mom with a career means that I'm not able to be home every second of every day to keep an eye on things. So, there are days when I come home to mess here and there. Sometimes it's just toys, others a sink full of dishes or laundry that has escaped the wash for several days. These little messes, although sometimes inconvenient for us mama's, also make me thankful because it means our home is lived in. There is life within these walls, with my family happy and able-bodied enough to create these little messes.

I digress. There are times I get frustrated, with messes big and small. After a long day on my feet at my job, the errands that follow, etc. and then arriving home to see a mess waiting for me is the last thing I want. Out comes the laundry basket to collect any clothes that have escaped the pile, the sink gets filled with dirty dishes and sudsy water to prepare for a good scrub and the floor is cleared of any odds and ends (toys, the random bit of debris).
My favorite part of the clean-up routine is being able to run the vacuum. Even after cleaning everything up, I find that this last chore is the key to giving my home that clean, pulled together look. I love being able to sprinkle down some carpet freshener and bring out my Eureka PowerSpeed.
When I say that this machine is a wonder, I mean it. Not only does it have an affordable price tag ($99) for those of us who hate spending top dollar on a vacuum but it's also incredibly lightweight. With a weight of 12.3lbs getting it around the house, up the stairs, etc. is a breeze and doesn't strain my back even the littlest bit. Heck, even the kids can operate and move the powerspeed around with no issues: an added bonus that will make mama's everywhere rejoice when it comes to splitting up chores.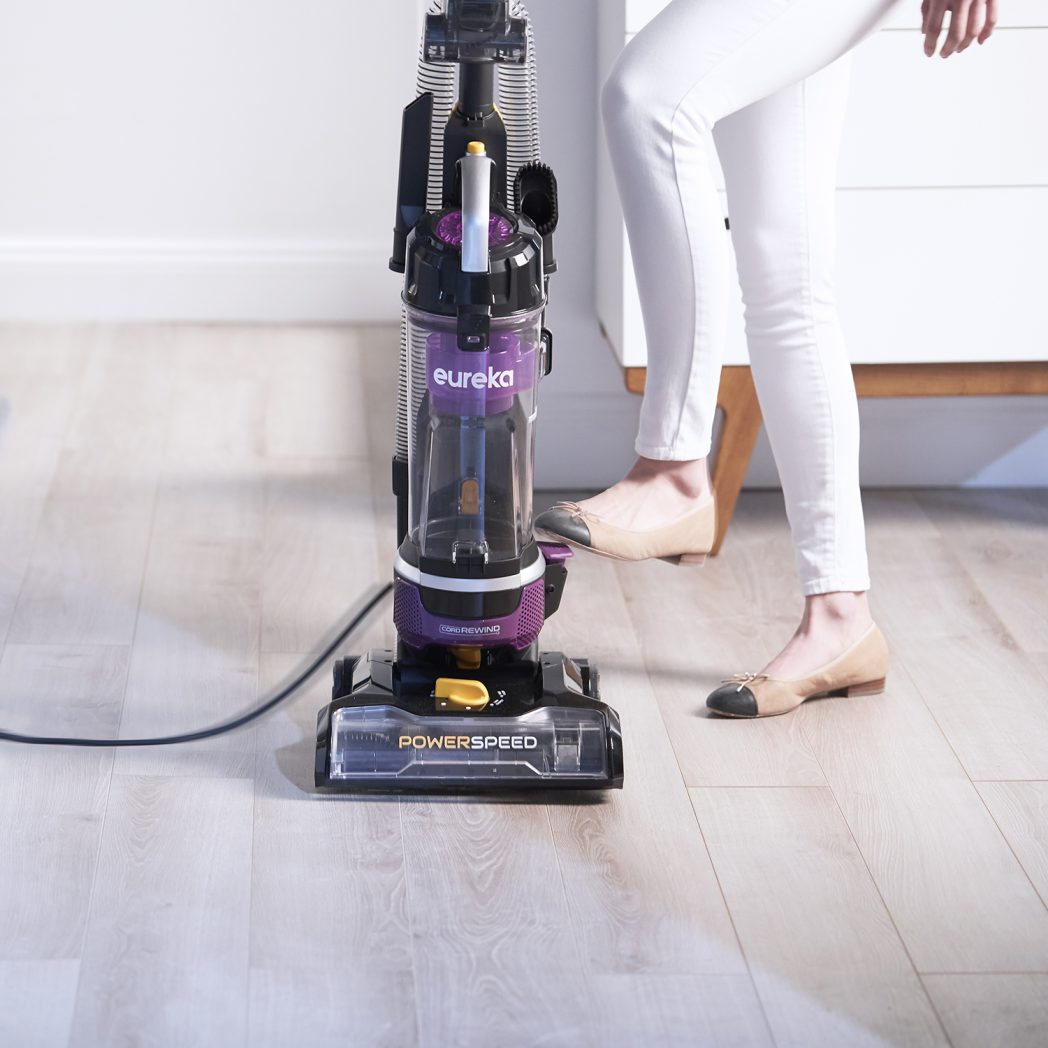 Able to tackle even deep messes on carpet and hardwood flooring, the Eureka PowerSpeed is surprisingly powerful for the price point. These days people equate high dollar items to being the best performing but Eureka has done it again, proving even me wrong. Between the powerful suction, the 5-height adjustment multi-surface brush that gives you the ability to seamlessly switch between hardwood and carpets, and even the included pet turbo brush (for all of the pet lovers out there) the PowerSpeed has changed my vacuum cleaning game.
I'm even in love with the Cord Rewind feature. It used to be such a hassle to finish vacuuming and have to sit there winding the cord around the pegs to be able to keep it looking neat. I've always grown agitated while winding up the cord since they sometimes slip out of place, making me have to start over; the Cord Rewind feature gives me up to 10 feet of cord to work with during vacuuming AND allows me to store the cord with a simple touch of a button.
In addition to being able to get to all of the hard reach spaces, thanks to the long power cord, the Eureka PowerSpeed also boasts a row of LED lights to illuminate any dark areas that try to hide debris. This is especially great for underneath kids beds and couches, where the bulk of my households messes lurk.
Additional features of the Eureka PowerSpeed Vacuum include:
Easy-Empty Flip Bottom Dust Cup – allows you to clean without having to stop to empty
Able to Tackle Any Mess – with accessories like the crevice tool, upholstery tool and more
Extended reach capacity – making it possible to clean everything from carpets to ceilings
If you've been on the lookout for a new vacuum that won't break the bank or your back, I would strongly recommend giving this trusted brand and workhorse of a vacuum a look. It has exceeded all expectations and made my job so much easier, especially with my penchant for having issues winding up traditional cords!
* I worked with Eureka on this post. All opinions are my own and not swayed by outside sources.*