I am so excited because Jungle Cruise comes out TOMORROW!!! Based on the famous Jungle Cruise ride, this Disney move takes you on a fun adventure of a lifetime.
SYNOPSIS:
Inspired by the famous Disneyland theme park ride, Disney's "Jungle Cruise" is an adventure-filled, rollicking thrill-ride down the Amazon with wisecracking skipper Frank Wolff and intrepid researcher Dr. Lily Houghton. Lily travels from London, England to the Amazon jungle and enlists Frank's questionable services to guide her downriver on La Quila—his ramshackle-but-charming boat. Lily is determined to uncover an ancient tree with unparalleled healing abilities—possessing the power to change the future of medicine. Thrust on this epic quest together, the unlikely duo encounters innumerable dangers and supernatural forces, all lurking in the deceptive beauty of the lush rainforest. But as the secrets of the lost tree unfold, the stakes reach even higher for Lily and Frank and their fate—and mankind's—hangs in the balance.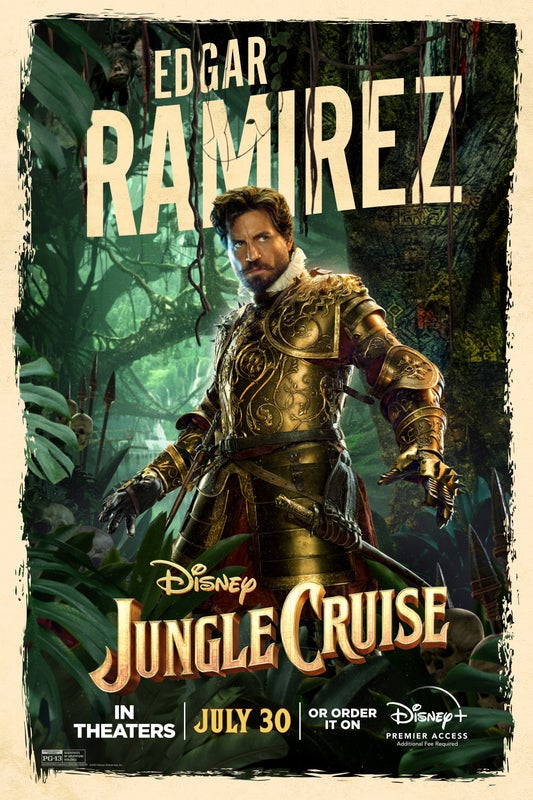 Jaume Collet-Serra directs the film, which stars Dwayne Johnson, Emily Blunt, Edgar Ramírez and Jack Whitehall, with Jesse Plemons, and Paul Giamatti. The producers are John Davis and John Fox of Davis Entertainment; Dwayne Johnson, Hiram Garcia and Dany Garcia of Seven Bucks Productions; and Beau Flynn of Flynn Picture Co., with  Scott Sheldon and Doug Merrifield serving as executive producers. The story is by John Norville & Josh Goldstein and  Glenn Ficarra & John Requa, and the screenplay is by Michael Green and Glenn Ficarra & John Re
I had the chance to talk to Dwayne Johnson ("Frank Wolff"), Emily Blunt ("Lily Houghton"), Jack Whitehall ("MacGregor Houghton"), and Edgar Ramirez ("Aguirre") for the upcoming Jungle Cruise. I hope you like my interview as much as I enjoyed interviewing them.

1.Was your chemistry there right from the beginning?
Emily Blunt said it was instant and she said her and Dwayne were pals for life immediately.  They had an awesome rapport and had a great time filming.
2. Did you sign on to this project right away?
Dwayne said yes because the script was in a really good place right from the start and he saw the potential of the opportunity. The ride was Walt Disney's baby and there were a lot of elements that was right with the whole movie.
3. Was there a lot of improv in this movie?
They all said there was a fair amount of improv. Jack said the script was amazing from the start but they were given space to improvise and add stuff to it. They created a great environment to intertwine all of it.
4. What was it like seeing yourself for the first time? Because, without spoilers, you have a fantastic look in this film.- asked to Edgar
He joked and said he was happy the snakes weren't anywhere near him during the shoot because he is super afraid of snakes.  He said he saw the movie two days back and he loves how it turned out.
5. What was most difficult stunt to film?
Emily Blunt said it was the rope scene and that particular scene took all day to film. Dwayne Johnson agreed and also said it was the scenes with the Conquistadors and  Edgar and his partners.
6. I wanted to know how it feels being a villain in Disney and represent Latin America in such a cinematic experience? -asked to Edgar
He says he is very happy and it's very special to be in a movie like this and to play a character like his. What he loves about the movie in general is that it has so many beautiful and great characters that allows you to be on a journey.
7. What about the Jungle Cruise spoke to you? The attraction?- asked to Dwayne Johnson
He said it was the nostalgia. He had ridden the ride as a kid and it brought back so many great memories. He loves that this is a true family friendly film.
JUNGLE CRUISE debuts in theatres and on Disney+ with Premier Access starting July 30th.
*Thanks to Disney for inviting me to this press junket. All opinions are my own and not swayed by outside sources.*