A few weeks back I had the pleasure to attend an influencer roundtable for Netflix's newest preschool series Ridley Jones with Emmy Award-winning creator Chris Nee.
Coming off the heels of the wildly successful series "Waffles + Mochi," Ridley Jones is premiering on Netflix on July 13. The show's intended for kids to ask questions – like "is Fred a boy or girl? They're just Fred." The non-binary bison shares preferred pronouns in episode one. Nee's goal is to make these characters "non-issues" for kids TV and believes understanding and acceptance starts with the youngest viewers—preschoolers.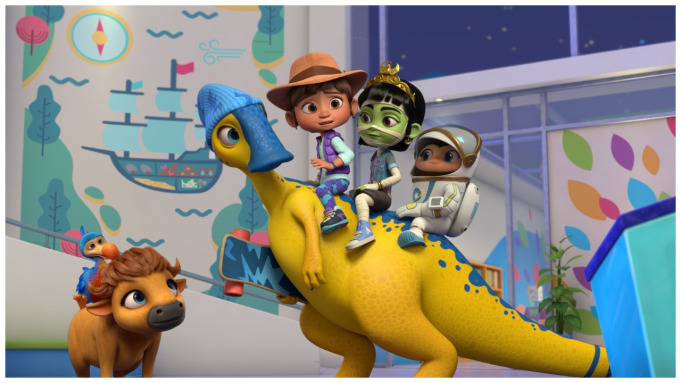 Inclusivity is a central theme of Ridley Jones, Netflix's first series from Nee, a pioneer in diversity and inclusivity in children's media. Ridley continues Nee's tradition of creating strong, relatable female characters, following in the footsteps of girl leads in Nee's Doc McStuffins and Vamperina. Ridley Jones presents compelling and relatable LGBTQIA+ characters as well like Fred, the non-binary bison—the first re-occurring non-binary character in a preschool series. Nee's work to advance representation of diverse children, characters and storylines was recently recognized as part of her appointment to the Board of Directors for Women in Film, Los Angeles.
This show is amazing even for the middle age children. I loved having diversity in the cast and being able to have open talks with the little ones about all the characters. It is a perfect way to introduce to your kids the idea of talking about how everyone is not the same, but everyone you should love the same. This is seen beautifully in Ridley Jones. It also boasts girl power to the max!
My interview with Chris Nee:
Did you find that you felt any pushback in terms of creating Fred the character or, with two dads? Was there any pushback in that? 
Chris said those elements are near and dear to her heart. Netflix was so extraordinarily supportive in it too. The world had changed a lot in the past few years and while it has not been an easy fight, it was a necessary one. Netflix gave Chris a lot of freedom.
 What was your inspiration for the whole concept and how did it come together with music and songwriting?
Chris said the idea of doing an action adventure show for girls was really exciting. To flip the switch and see boys watch a superhero girl is very exciting. Chris's mother loved museums so it was a natural fit to use this as the backdrop.  Chris also loves music and musical theater in particular. The composing team came from Vampirina and Chris helped write songs with them. After that is set, they love to cast Broadway community members such as Sutton Foster and Andrew Rannells who are both in this.
Are there any specific characters that you identify with the most in the show?
Chris is a two mom family so it was important to put this into her work and writing. Chris is trying to make more things outside of the box seem more normalized for kids. Chris always makes characters who are deeply in touch with their families. Fred is a character who she relates well too.
 How did you pick which animals to include?  Did you have that set in from the beginning or did you start putting in one animal at a time? 
Chris said they all come from different places. Peaches was one of the last ones who was added in partially because it felt like we were getting into a place where you couldn't tell what was an animal from an exhibit and from a museum versus just an animal when it's animated.  The characters are all well thought out with who they are going to represent.
What would you like your audience to get from watching this series?
A lot of the lessons are actually just the process of truly making a show and how to make great songs and how to have it all fit together incredibly.  To showcase how different all the characters are and how they go together on this journey.  The storytelling in this is very important. It is also important to see that is takes a village together.
RIDLEY JONES IS PREMIERING ON NETFLIX ON JULY 13th!
*Thanks to Netflix for inviting me to this press conference. All opinions are my own and not swayed by outside sources.*