The day has finally arrived. Disney's Cruella is now available to watch on the Big Screen and while you can order the movie as part of Disney + premiere, this is a movie that deserves to be seen in a movie theater. As most of you know Disney is a huge part of my life and to me this movie rated in the top 5 favorites of all time Disney movies to date.
Cruella tells the story of how Cruella De Vil (Emma Stone) comes to be from the famous One Hundred and One Dalmatians.  The movie starts out with her being born, through young childhood, and up to where she changes from Estella to Cruella. Estella always had evil ways and had no idea where these ideas came from, as she knew her mom to be of total sweetness.  Years follow of despair, theft, and following the wrong crowd.  When Estella gets the chance to work with the Baroness (Emma Thompson), things again takes an unexpected turn as she sees the Baroness wearing a sentimental necklace that was her moms.  Things then become a tale of adventure, revenge all mixed with a sadness that is seen in Estella, and then coincidentally Cruella comes to being.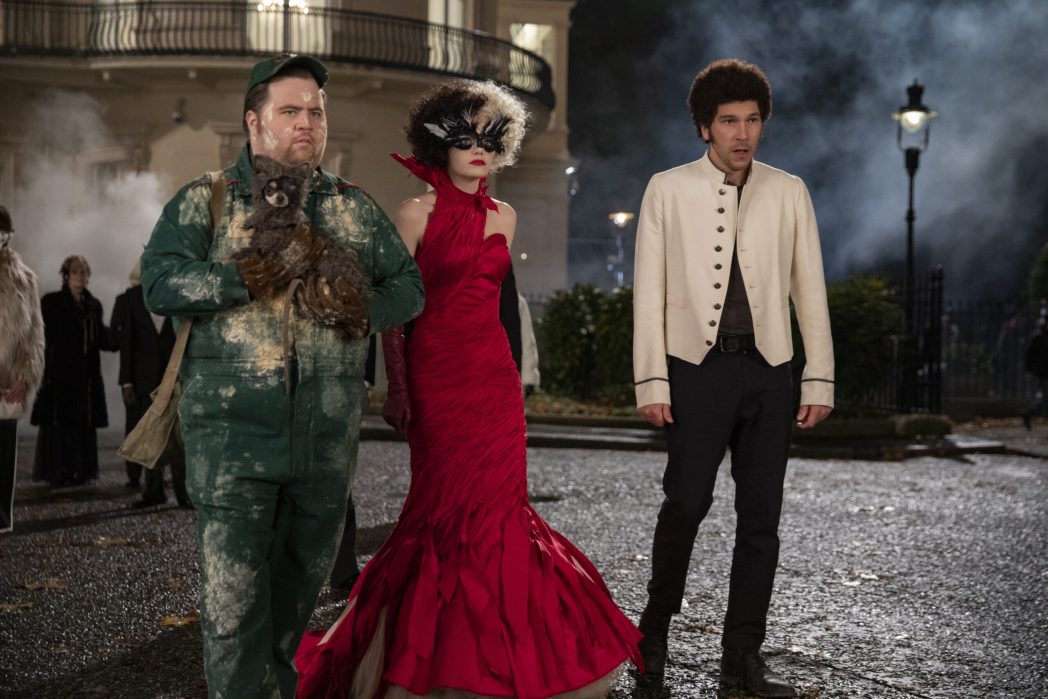 There are so many moving parts of this film and while it clocks in at close to 2.5 hours, this movie needed to be this long to really learn about all the characters and their nuances.  After learning about the costumes and designs at the press junket, it definitely lived up to the hype. It was just gorgeous including the set designs and locations where they filmed. Add in the spectacular music and it concludes in the movie being a top notch Disney film.
This is one of the most dark Disney movies I have seen to date and the villainous ways of both Cruella and the Baroness makes this movie quite dark at times. However, you can't delve into Cruella's life without bringing in the darkness. I do think that this movie is definitely for the 12+ crowd for these reasons.  This movie deserves to be seen on the big screen for all the amazing acting, costumes, music, set designs, and character development.  It is  visually gorgeous from start to finish. I give Cruella 5/5 stars!
SYNOPSIS:

Academy Award® winner Emma Stone ("La La Land") stars in Disney's "Cruella," an all-new live action feature film about the rebellious early days of one of cinemas most notorious – and notoriously fashionable – villains, the legendary Cruella de Vil. "Cruella," which is set in 1970s London amidst the punk rock revolution, follows a young grifter named Estella, a clever and creative girl determined to make a name for herself with her designs. She befriends a pair of young thieves who appreciate her appetite for mischief, and together they are able to build a life for themselves on the London streets. One day, Estella's flair for fashion catches the eye of the Baroness von Hellman, a fashion legend who is devastatingly chic and terrifyingly haute, played by two-time Oscar® winner Emma Thompson ("Howards End," "Sense and Sensibility"). But their relationship sets in motion a course of events and revelations that will cause Estella to embrace her wicked side and become the raucous, fashionable and revenge-bent Cruella.
"Cruella" stars Emma Stone, Emma Thompson, Joel Fry, Paul Walter Hauser, Emily Beecham, Kirby Howell-Baptiste and Mark Strong. The film is directed by Craig Gillespie, with screenplay by Dana Fox and Tony McNamara, story by Aline Brosh McKenna and Kelly Marcel & Steve Zissis, based upon the novel "The One Hundred and One Dalmatians" by Dodie Smith. "Cruella" is produced by Andrew Gunn, Marc Platt and Kristin Burr, p.g.a., with Emma Stone, Michelle Wright, Jared LeBoff and Glenn Close serving as executive producers.
Cruella is now in theaters!!!
WHERE TO WATCH CRUELLA:
Disney+ subscribers can pre-order Premier Access to "Cruella" from now to May 27 for [$29.99] in the U.S. and Canada. Once subscribers get Premier Access to the movie, they can watch it as many times as they want on any platform where Disney+ is available, with an active Disney+ subscription.
 Pre-order Premier Access on Disney+ for $29.99:  https://www.disneyplus.com/cruella
 Fans can also purchase advance theater tickets through Fandango to see the movie on the big screen in cinemas.
ENJOY! THIS MOVIE IS FANTASTIC!