Two weeks back I was invited to a special press conference for Apple TV+ Trying with Rafe Spall and Esther Smith. It was very neat to interview these two amazing actors for season 2 of Trying, which comes out this Friday, May 21. This show is not only funny but heartwarming and beautifully told. As I was watching the episodes I went from crying to laughing to wanting to hug my kids. It so well done and an absolute must  watch starting this Friday. Trust me!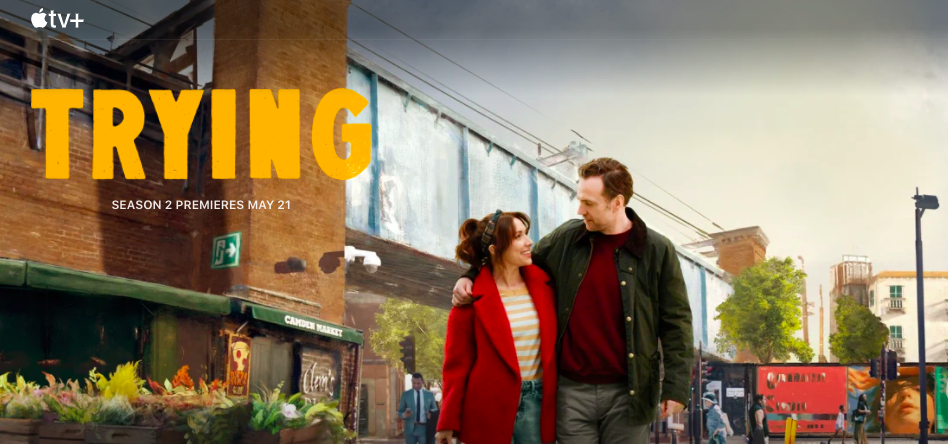 Interview with  Rafe Spall and Esther Smith
1. I absolutely love the series, the comedic, the drama, everything involved. It's such a pull in subject with adoption, what would you want your readers, your watchers to come away with after watching the series? What important things about adoption?
Rafe said he wants people to come away with relating to the subject matter. The show is about figuring it out which is an universal theme. He hopes this show does not make people feel alone.
2. My next question is could you tell me what in terms of the script there was so many comedic moments? Was there any spur of the moment? Was it all scripted? To to make the show.
Esther said Andy is a brilliant writer and gives a great foundation for the actors to play off of. They loved to improvise and throw things in the mix. However, most of it was scripted.
3. In terms of casting how did you guys get both involved with it?
Rafe said he auditioned and Esther was hired first. When they read together, it was magical and worked so well.
4.The backgrounds are just so beautiful. The imagery, where did you become what did you film and it was the various parks around?
Esther said they filmed in Camden or Primose Hill to showcase London. They filmed during the Pandemic which was interesting.  The flat scenes were filmed in the studio. London is a beautiful city and there are a lot of royal parks to work with too.
5. Going back to working with the children and everything in it. How was that working with children?
Esther said she was blown away with the kids and their talent. She said they were very mature and always had a real awareness about the subject matter.
6.What was your favorite scenes?
Rafe likes all the scenes in the apartment. He said this was beautifully written and he loves to act in these scenes. Esther likes to see the moments when they argue which is simply miscommunication.
Synopsis of "Trying:
"Trying" season two debuts exclusively on Apple TV+ on Friday, May 21. The eight-episode series, which has been renewed for a third season, will premiere with the first episode, followed by new episodes weekly, every Friday.
In season two, "Trying" follows the continuing journey of Nikki (Esther Smith) and Jason (Rafe Spall) as they navigate the adoption process. Having been approved by the adoption panel they now find that matching with a child is not as straightforward as they had hoped. It seems like children are being snapped up by other couples while somehow they're being left behind. Helped by their eccentric social worker Penny (Imelda Staunton) they are determined to do everything they can. When Nikki meets a little girl called Princess at an adoption event she knows instantly that this is the child for them. But there are obstacles to Nikki's plan that may prove insurmountable. 
Season two also stars Ophelia Lovibond ("Elementary," "W1A"), Oliver Chris ("Motherland," "Four Weddings"), Sian Brooke ("Sherlock," "Good Omens"), Darren Boyd ("Killing Eve," "Luther") and Robyn Cara ("Life," "Ackley Bridge"). 
"Trying" is Created, Written and Executive Produced by Andy Wolton, Directed & Executive Produced by Jim O'Hanlon ("Catastrophe," "The Punisher"), Produced by Sam Pinnell, ("Motherland,""Derry Girls"), Co-Produced by Tim Mannion & Executive Produced by Josh Cole, and is produced by BBC Studios.
"Trying" will premiere globally on Friday, May 21 with the first episode, followed by new episodes premiering weekly on Friday thereafter, exclusively on Apple TV+.
*Thanks to Apple TV for inviting me to this interview. All opinions are my own and not swayed by outside sources.*