Last week I was introduced to a new game show on ABC called The Chase. If you are a trivia fan like me, this is the game show for you! The Chase is a heart-racing quiz show where three competitors must pit their wits and face off against the Chaser, a ruthless quiz genius determined to stop them from winning cash prizes. Each hour-long episode is a fast-paced battle of brain power, where contestants are challenged to think faster than they ever thought possible to answer up to 166 questions across all topics. "Jeopardy! The Greatest of All Time"'s James Holzhauer, Ken Jennings and Brad Rutter take turns serving as the Chaser, reuniting the three titans.

I watched last week's episode so far and I can tell you that you will be hooked. You feel for these contestants because they are going across some geniuses like Ken Jennings (you know the all star of Jeopardy). I love the way they are asked the questions and it has your heart racing because of course there are time restraints every step of the way.
I had the chance to sit down to talk to Sara Haines, who is the host of The Chase.
ABOUT SARA HAINES: Sara Haines is host of ABC's newest quiz show "The Chase" and co-host of ABC's daytime talk show, "The View," where she returned to the panel for season 24 having been a co-host in 2016-2018 for seasons 20-21.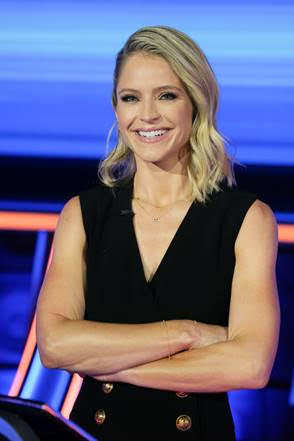 Most recently, Haines co-hosted ABC News' "GMA 3: Strahan, Sara & Keke."  Prior to her association with ABC News in 2013, Haines was part of the fourth hour of NBC's "Today," alongside Kathie Lee Gifford and Hoda Kotb, a position she held from 2009 to 2013. In 2008, she began online reporting as host of the program's entertainment video blog "Backstage Pass" interviewing countless celebrity entertainers, actors and musicians. 
Haines came aboard "Today" in 2002 as a production coordinator. Prior to joining NBC News, she was a member of NBC's page program.
Haines graduated from Smith College in Northampton, Massachusetts, where she received a Bachelor of Arts in government. She is a native of Newton, Iowa. She currently resides in New Jersey with her husband, Max, and three young children, Alec, Sandra and Caleb.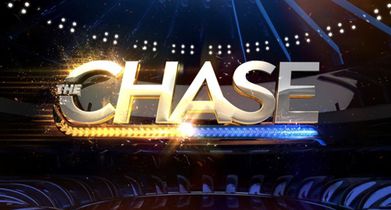 Some Fun Interview Questions:
1.The Chasers are all smart but each have their own personalities.  If you could use one word to describe each chaser, what would they be?
Sara said she would describe Ken as warm and James as snarky (in a good way) as he's always got a line.
2. You have to go so fast, do you ever fell like like you need to practice and do you get anxiety like I've got to hurry up and get these out?
She said it was funny because she spent her whole life speaking too fast, speaking too quickly. People used to tell her that they couldn't understand her with rushing to get everything out. So she spent her on air career slowing down.
The Chase was actually a perfect place to feel like her uncensored self. She said she is deliberate in how she speaks.
3. What is the prep like and how it differs from being on The Chase as opposed to The View?
When she is preparing for The Chase, accuracy is important. She knows that people have money at stake, from the chasers to the contestants. She wants to make sure she doesn't mess up, that she represents the game and all the research that's gone into it. So she does a lot of trying to anticipate. She reads through the questions quickly before and tries to catch any words that could trigger her. She is  notorious for mispronouncing things and then she just blames it on her regional Iowa accent.
With The View, they are not scripted. So anything she says is on her.
4. Can you tell me a bit more about the overall production,? How does that work in terms of  timing? About how long does it take to film versus how long the show is? Also how does the Pandemic factor in?
"We are in pandemic times, so there's no audience. The amount of precautions this production took to make us safe, there were double masks everywhere. No one was allowed to walk near you or to talk to you without double masking. I was shooting The View by remote in the morning. And so that my day started around four AM  because it's West Coast, so we're getting up right when we finish the View, I'd have about thirty minutes to eat something and then we were up for the first episode and that usually took a couple hours. Then you stop down to give everyone a break to eat and change and you go back up and it always took at least a couple hours because there's a lot of technology with game shows. So if the system goes down, everything has to stop. We can't inter mingle and we can't pass each other.
So you're kind of stopped down wherever you're standing. So I don't know how it compares to a normal time. Everyone promised me there's so much more energy because there's audience. But it was an unique time to be shooting anything. Even The View, we don't have that many people here. So for them to be able to provide all those jobs and have the crew there, they had to take such extreme precautions, which I'm grateful for. But it was such a weird thing to shoot."
5. I was wondering what about this game show made you want to be involved and what is the most fun about it?
She said she has always dreamt of being part of a game show because games in her family are the focus every time they are together, holidays, vacations there are always games. She has a nostalgic connection to any game she has ever played that she just associates it with family and celebration. Games to her are checking out and bringing people together.
6. The teasers are brilliant and the questions are great. So is it a big cheer when you know an answer to one of the questions?  I'm wondering because the contestants look as knowledgeable as The Chasers. At any point do you have to cut them off because they start sharing their information or exchanging why they had chosen an answer over the other?
"They often elaborate a lot but there isn't a lot of room. They've both locked into their answers so they they can elaborate as much as they want. And correct me if I'm not answering your question correctly but when they lock in The Chaser and them have locked in at the same time and the board closes, so they often will say how they got to that answer and at this point it's a moot point because they've all locked in. So sometimes they gave explanations and I saw some of those edited out because either they both got it wrong or it didn't end the game. So they definitely had to trim a lot of the talk in between, because that's probably what made it last for two hours. It was a long episode each time."
THIS WEEK'S EPISODE:
"You Should Have Stayed in Vegas" – The race to "The Chase" continues with James Holzhauer stepping into the hot seat as three new contestants compete to beat one of "JEOPARDY!'"s greatest players of all time as they pit their wits against a ruthless quiz genius determined to stop them from winning cash prizes. Hosted by "The View"'s Sara Haines and starring "JEOPARDY! The Greatest of All Time"'s James Holzhauer, Ken Jennings and Brad Rutter as the Chasers, "The Chase" airs THURSDAY, JAN. 28 (9:00-10:00 p.m. EST) on ABC. (TV-PG, L)
"The Chase" airs THURSDAYS (9:00-10:00 p.m. EST) on ABC.
Episodes can also be viewed the next day on demand and on Hulu.
Follow "The Chase" (#TheChase) on Twitter, Instagram and Facebook.