Last November my oldest daughter went for an audition for an untitled Disney + movie that was filming in Massachusetts. While she did not get the part, we loved the premise of this movie and was so excited to see it! You can see my full reaction later on but in the meantime, I wanted to present to you all the awesome Virtual Press Junket I did with Disney for this fantastic movie!
SYNOPSIS:

Set at Christmas time, "Godmothered" is a comedy about Eleanor, a young, inexperienced fairy godmother-in-training (Jillian Bell) who upon hearing that her chosen profession is facing extinction, decides to show the world that people still need fairy godmothers. Finding a mislaid letter from a 12-year-old girl in distress, Eleanor tracks her down and discovers that the girl, Mackenzie, is now a 40-year-old single mom (Isla Fisher) working at a news station in Boston. Having lost her husband several years earlier, Mackenzie has all but given up on the idea of "Happily Ever After," but Eleanor is bound and determined to give Mackenzie a happiness makeover, whether she likes it or not. 
Question + Answer with Jillian Bell ("Eleanor"), Isla Fisher ("Mackenzie"), Jane Curtin ("Moira"),   Jillian Spaeder ("Jane"),   Willa Skye ("Mia"), Santiago Cabrera ("Hugh"),  Artemis Pebdani ("Duff"), Utkarsh Ambudkar ("Grant")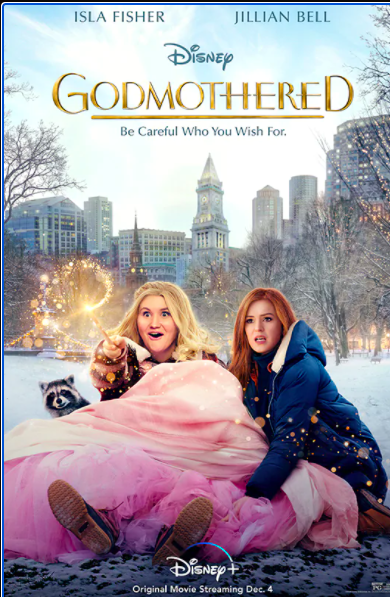 1.What is Godmothered about? -asked to Jillian Bell
It is about a fairy godmother in training and she goes down to Earth to prove that Godmothers are still very much needed. She finds Mackenzie, who was supposed to be younger ,but she finds an adult instead. Mackenzie does not think she needs a Godmother but maybe she does!
2.  What is the balance between comedy and straight man in this story?- asked to Isla Fisher
Isla Fisher said it was a great balance but she found it hard not to laugh because Eleanor is hysterical.
3. What was it like playing Moira?- to Jane Curtin
It was the only tall character I have ever played. The makeup, costumes, and such created the character of Moira. She liked the whole outfit of her.
4.  Were you guys familiar with news casting before this movie?- asked to Santiago, Artemis, and Utkarsh?
Santiago said no but he was able to research by going to a news station and learning by field reporters.  They all said they did research for this and had people on set to help out.  Artemis said he was not in front of the camera ever before.
5. What was it like having to perform wearing the dress the whole time?- asked to Jillian Bell
She said she is in a corset and ballgown the entire time. It helped her stay in character the whole time. She loved wearing the corset!
6.  Was being a Disney character a dream of yours?- asked to Jillian Bell
Yes absolutely it was a dream of hers! The script came along and she was always looking for a magical character.  She is still blown away that she got the part. It was a great cast!
7. You are the king of accents. How was it to transition to a lovable dad character?- asked to Santiago
He loved that it as not your "true" prince and he loved he was a guy who was a serious journalist and gets lost in the ratings.  There was a lot of fun elements to it and he loved changing things up.
8.  What does this movie represent to you?- to all
Happily ever after is what you want and what you want to achieve on your own, says Jane Curtin. Jane says we are capable of such amazing things and that is happily ever after.
9.  At the end of the film, we get an animated section of godmothers. Is this on purpose that they have so many different godmothers?- to all
Jillian says she absolutely loves the progressiveness of this and it was awesome to do in a Disney movie. The cast all agreed.
10. How was it filming the performance scene?-asked to Jillian Spaeder
Jillian said she is a singer/musician in real life so she loved doing this.
11. Do any of the Disney characters inspire you?- asked to Jillian Bell and  Jane Curtin
She said definitely the fairy godmother in Cinderella.  Jane said she also filmed the wicked queen in a show one night. She loves doing this.
12.  What is the first day on set like?- asked to Jillian Bell
She said it was very nerve wracking. It was like being new to school and you want to do a very good job.
13. Any standout memories from Boston?
Jane Curtin grew up there so she loved visiting home again. They all loved Boston
14. How much was ad libed?- asked to all
Utkarsh ad libed the most but the script was so funny to begin with. Isla said they did a little bit.
15. Your character gets to dressed in historical costumes. Is there any historical character you would like to get magic from?-asked to Artemis
He said maybe Mozart or Amelia Earheart.
Disney's Godmothered will be available to stream on Disney + this Friday, December 4th! 
*Thanks to Disney for inviting me to this press junket. All opinions are my own and not swayed by outside sources.*