I was honored to be invited to The SpongeBob Musical Press Conference a few weeks back. The SpongeBob Musical is available to download and buy on DVD this Tuesday, November 3rd.  Hayley and I are big Broadway fans and actually had tickets to see The SpongeBob Musical in May but because of Covid this was shut down. Getting a glimpse into the making of this musical into DVD form was fantastic for both her and I.
PRESS JUNKET INTERVIEW:
We had the chance to sit down in a virtual interview with Tony Award Nominated Ethan Slater (SpongeBob SquarePants) and Tom Kenny (Patchy the Pirate and the animated voice of SpongeBob). They were two of the nicest interviews and talked on and on about their love of this upcoming movie production.
1. When you found out you were playing SpongeBob on Broadway, how did you tackle to get into character?- to Ethan
Ethan said he worked on it for 5 years and watched tons of SpongeBob. He also went to a contortionist and went to dance classes/voice lessons to get prepared.
2. What were your thoughts when they made it into a Broadway show and then into a movie?
Tom said they attempted a few years ago to make it into a movie but it was not approved. Then a few years later it got pitched and approved. The skepticism turned into cautious optimism and then excitement.  Ethan said they waited till they knew it was perfect before they turned it into a movie. They made sure it was beautiful and took their time.
3.  What do you want the audience to take in from the musical and franchise?
Ethan said he is very proud that it has that connection point to a lot of people for a lot of different reasons. For some it is Broadway, for others is for SpongeBob. Most of all though he said it was an important story to tell and not denying the scientist when they wanted to tell the story. Also telling the story of lifting each other up and helping people. There was a deep core of love in the face of fear.
4. Do you get together and talk about the character or get tips from each other?
Ethan said the advice was from Tom to him because Tom was the original. Ethan said he watched a lot of SpongeBob and he watched interviews to see where he was coming from. Ethan joked that Tom said not to wear yellow.   Tom said on Broadway it has to be bigger and more detailed. It has to be very inclusive, which is a part of SpongeBob's character, but showcase that into the Broadway show. It had a lot of depth.
5. What is your favorite move?- to Ethan
He said it was doing the splits to the knee breaks. Ethan said he would go to physical therapy every week because he had to do a lot of moves throughout all the shows.
6. How is this movie different from the Broadway version?
Ethan said they had to cut time to make it a bit shorter. They cut little tidbits that made it better.  He also added in some comedy into it.
7. Did you ever see it become the phenomena it is?
Tom said he did not see it. He is so grateful for it though! Ethan said he knew it was five years into development so he did not know if it would ever come to what it is today.  It was very one step at a time for him.
8. What is your favorite musical number?
Ethan said it changed for him every week. He said it was I Guess I Miss You, the ballad between Patrick and SpongeBob. He also loved I Am Not a Loser. Tom agreed that it was his favorites too!
9. What would you say is your favorite scene and what would you miss the most?
Tom said he misses seeing Broadway during this time and misses all the live action of it all.  Tom said when Bikini Bottom first appeared, that was his favorite.  Ethan said he never saw the show until the DVD. Ethan said his favorite when he made his entrance through the thin door.
The question Hayley and I asked:
ABOUT THE SPONGEBOB MUSICAL: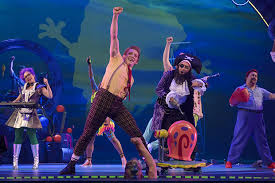 The SpongeBob Musical: Live On Stage! is a musical production conceived and directed for the stage by Tina Landau, book by Kyle Jarrow, orchestrations, arrangements & music supervision by Tom Kitt, with choreography by Christopher Gattelli, produced for television by Austin Shaw, and directed by Glenn Weiss. Nickelodeon's Vice Presidents Paul J Medford and Susan Vargo serve as executive producers, alongside Senior Vice President of Music & Talent Doug Cohn and is executive produced and overseen by Executive Vice President of Unscripted and Live Events Rob Bagshaw.
The production features original songs by Yolanda Adams, Steven Tyler and Joe Perry of Aerosmith, Sara Bareilles, Jonathan Coulton, Alex Ebert of Edward Sharpe & The Magnetic Zeros, The Flaming Lips, Lady Antebellum, Cyndi Lauper, Rob Hyman, John Legend, Panic! At The Disco, Plain White T's, They Might Be Giants, and T.I. (Clifford Harris, Jr.), Domani Harris, and Darwin Quinn, and additional songs by David Bowie, and by Tom Kenny and Andy Paley. The production also features additional lyrics by Jonathan Coulton and additional music by Tom Kitt, along with "The SpongeBob Theme Song" by Derek Drymon, Mark Harrison, Stephen Hillenburg, and Blaise Smith.
SpongeBob and all of Bikini Bottom face catastrophe – until a most unexpected hero rises to take center stage to prove that the power of optimism really can save the world. This one-of-a-kind musical event boasts the full, extended-length broadcast of the hit Broadway musical, plus an exclusive sing-along version only available on this DVD! Also featuring a special guest appearance by voice actor Tom Kenny as 'Patchy the Pirate,' this is one under-the-sea spectacular that you don't want to miss.
The SpongeBob Musical: Live on Stage! DVD will be available for the suggested retail price of $10.99 U.S this Tuesday! I will be posting my review of The Spongebob Musical this week so stay tuned!
*Thanks to The SpongeBob Musical for inviting me on this press junket.*