The Right Stuff is now streaming on Disney + and is quite honestly my favorite new series that has been released in the last year. It is one series that the entire family will love from start to finish, especially the ones who have a love for space. This series was not only interesting but it was informative, and truly epic! If you have not had a chance to watch it, do yourself a favor and start streaming it. You will not be sorry! It is simply beautifully done!

Based on the iconic bestseller by Tom Wolfe, "The Right Stuff" is an inspirational look at the early days of the U.S. Space Program and the incredible story of America's first astronauts, the Mercury Seven. At the height of the Cold War in 1959, the Soviet Union dominates the space race and America fears it is a nation in decline. Newly-formed NASA has the monumental task of sending a man into space and its engineers estimate they need decades to accomplish the feat. They are given two years. Project Mercury would recruit and train astronauts from a handful of the military's best pilots.
Within days of being presented to the world, the Mercury Seven become instant celebrities, forged into heroes before they achieve a single heroic act. Two men at the center of the story jockey to become the first man in space: Major John Glenn, a Marine and committed family man, and Lieutenant Commander Alan Shepard, one of the best pilots in Navy history. The rest of the Mercury Seven includes Lieutenant Gordo Cooper, the youngest of the seven selected to everyone's surprise; Wally Schirra, a competitive pilot with a gift for pulling pranks; Scott Carpenter, dubbed "The Poet" by the other astronauts; Deke Slayton, a taciturn but incredibly intelligent pilot and engineer; and Gus Grissom, a decorated military veteran who eventually becomes the second man in space.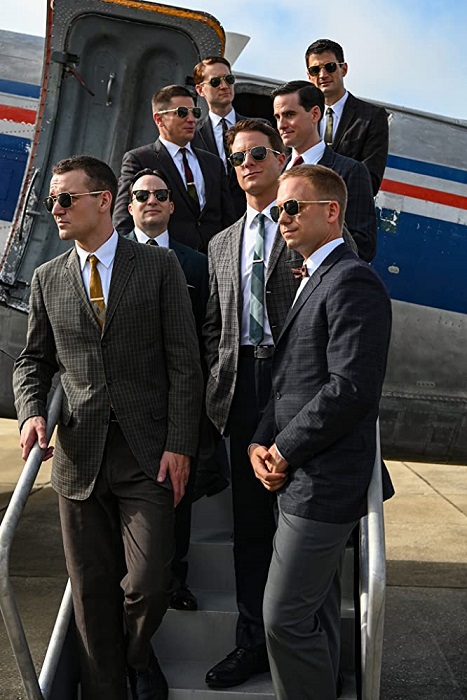 The series also examines the astronauts' families, including Annie Glenn, who contends with a speech impairment in the public eye; Louise Shepard, who anchors her family while refusing to let Alan's transgressions affect her home; and Trudy Cooper, an accomplished pilot who puts her own ambitions aside to present the image of a happy family. NASA's engineers work against the clock under mounting pressure from Washington, including Bob Gilruth, a soft-spoken rocket scientist and his partner, the brash and passionate Chris Kraft. NASA's PR department goes into overdrive as the omnipresent John "Shorty" Powers leads the astronauts on glad-handing trips to factories and fundraising dinners to build support for the space program, while LIFE Magazine's Loudon Wainwright Jr. is assigned to write profiles of the astronauts and their families to paint the perfect picture for a transfixed public.  At a time when many wondered if America's glory days were behind it, "The Right Stuff" is an aspirational story about how ordinary human beings can achieve the extraordinary. As much about who we are today as it is about historic achievements, "The Right Stuff" evokes the wonder of this singular era, when the free world looked towards a new horizon of hope as we first stepped off the bounds of our only home to venture into the vast unknown.
More of my thoughts:
As stated above, my family was totally sucked into this series from the first second. Once every episode ended, we were eagerly awaiting starting the next one. It is filmed with drama (and lots of it) but also love, relationships, and funny moments throughout. It was so interesting to my family to see how the 7 astronauts came to be picked for the space program and what they went through to attain this status and become the American heroes they all are to this day.
Each of the astronauts has their own stories and they do a great time in developing them. Some of the astronauts had loving families while others had marital problems, which ultimately led them to "compete" for the 7 astronaut spot vigorously and competitively.
Space is something my family is very interested in it. We visit Kennedy Space Center yearly and love learning about the space program. The Right Stuff delves into these 7 astronauts lives which I have not heard much about to now.  I have seen 5 episodes thus far and can not wait till it ends.
This series is wonderful for families and is fantastic to learn! If you are studying at home, this is a show that you can use for those purposes. This is a great historical series that will keep you interested from start to finish. We absolutely LOVE The Right Stuff!
SYNOPSIS:
The incredible story of the early days of the U.S. space program, based on the iconic bestseller by Tom Wolfe. At the height of the Cold War, newly-formed NASA selects seven of the military's best test pilots to become astronauts. Competing to be the first in space, these men achieve the extraordinary, inspiring the world to turn towards a new horizon of ambition and hope.
Cast:
Patrick J. Adams as "Major John Glenn" Jake McDorman as "Lieutenant Commander Alan Shepard" Colin O'Donoghue as "Captain Gordon Cooper" Eloise Mumford as "Trudy Cooper" James Lafferty as "Captain Scott Carpenter" Nora Zehetner as "Annie Glenn" Eric Laden as "Chris Kraft, Jr." Patrick Fischler as "Bob Gilruth" Aaron Staton as "Wally Schirra" Michael Trotter as "Virgil "Gus" Grissom" Micah Stock as "Deke Slayton" Shannon Lucio as "Louise Shepard" Josh Cooke as "Loudon Wainwright, Jr."
The Right Stuff is streaming now on Disney +!