MAGICAL..MYSTICAL. BEAUTIFUL are all adjectives I would use to describe The Secret Garden, available today to stream on VOD.  A few weeks back I had the chance to view The Secret Garden, which I watched with my kids. My daughter, who is a huge theater geek, was so excited to see it based on what she knew about this story from the theater, as well as,  the book. I have to say we all thought this movie was beautifully done. If you are expecting it to be like the book and theater productions, there are definite differences but the life lessons and themes are the same which I was glad to see.
The movie centers around Mary Lennox, who is young child placed in the hands of her uncle after the death of her parents. The audience gets introduced to a girl who is confused and forced to start a new life in her uncles home. Her uncle played by Colin Firth, has many issues that he has to deal with and leaves a very despondent life taking care of his son, Colin.  Colin is told at a young age that he will lead of life of pain and suffering, from an underlying health condition. We see him wheel chair bound and very angry for large parts of the film.
Along the way we are introduced to Dickon, who is the young brother of Martha, the servant of the family's estate. Dickon has a warm hearted demeanor but Mary faults him and does not like him initially. The story continues on where they find this magical secret garden and relationships start to change.
The Secret Garden is where the story goes from being  dark to one of ravishing beauty. The Secret Garden not only changes Mary's life, but the lives of all the characters in the book. Without telling too much about what this garden entails, I will say that this garden is whimsical and is the answer to turn around their lives.  The garden allows people to express their feelings and has healing powers both emotionally and physically.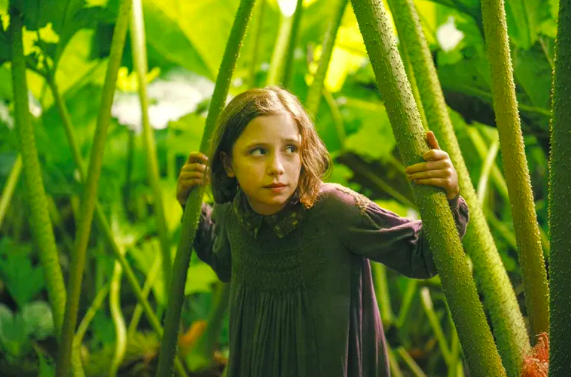 This past week, I had the chance to talk to Dixie Egerickx and Edan Hayhurst about their respective roles in this movie. Here are some of the question and answer we discussed that day. These kids were so mature for their ages and their talent is truly awe-inspiring.
What are the life lessons you want to walk away with and what is your favorite scene?
Edan told us that nature is very important and how we should all respect nature. This movie delves into that and the beauty of it all. His favorite scene he shot is when they filmed in the very cold stream at the end.
Dixie told us that she wants people to learn that they can really grow and change throughout their lives. She said that scene was her favorite too, especially because it was a very hot day.
2.  What was it like filming the scenes with Colin Firth?
They both told us it was really fun and it was not intimating at all. They loved the dynamics between them.
3. How do you create magic in your everyday life?
Edan told us that he creates it by just living life and being with friends/family. Dixie said it was similar to what Edan said. People help create their magic in their life.
4. Did you have a favorite day on the set?
They said they didn't have one full day on set that was their favorite, but rather everyday they filmed was pure delight. They loved filming the garden scenes and being in nature with the gorgeous sets.
5. What was the first day on set like?
Edan said at the beginning it was about being comfortable and learning about the actors. For Edan, his first scene was in bed in a very hot temperature. Dixie said everyone was so nice and for her it was meeting everyone.
6. Were there any  locations that were their favorite?
Dixie said it was a big garden location in London that was beautiful.  They also filmed at a private beach which Edan said he loved too.  Edan said it was fun doing school on set on the beach.
7.  Was it difficult playing the role of Colin and staying in bed?
Edan said it was hard as he was younger and to sit still was difficult.  He loved his movie coach which made it easier for him.
8.  What drew you to these characters?
Edan said Colin was a challenging character to play!  He wanted to do his own take on it. For Dixie, Mary was very complex and it was great to see her transformation. It was fun to see her emotional journey throughout the film.
9.  Was it scary to film the fire scene and was the fire real?
Dixie said yes some of the fire was real.  She said it was easier to act scared when it was real.
10. Were there any obstacles working with CGI?
Both of them said it was not that difficult because most of it was not CGI.  It was real beauty that they acted in everyday.
The Secret Garden is available for streaming on VOD TODAY! We all really enjoyed this film and hope you all do too!
SYNOPSIS:
THE SECRET GARDEN starring Colin Firth, Julie Walters and Dixie Egerickx is a new take on the beloved classic novel of the same name written by Frances Hodgson Burnett. Set in England during a new time period in 1947, the film follows a young orphan girl who, after being sent to live with her uncle, discovers a magical garden on the grounds of his estate. Marc Munden is directing the script, which was adapted for the screen by Jack Thorne. David Heyman (Harry Potter franchise, Paddington 1, 2) and Rosie Alison (Paddington 1, 2) are producing and Jane Robertson (The Danish Girl, Bridget Jones's Baby) is co-producing. StudioCanal's Ron Halpern, Didier Lupfer and Dan MacRae are executive producers. STXfilms will distribute THE SECRET GARDEN in the U.S. and Canada.
OFFICIAL TRAILER:

*I worked with STX films on this post. All opinions are my own and not swayed by outside sources.*