In this time of age, I need an escape from reality like so many others. I want a movie that is a fun watch that will leave me uplifted. The movie, The Secret Dare to Dream did just that for me. Based on the Oprah Book Club top pick, The Secret has sold over 30 millions copies through the years. While The Secret is a self help book, the movie adds many elements of that into the storyline. The main ideas of the book and movie are the themes of putting positive energy and optimism, to ultimately get what you want in life. This is seen in the first scene where wanting the family wants a pizza and ultimately a pizza shows up. While life may not work like that, I truly believe in the power of attraction and believing, which we see time and time again in this movie. If you put positive energy into your life, your life can turn out even better than expected. In this day of age, it is nice to see the optimism ultimately play out in the movie even with many bumps in the road.
Sure this movie was predictable especially with the love story between Miranda Wells (Katie Holmes)  and Bray Johnson (Josh Lucas) but it truly made for a great feel good movie during this crazy times of our lives.  I found myself feeling sympathetic for Miranda dealing with the sudden death of her husband, while ultimately having to raise two teenagers, as well as her love triangle, that ultimately ended in a predictable, but oh so happy way!  Bray's character was my favorite because he was a really good guy from start to finish. His optimism shone throughout this movie, even the parts that could have been corrected through the story.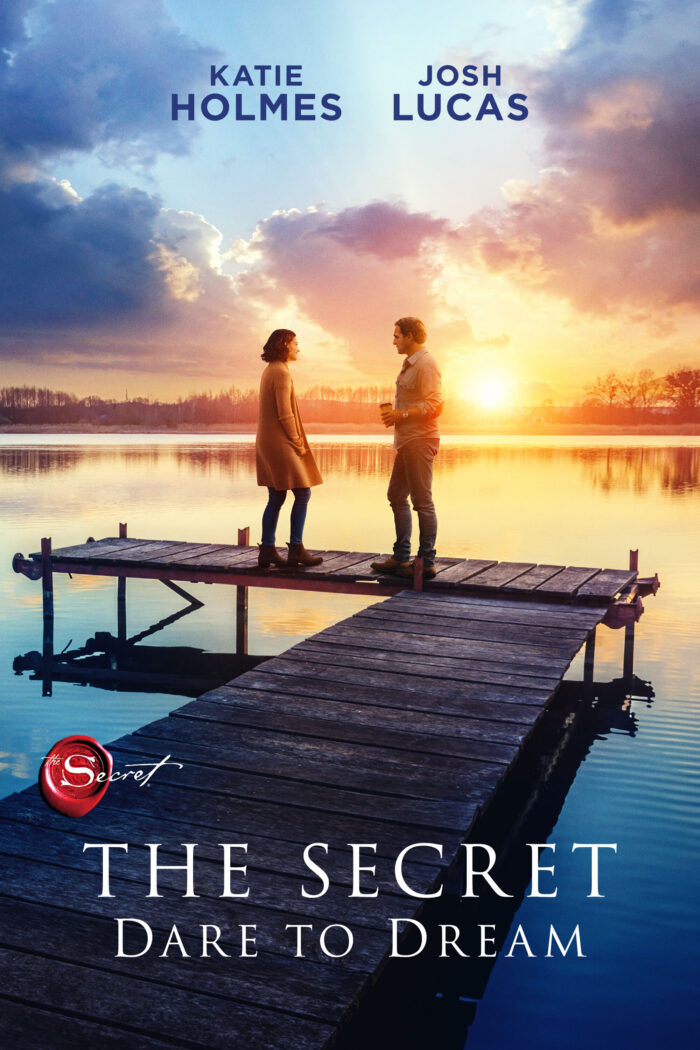 This was a light, airy film that I truly enjoyed. Because I am a very optimistic person, this story really resonated with me. Again perhaps slightly over predictable at times, this movie is one I would not want to end any other way. It is sappy..It is lovely..It is important..And it is fun! It showcases that obtaining your dreams is very possible if you give your heart to it. I give Secret Dare to Dream 3.5 out of 5 stars.
SYNOPSIS:
Based on the groundbreaking best-selling book about the law of attraction by Rhonda Byrne, The Secret: Dare to Dream follows Miranda (Katie Holmes), a young widow trying to make ends meet while raising her three children and dating her boyfriend (Jerry O'Connell). A devastating storm brings an enormous challenge and a mysterious man, Bray (Josh Lucas), into Miranda's life. Bray reignites the family's spirit but, unbeknownst to Miranda, also holds an important secret — one that will change everything. With its timeless messages of hope, compassion, and gratitude, The Secret: Dare to Dream is an inspiring and heartwarming film that shows how positive thoughts can transform our lives.
CAST
Katie Holmes                                Batman Begins, Jack and Jill, "Dawson's Creek"
Josh Lucas                                     Ford vs Ferrari, Sweet Home Alabama, Glory Road
Sarah Hoffmeister                      "Speechless", "9-1-1"
with Celia Weston                      Hulk, Night and Day, The Intern
and Jerry O'Connell                   "Billions," Stand by Me, Kangaroo Jack
Screenplay by Bekah Brunstetter and Andy Tennant & Rick Parks; Story by Bekah Brunstetter; Directed by Andy Tennant.
The Secret: Dare to Dream is now available to rent for $19.99 through On Demand platforms such as Apple TV, Amazon Prime Video, VUDU and cable providers.