You remember a recent post where I talked about how our family is surviving COVID? Yeah..let's talk about that a little bit more today. It's a sore spot for thousands of people just here in the U.S, especially for those with children in the home and who may not be able to return to work or send little ones back to school during recent debate about ceasing reopening during the 2nd wave. I'm sure many of my readers can relate to feeling like the last few months have been beyond mentally draining.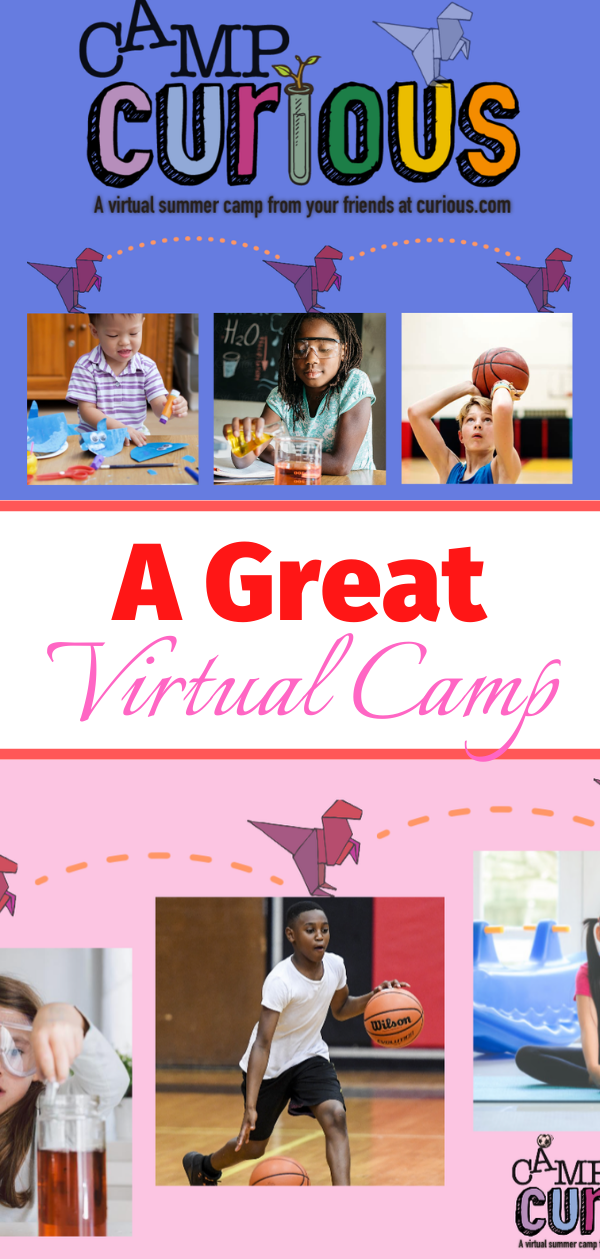 When I heard that many states were waffling on whether or not to continue reopening, I inwardly groaned. Sure, we've found ways to keep busy and the kids have enjoyed more outdoor activities and family activities, as well as extra (monitored) screen time but I'm not going to lie, we've been running on fumes right along the rest of the world. There has been depression, tantrums, feelings of despair in terms of how long we'll have to be away from loved ones, and jobs.
VIRTUAL SUMMER CAMP:
However, despite everything, all the craziness makes me beyond thankful that we've been able to partner with Curious, during this pandemic. Over 2 years and 5,000,000 learning sessions went into the creation of the innovative Curious "search engine" and is based on the science that shows those who stretch their brains, even with a few minutes of "lessons" every day, are happier, more successful and actually live longer. Kind of a neat way to keep yourself busy during quarantine, huh?
Even better than helping boost your brain power with daily exercises, Curious is hosting a Summer Camp for kids from 1st to 9th grade levels! Camp Curious , virtual camp, will kick off on July 6th and rather than take up the gauntlet by offering onsite camp experiences like many, will be hosted virtually for registered campers. Camp Curious is a new learning experience that was built to be as close to an in person experience as possible in the midst of this pandemic.
Groups are kept small and sorted by age so that in addition to having being able to be with kids their own age, participants also get to feel like activities are happening as if they were physically present with their peers and teachers.
To aid in the effort and to ensure success, virtual instructors will be teaching live throughout the duration of Camp Curious and have been drafted from the Curious database of instructors, which is home to over 2,000 accredited teachers. These instructors will be instrumental in teaching from 9:30am to 3:30pm, focusing on activities such as STEM and crafts in the morning, followed by lunch led by a professional chef, and then activities will wrap up with physical activities such as soccer, dance, basketball, yoga, etc.
Camp Curious offers activities that focus on arts and crafts, STEM projects, sports such as basketball and more, the virtual camp uses lifelong living as its touchstone in this kid oriented, parent approved program. What better way to cure the boredom blues while providing an educational outlet, than to enroll in a virtual camp where children can thrive in a safe space and have a blast at the same time?
Camp Curious will start July 6th, as I mentioned above, and will wrap up events on August 14th. That's over a month of virtual fun that will keep your kiddos busy, engaging in new activities and provide educational content in the wake of school closures.
So, run, don't walk to check out pricing information and to get your kids registered online. Apply code CURIOUS2020 to receive a 20% discount at checkout!
*This is a partnered post. All opinions are my own and not swayed by outside sources.*