I'm no expert when it comes to parenting. I just have a few years of experience. So, when I meet a new mom/dad or if I'm asked for advice, I like to give it to them honestly. The best advice I like to give is: "Never lose yourself along the way." The road to parenthood is rough. It's full of twists and turns, steep inclines, and drops that make your stomach fly up into your throat. Through every turn, we become so involved and invested in shaping our children that sometimes we tend to forget who we are as individuals. We become "mom" and "dad" to not only our children but ourselves as well. We try so hard to be perfect in the eyes of our little ones that who we were before we became parents gets lost in the shuffle.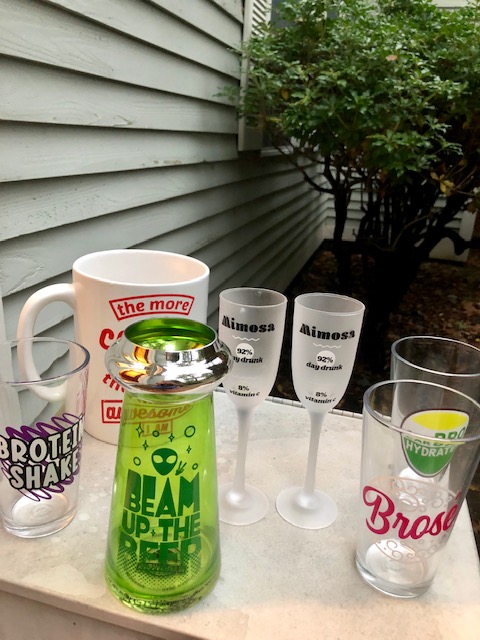 For a long while after our kids were born, my husband and I suffered from this fate. We got so caught up with the parenting roles that little by little who we were as individuals and as husband & wife took a backseat. Then, slowly but surely we made our comeback. We started pursuing our interests again, both as a couple and alone. These days we may not have perfect balance between self, marriage and kids but it works for us. Our home is no longer all about little ones. Sure, we have toys here and there, books, backpacks, etc. but there are also pieces of evidence that point to "us" again. As a matter of fact, some of that evidence can be found in our cabinets.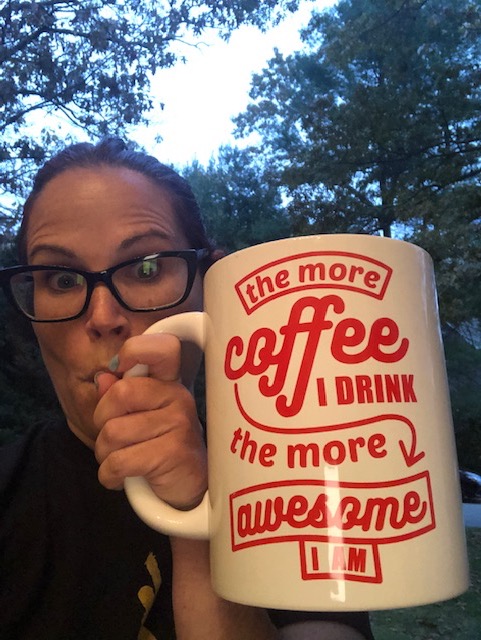 Exhibit A: BigMouth Inc. glasses. Since rediscovering our individual fun sides, my husband and I have taken to randomly buying up little knick knacks for ourselves as well as for each other. Our cabinets are full of funky, funny glasses that we've found either at our local stores or on our travels. When Big Mouth Inc. spoke with me about doing a collaboration to feature their products on the Mommy Chronicles, I was thrilled. The company is a manufacturer of outrageous lifestyle products that are sure to be a hit with friends & family. If you're looking for a gift to make someone laugh or just to let them know you're thinking of them, BigMouth Inc. has you covered.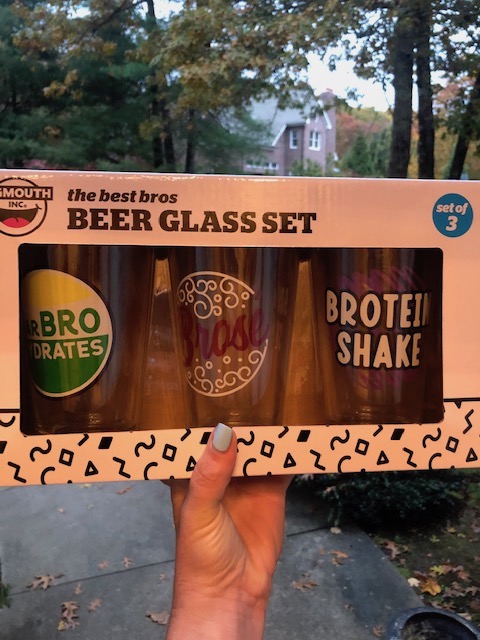 I'm a die hard coffee fanatic, so the More Coffee I Drink mug was a no brainer for me. First and foremost, it's HUGE which is perfect for me because I can feed my coffee addiction much more effectively with this colossal mug rather than my old puny one. Able to hold a whopping 64oz of the beverage of your choice, the wording on this mug reads "the more Coffee I Drink the more awesome I become." I can relate to this in a big way.
Next up, an ode to bromances and my husband's (as well as occasionally mine) taste for cold brew: the Beer Bro's Beer Glass set of 3. Whether it's your "Brose" or just a couple of friends over for the night, these 16oz beer glasses will be sure to go over well with the gang. Easy to clean and crafted from high quality glass, you'll love being able to bring "Brotein Shake", "CarBro Hydrates" and "Brose" to the table!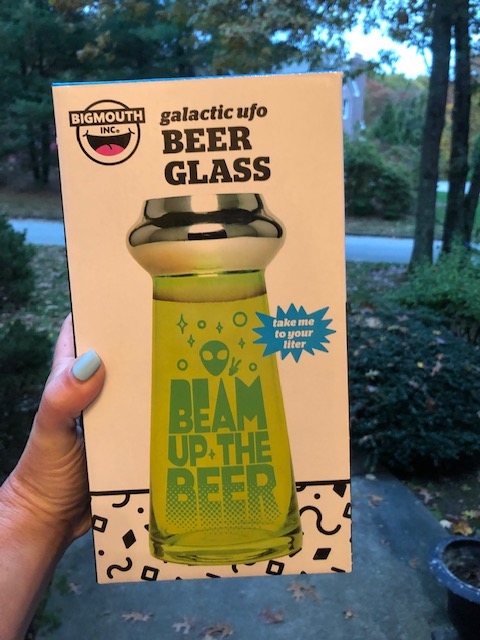 Orange Juice. Alcohol. Two beverages meant for two very different times of the day. Forget everything you've ever thought about those two drinks and put them together. Now, you have a delightful vitamin D rich beverage that will help you make the most out of brunch while keeping you relaxed throughout the rest of the afternoon! Mimosa's aren't always on the menu for moms but when they are, they're a tasty way to kick back & relax. With this set of 2 Mimosa glasses, you can start your day off on the right note while getting a laugh at the text written on the front that reads "92% Day Drunk, 8% Vitamin C." Unique and high quality, these would make an awesome gift to your mommy friends or even as a new addition to your glasses cabinet!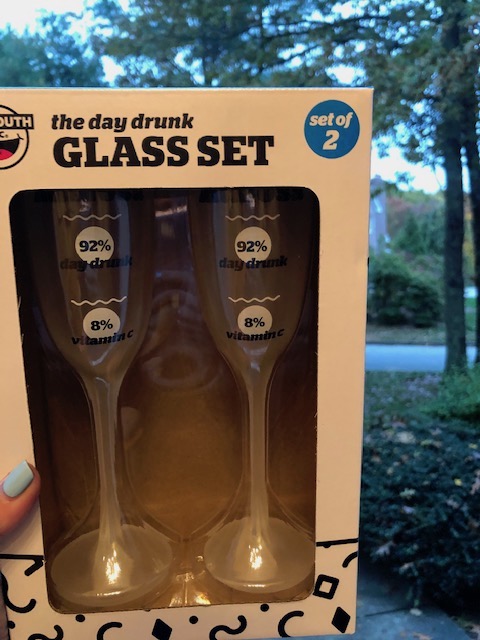 I will admit that this one might be one of my favorites, as the design is simply too cute and out of this world to resist. The UFO Beer Glass features a unique shape with alien design as well as the words, "Beam Up the Beer." It's capable of holding up to 240z of beer (my kind of cup for sure!), is easy to clean (what mama doesn't love to hear those words?) and would make an absolutely epic gift for the extraterrestrial fanatic in your life!
Big Mouth Inc. has a fun, themed piece for every recipient on your holiday shopping list. Whether they're alien obsessed, coffee fanatics or one who lives for fun, they'll be pleased as punch to be the owner of a Big Mouth Mug, Inflatable or any one of the companies wide selection of products!
Do not worry though if you are shopping for kids gifts, as they have a plentiful number of gifts for the kiddos! One of my favorites are the fun outdoor products from BigMouth Inc including their custom pool floats! From superb big mouth snowtube to a super fun snow globe fort, it will keep your mind off slush puddles and grey snow piles! And in the summer, they have other fantastic products!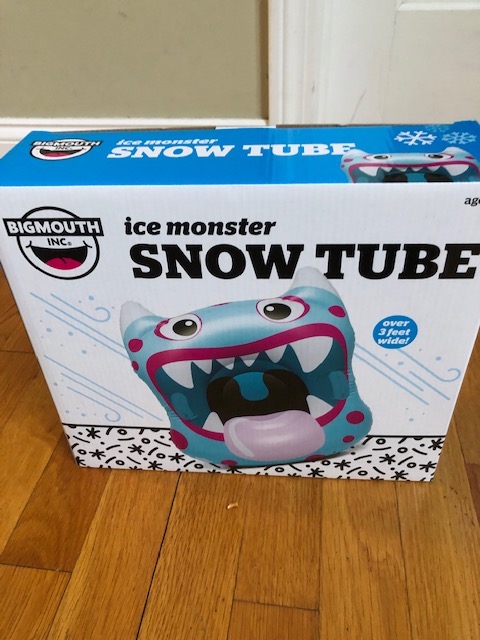 Happy Holidays from BigMouth Inc!
*I worked with Big Mouth on this post. All opinions are my own and not swayed by outside sources.*