Lazy Saturdays  are among my favorite days of the week, if you don't count Friday when I can clock out of work for 2 glorious days. Unlike those who prefer to have Sunday's reserved for noncommittal activities, I like to sleep in and do absolutely nothing on those occasional Saturday's when we aren't running around trying to catch up a weeks worth of chores, errands and such. Coffee is brewed promptly at 8am, and from there I can sip leisurely at the kitchen table while I contemplate the leisure time at my disposal. Plush Necessities to the Rescue!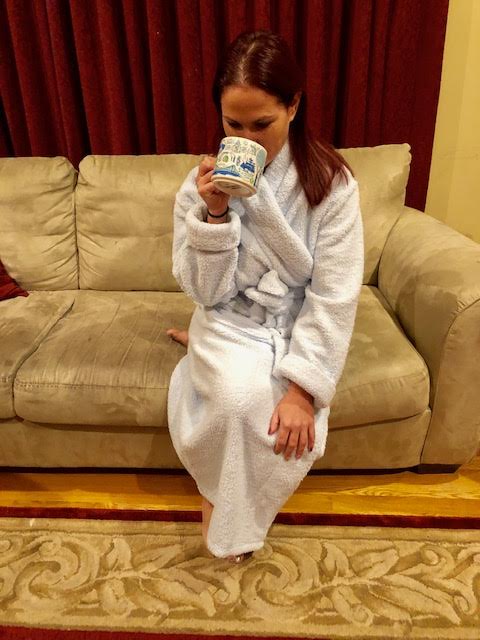 I used to do this in my favorite, worn pajama bottoms and sleep shirt of choice but that all changed recently when I was able to partner with Plush Necessities to feature one of their 100% Cotton Hooded Robes! on the Mommyhood Chronicles. My lifelong love for my pajamas has been officially put to the test. There are people are argue that robes from luxury hotels are among the softest and most comfortable robes on the market, and for a time I wholeheartedly agreed. That is, until mine showed up on our doorstep and I was able to enjoy my first Saturday morning wearing it while I had my customary morning cup of coffee.
Shop Plush Necessities Hooded Robes
Plush Robes:
Made of delicate superfine microfiber, this robe is the embodiment of pure, blissful comfort. Even more plush than my best microfiber sheets, Plush Necessities has crafted a product that I'll keep coming back for. Although they're fitted as unisex, both men & women can enjoy them. When I first was looking at their sizing options, I went ahead and read previous reviews to get an idea on the fit and as per many suggestions, ordered a size up from what I'd normally buy. I don't fancy particularly tight-fitting clothing in general, so when it arrived and I was able to try it on for the first time, I was glad to have ordered the size I chose. It was a perfect fit; not too loose but not so tight that I stressed more over the fit instead of the sheer plush comfort it provided.
Womens Robe:
Available in 6 lovely colors to choose from, Plush Necessities offers sizes from xxs to 3XL and as an added bonus, each robe comes with the promise of an unconditional 60 day hassle-free return guarantee. Still not a sweet enough deal? Plush Necessities also has a promotion that is offering couples 20% off on two robes at checkout. How awesome is that? With that promotion you never have to worry about your spouse, partner or even your kids making off with your coveted comfy robe.
Whether you're like me who likes to sit sipping coffee all wrapped up in my robe, or among those who like to wrap up in one after a shower, you simply won't regret investing in one of these wonderful robes for yourself. If robes aren't your thing, but you happen to know someone who has a love for them, don't forget that the holidays are fast approaching!
*This is a partnered post. All opinions are my own and not swayed by outside sources.*