It is time to think about the holidays. Crazy I know, as i just feel like we were celebrating the holidays! That is how time goes- FAST! To make it simple this holiday season, PlayMonster has some really fun and cute ideas for the kids in your life! These are some cool games for girls and boys!

ABOUT PLAYMONSTER:
"PlayMonster is a toy and game company, championing the power of play by creating quality toys and games for children, adults and families. They are the perfect combination of playful and professional, and true play experts because they understand play for ALL AGES!"
From Party Games to Kids Toys, Strategy Games and Pre-School toys, PlayMonster really has something for everyone. These are some toys that I loved:
GOO ON MY SHOE:    Each player moves their shoe game piece along the sidewalk, hoping to avoid piles of goo! Along the way, players can also place goo to try and get other players into sticky situations! Take turns spinning the merry-go-round and moving along the path. The first player to make it to the pond at the end gets to remove one goo for every other player left. Then everyone counts their goo — the player with the least wins. For 2 or more players. Age: 4+ SRP: $19.99
 THE LOGO GAME: It's the game of things you know and love! From chocolate to cereal, football to flowers, soap to shoes— they all have LOGOs! The Logo Game is all about those logos and everything wrapped up in them. It taps into the knowledge we've piled up about nostalgic and new brands, and adds a few astonishing facts and surprises to entertain everyone! New version includes fun 3D pawns! For 2 to 6 players.
UTTER NONSENSE: Players combine silly voices with even sillier phrases to create sayings that are just plain ridiculous! Each round features one voice, and each player must read one of their Phrase Cards in said voice. The Nonsense Judge picks their favorite to win that round! You don't have to be good at accents to play, have fun with it and be silly to make the phrases your own! It's a fun, laugh-out-loud game for the whole family! For 4 to 20 players.
DRAW INTO CRIME: A crime has been committed! One of the players has witnessed the crime and has seen the perpetrator. Now the other players must ask the witness questions to try and identify the person responsible through their sketch drawing.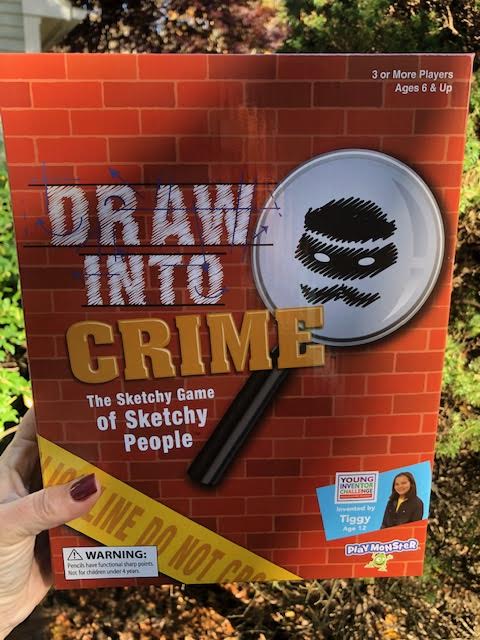 Some of other fun games include Yeti Forgetti, Butts Up, Mad Moves, Full Circle, Meltdown, SET, WordSpiel, Zangle, Karma, and more! Don't you just love the names?! These are definitely some awesome and cool games for girls and boys.
If you are looking for some great holiday gifts, check out PlayMonster today! The people behind PlayMonster love their products, test them out with their family and friends, and play with them before they ever hit the market, so you know they are great!! Let's get back to having some good ole' fun!
*I worked with PlayMonster on this review. All opinions are my own and not swayed by outside sources.*