Do you ever have those times when you find yourself caught up on EVERYTHING and decide to settle down for some light reading, or maybe watch some missed episodes of your favorite show? If you answered no then I definitely relate. Between work, blogging, spending time with the kids after school, helping with homework, laundry and the million other tasks I have on my plate, there is zero time to do anything relaxing during the week.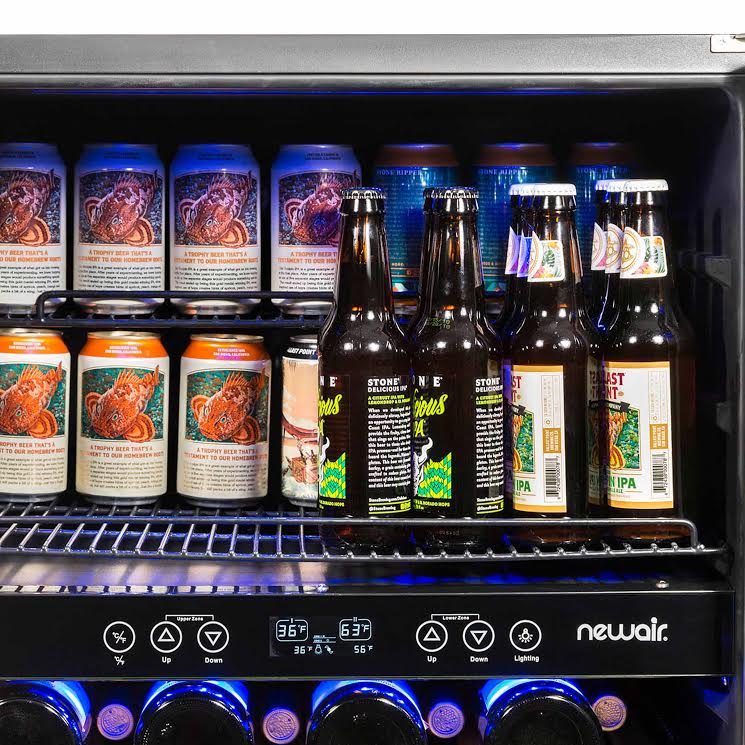 Even if, by some miracle, I did get the freedom to sit & catch my breath, there would be one of my kids asking for a glass of water, for more help on homework, a stain that needs immediate attention on their clothes, etc. As they say, a mama's job is never done. Although..if I'm being honest, I'd have to say that it would be nice not to have to constantly run back and forth to the fridge a million times for the kids, cause maybe then I might get at least a few minutes of precious freedom.
As a rule, we don't usually just let them have free reign in the kitchen. Snacks are taken from the pantry if they need to graze but as far as going into the fridge for things or heating something up on the stove or microwave, my husband and I do that ourselves. Less mess, stress and potential safety hazards that way. Ask me how many times I've had to clean up a pitcher of spilled water or sweet tea and then our no going into the fridge rule will make sense!
Although, I guess I shouldn't complain too much..the trips back and forth to the fridge for drinks has been cut down a quite a bit lately. I know, my fellow parents are probably wondering how the heck I managed that, because we all know how many trips we have to make to the fridge for our kids in a single day.
My answer? The NewAir 24″ Dual Zone Wine & Beverage Fridge. With a built-in capacity for the storage of 20 bottles and 70 cans, this handy cooler has been the perfect way to cut down the million and one trips to the refrigerator for drinks for the kids. I can enjoy the quiet time to myself, reading or pinning recipes, and when the kids say they're dying of dehydration they help themselves to the juice boxes or occasional soda (we don't keep a steady stock of junk food/drinks in the house) or chilled water bottles.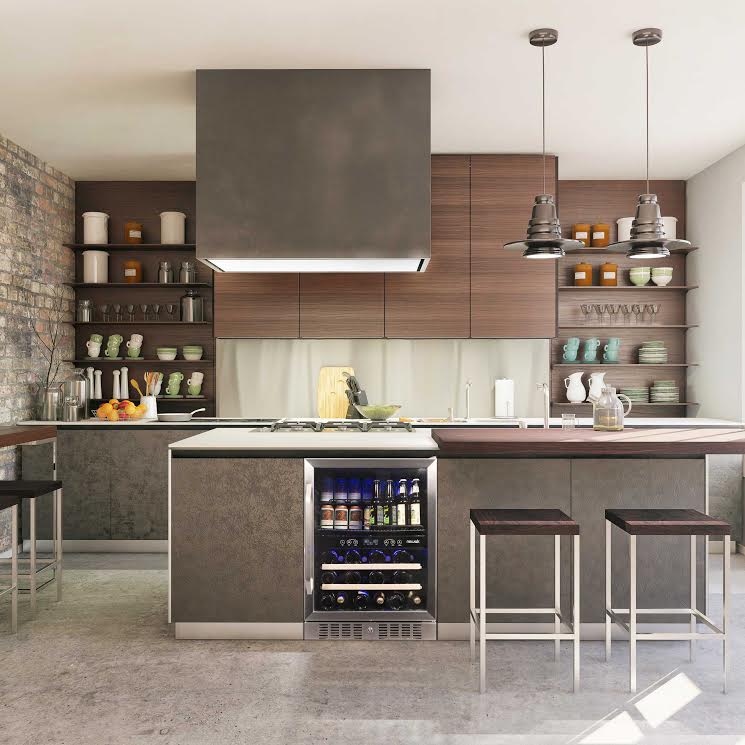 I do also happen to enjoy the occasional glass of wine from time to time. This makes the double purpose of the NewAir Dual Zone Beverage and Wine Fridge Cooler an even better product to have in our home, being that the kiddos can have their drinks on the top rack while mommy may decide to keep the occasional bottle of Barefoot on the bottom. Either way, both zones in the cooler are kept at the perfect temperature for drinking, not lukewarm but not teeth-achingly cold either! It is the perfect wine storage temperature.
Key details to highlight about the Dual Zone beverage and built in wine Cooler include:
The ability to store both 20 bottles of wine and 70 cans of soda at one time.
Digital temperature control to keep wine at 50-60 degrees & soda 36-50 degrees.
Smooth gliding shelves that prevent vibration that causes sediment build-up.
24″ size makes it compatible to fit under any standard height counter.
Interior LED lights for added chic look.
Whether you're chilling soda's for a family friendly event or getting wine ready for a night with the girls, you can't go wrong by purchasing the NewAir 24″ Dual Zone Beverage and Wine Fridge. Personally, not having to get up 10 times in an hour to retrieve drinks is enough incentive for me if I ever need to replace it in the future!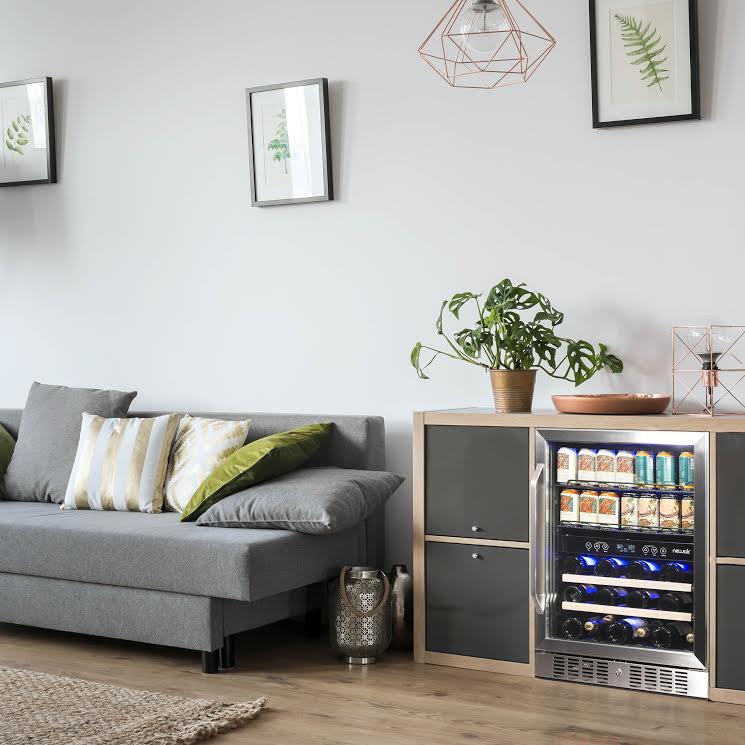 To find out more about NewAir wine fridge and the cooler, you can visit them online or become a fan of their social media sites like Facebook|Twitter|Pinterest|Instagram.
*This is a partnered post. All opinions are my own and not swayed by outside sources.*