I love appliances in the kitchen that make it easy to cook. My kitchen is a few years old and I am slowly upgrading all the outdated appliances to newer models and more "kitchen-friendly" appliances. That is why I was so happy to learn about The  Breville Combi 3-in-1 Microwave available now at Best Buy.
*This is a partnered post with Best Buy. All opinions are my own and not swayed by outside sources.*
What sets this microwave apart is it has three uses. Introducing the NEW! Breville Combi Wave 3-in-1 Microwave   It can be used as a "regular" microwave or a microwave that air fries, as well as a convention oven. So many uses for one microwave.
We love to fry foods but in a healthy way and this microwave allows us to do just that. You can air fry (crunchy fries, brussel sprouts, chicken wings), bake or roast (whole chickens, lasagna, chocolate brownies) or simply microwave with even heat distribution. I mean how cool is that?!
Here are some additional features of The Breville Combi 3-in-1 Microwave:
Large 12.4″ turntable keeps food rotating
By turning food items as they are prepared, the turntable ensures even, thorough cooking.
1400W for powerful microwave cooking
Defrost, cook and reheat your favorite foods and beverages, evenly and quickly.
A variety of cooking programs to fit your needs
Defrost, reheat, fish, bacon, popcorn, pizza, rice, chicken, meat, cake and butter/chocolate.
Combi function
Cooks faster alternating between cooking functions.
Element iQ® system
Smart algorithms and precise temperature control.
Defrost function
Quickly and efficiently thaws frozen items.
Enjoy evenly heated meals with consistent flavor
Convection technology uses a fan to circulate heat during the cooking process, effectively minimizing the number of hot spots and cold spots.
Compact 1.1 cu. ft. interior provides enough room for snacks
Reheat a small portion of leftovers or cook a treat, such as popcorn.
Power Smoothing™ Inverter
Automatically adjusts power intensity for even heat distribution.
PowerGrill
Grilling element cooks crispy food, including pizza, by using 1100W of grill power.
With three kids, I do not have much time to cook for longer periods of time. The "Fast Combi" function of the Combi Wave 2-in-1 allows you to cook all your delicious dishes even faster.  Using Microwave, Convection Oven and Grilling to achieve the desired temperature and perfect results in less time. Score for a busy mom like me!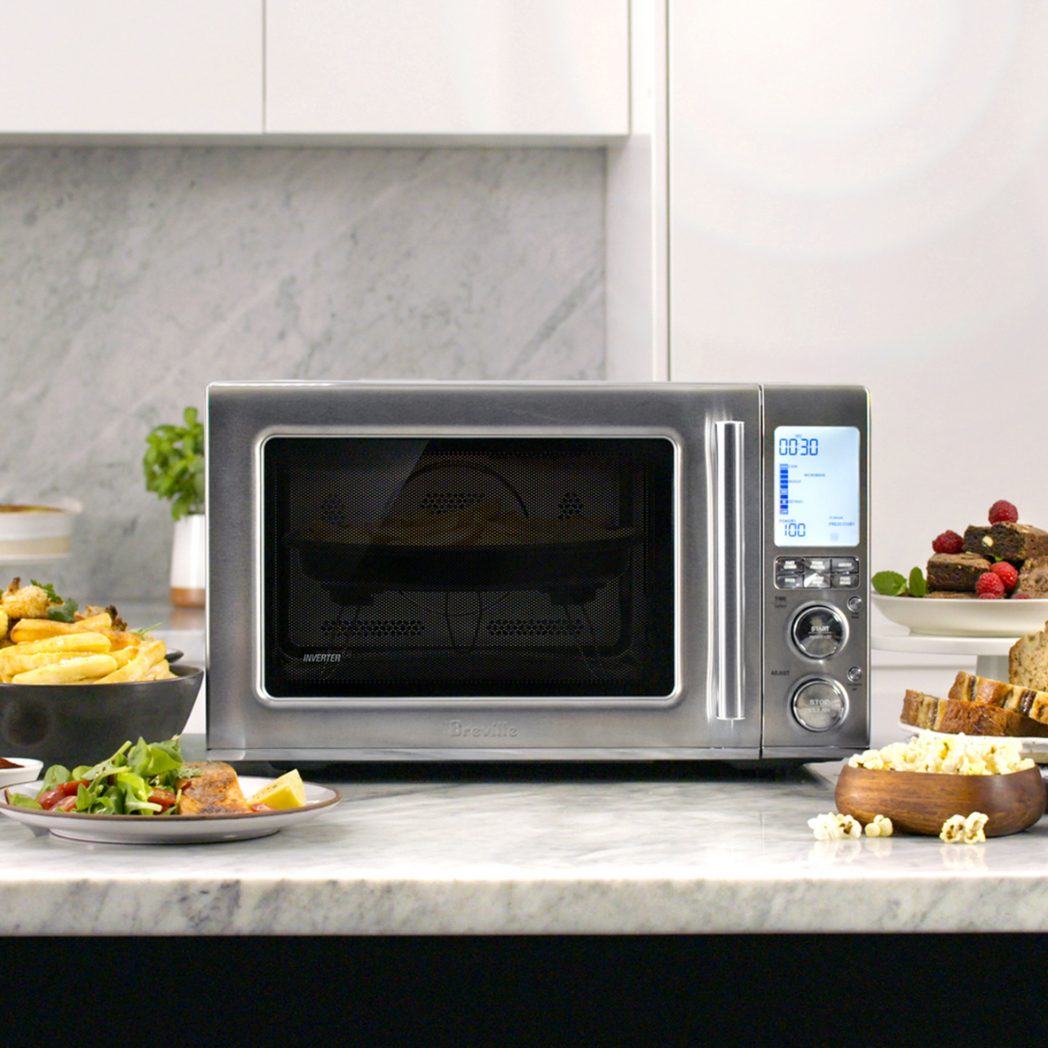 I also love the quiet features of this microwave. It has a 80% quieter soft close door so even if little hands slam it, you do not hear it as much. It's also 50% quieter while in operation.
Do you enjoy cooking, lifestyle and smart home technology? If all this is true, the new Breville Combi 3-in-1 Microwave Campaign at Best Buy may just be the microwave for you!