Happy weekend everyone! Are you ready for the weekend? For us, this also signals the start of our February vacation! WAHOO!!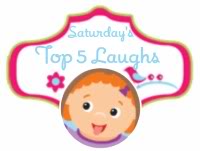 As always, I love to write down the funny things my kids said in the week. It will make a great page to look back to when they are older. If you care to do it too, let me know and I will check it out.
MY KIDS SATURDAY'S TOP FIVE LAUGHS:
5. Tay Tay asked me to buy her a Valentines Day card for her teacher. Only problem is she asked after Vday! That girl!
4. Zane had his first sleepover last week. The things boys say to themselves is hysterical! I am nervous for the teenage years LOL!
3. Hayley is a tween in every sense of the word.  She asked me on numerous occasions that she needs her personal space abided by. Okay Hayley!
2. Talking about that, when Hayley has a sleepover she writes a sign on her door that only her sister can come in. Little sassy pants. Every one is not invited in!
My love's preschool picture. I will post the other kids pictures next week:
HAVE A GREAT WEEKEND!