Mister Rogers Neighborhood DVD is now out! As a young girl, my favorite show to watch was Mister Rogers! I remember sitting around with my sister and watching Mister Rogers and how his imagination came alive right before my very own eyes.  One of my favorites was when Mister Rogers started his train and we went into imagination land. I used to love the Mr. Rogers Puppets and seeing him start the show with the famous Mr. Rogers Cardigan. This is perfect to start watching again with my very own kids!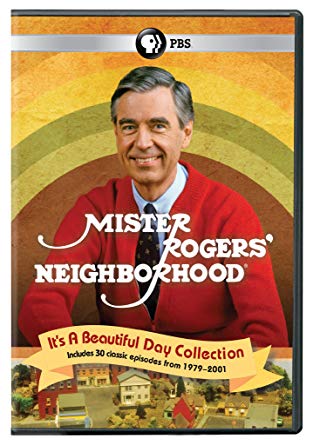 With holidays and celebrations right around the corner, there are  two Mister Rogers Neighborhood DVD from the ever loving and fondly remembered program Mister Rogers' Neighborhood, with: "Mister Rogers' Neighborhood: It's a Beautiful Day Collection" and "Mister Rogers: It's You I Like," critically acclaimed a"Mister Rogers' Neighborhood".
It's the year of Mister Rogers; both parents and children can share their love of everyone's favorite neighbor by celebrating this holiday season with "Mister Rogers' Neighborhood: It's a Beautiful Day Collection," a special set of 32 memorable episodes and over 15 hours
of content. In the DVD, Mister Rogers helps children learn the importance of being kind to others, appreciating what makes everyone unique, recycling and taking care of our planet, and much more in the classic series. The new release also includes a very special bonus episode – the series premiere, in original black and-white!
"Mister Rogers: It's You I Like" is a celebrity-filled special that celebrates the iconic and landmark series in the world of children's television and beyond. Cast members from the groundbreaking series share their personal perspectives and insights in this new program, which pays tribute to television's longest-running children's series, still broadcast on many PBS
stations today. The program also features interviews with numerous celebrities who have been influenced and inspired by the gentle man himself. It has a run time of approximately 60
minutes.
Be sure to pick up these Mister Rogers Neighborhood DVD today! They would make excellent presents under the tree.
*We received the DVD collection. All opinions are my own and not swayed by outside sources.*