There's an age old debate going around the web right now: How soon is too soon to start decorating/preparing for Christmas? I'm pretty sure I fall in the unpopular opinion barrel here but I'm all for starting Christmas preparations just as soon as the clock strokes midnight on October 31st. Thanksgiving and Christmas go hand-in-hand in my opinion, so my family and I get in the Christmas spirit starting November 1st and we love every minute of it! That being said, when it comes to actually shopping for the biggest holiday of the year, I generally start back in July or at the very least, start making my lists then. Christmas in July is another big thing of mine.
This year, however, I'm going to be completely honest and say that I didn't get my usual jump on my shopping. Sure, I've grabbed a few things here and there but nothing in comparison to previous years. In fact, my holiday stash is quite small in comparison but I do know a certain few that are going to be super excited come Christmas morning. This is especially true to the lucky recipient of the Max Flex RC 300 Combo Edition. This kids race tracks are amazing!
The old racetracks of my childhood don't even hold a candle to this dual purpose set nor were they as advanced with all of the bells & whistles, either. As fondly as I recall rainy afternoons spent with relatives and friends playing being entertained by the loopy tracks, I can also say that I'm beyond impressed with the advances in technology that makes the Max Flex RC 300 as crazy entertaining as it is.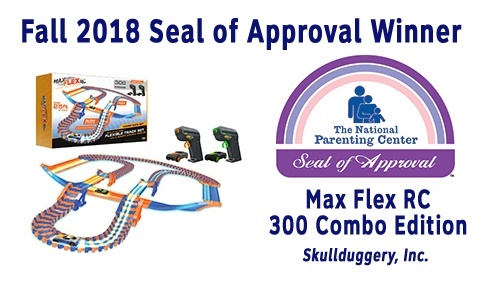 The combo combines both the flex track and straight track racing to provide a wickedly challenging experience for both beginners and old pros. What does this mean for those of my readers who aren't up to speed on their racing jargon? It's relatively simple: it's a combination of off-road and on-road racing, so race fans who are a fan of either can get the full experience out of this combo set. Not only does it come with two tracks, but it also comes with two remote controls to allow for shared play time and dual track domination. Play can either be conducted during daylight hours, or after hours/in a dimly lit room, with the help of light up tracks!
Race Car Track:
The Max Flex RC 300 Combo Edition is definitely not the racetracks of our past. This race car track is amazing!  With a length of 25 feet, 2 included cars, the light up tracks and two controllers, you'll be lucky if you see your little ones again for days. Skullduggery, the maker of the track combo, definitely knew what they were doing when they created this beastly racetrack, just like they knew that it would be hard for adult race fans to keep their hands off of it when the little ones are in bed!
If you're on the hunt for engaging, innovative and entertaining toys for your kiddos this holiday season, I would definitely suggest heading over to the Skullduggery site and checking them out. Family operated and owned for more than 30 years, these guys know their stuff about creating family oriented toys, games and more! These race car sets are wonderful for the upcoming holiday season!
*We worked with Max Flex and the kids race tracks on this post. All opinions are my own and not swayed by outside sources*