Most of my readers who have been following me for awhile know that I'm a huge advocate for imaginative play and getting out in nature with my family. I think both are hugely important to the mental and physical development of children, with great added benefits for adults as well. In addition to outdoor play I am always looking for after school activities ideas. One idea my kids have is to play their Nintendo Switch against each other and make it into a friendly competition. The winner has to help make the lunches the next day. It is a fun, friendly challenge.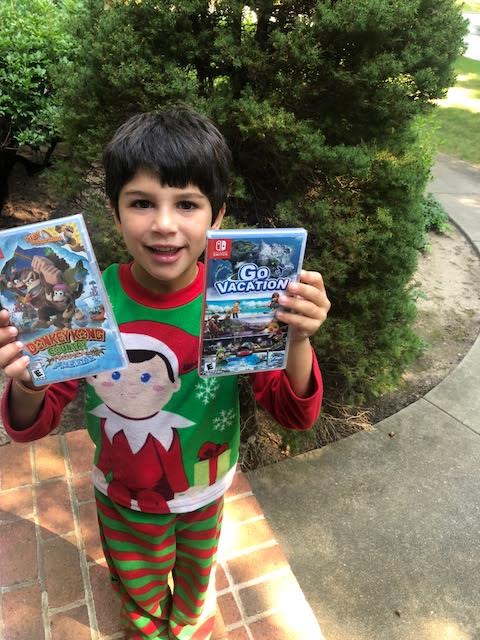 As most of you know, I spent most of my time outdoors and video games & consoles weren't as popular when I was a kid as they are now, but on occasion I was given 30 minutes of game time after school if I wanted it and there were a few classics I liked to play here & there. Of course, I didn't have much to choose from back then so all of my gaming was done exclusively on the old Nintendo console we had at home. I got pretty much all of my experience playing games like the Mario hits as well as a few racing games we had laying around.
Gaming has come a long way since the old days, I've got to say. There are so many different games & consoles out now that I'd never be able to keep up with them. My kiddos got the Nintendo Switch which had them over the moon with excitement. With so many years having gone by since my own gaming days, Nintendo was the only one I recognized out of a dozen choices on the market but I still felt fairly confident that it was a safe bet to bring home to the kids. I wasn't wrong; with all of the games available and even a number of great classics like I'm used to, the kids as well as the adults have had a blast!
Two games that have become increasing popular in our home are Donkey Kong Country Tropical Freeze & Go Vacation. Even readers who aren't big into gaming know that Donkey Kong has been a gaming staple for years, and as for Go Vacation, its become a new favorite due to it being comprised of many different games to choose from. Both games are multi-player, which is a huge bonus in our house so the kids can play together, and if given the chance will keep the kids quiet for hours of nonstop fun.  No more fighting between the kids on who can play.
As someone who is fast becoming an expert on both games, I'm going to go ahead and share a little bit of information on each with my readers just in case you've been looking for a couple of new additions to your gaming arsenal:
Donkey Kong Country Tropical Freeze recently had it's big debut to the Switch family, bringing back beloved members of the old team such as Diddy, Dixie and Cranky Kong. Players can choose between playing on a platform similar to the classic Kong games or switch things up by playing as Funky Kong in the new Funky Mode. Whichever option you choose, it's up to you to put a stop to the Arctic Invaders that have turned Donkey Kong Island into their own personal fortress!
Play as Donkey Kong in original mode and team up with Diddy & the gang to get rid of the invaders and reclaim the island! Each character has their own unique abilities to bring to the table to aid in your quest, as well as the help of a new main character, Funky Kong who comes with extra life and abilities to help make your progression into the game a more relaxed one.
If you think Donkey Kong Country Freeze is fun for the family, you'll love having a copy of Go Vacation. Nintendo welcomes gamers to Kawaii Island, a paradise resort where up to 4 players can enjoy a variety of games involving skiing, snow mobiling, skating and more. The world of Go Vacation allows players to customize characters, costumes, vehicles, pets, etc. to enhance game play and add to the fun. With hours of play time as well as new things to experience every day, this multiplayer game will keep the whole family entertained.
50+ co-op and competitive activities, the ability to choose between Mii or in-game characters, daily presents & challenges and much more are waiting for you at this scenic island resort. Compete against family or friends, create your own villa or explore 4 of the available paradise resorts: Marine, City, Snow or Mountain. Whether you're on horseback, underwater, or snow mobiling, you're sure to have a blast with activities such as scuba diving, horseback riding, deep sea fishing, skydiving, surfing and much, much more!
With so much to do on each of these games, you'll never grow bored, guaranteed! As a family, my kids and I have spent hours together teaming up to beat bad guys, exploring the islands and laughing together throughout each new phase we uncover in both, Donkey Kong Country Topical Freeze and Go Vacation. I definitely recommend giving them a try if you're looking to add some new, family-friendly games to your Switch collection.  These games would be great to add to after school club activities as well before school programs for added fun and friendly competition.
*I work with Nintendo. All opinions are my own and not swayed by outside sources.*