*I went on the Press Trip to San Fran for Incredibles 2. All opinions are my own and not swayed by outside sources. Photo credit: Pixar as noted.*

I am so excited that the sequel to Incredibles, Incredibles 2 comes out in a few short weeks on June 15th! Ticket are now on sale so be sure to pick them up for opening weekend. A few months back, myself along with 24 other bloggers had the chance to do a bucket list item and visit Pixar Studios in anticipation of this upcoming movie. What absolutely blew me away is how much goes into making a feature animated movie. What we see as the final product on the screen is years and years of hard work from many different teams! To create the world of the Incredibles 2 is simply put INCREDIBLE!
We had the chance to talk to Ralph Eggleston, who is the Production Designer of Incredibles 2 and has a long standing history with Pixar dating back to Monsters and Toy Story to name a few. He stressed to us that with the design, it is important to hold the original designs but make them more modern, with this movie being set 10 years from the last one. It is not only about showcasing the characters but most important is to tell a story through the sets.
This leads us to one of the big production designs and that was developing the Parr's home. A lot of work and storyboard went into creating the house that best suited the Parr family with the times.  The movie and sequel is set during the 60s so the designs had to complement this style with modernism added in. In the first movie, they had a small home that was about 1500 square feet and the new one is 20,000 square feet. They spent a long time making this modern house and then had to completely get rid of their original concept once it was done, due to the story changing.  With just two weeks, they scrapped the original concept and began work on the the house we see in this movie. That is completely AMAZING!
They also talked a lot about the sets. These aren't animated sets. Each set is made just as it is a non animated movie. Every prop and costume is made and staged before animation even begins. Even the props are hand made by the talented crew who works at Pixar. This is why the Pixar movies take so long to make. Every single detail is sought out and made to come to life.
We also talked to Bryn Imagire, who is one of the main costume designers on this film.  She talked a lot about how the color paletes and the textures of everything. These need to be perfect in this film. They even talked about the Parr house having real running water and making sure the water in animation looks as realistic as possible.  You will see a lot of modern type styles in the film and Bryn told us they went to many different places in California to get ideas for the designs of the houses in this film.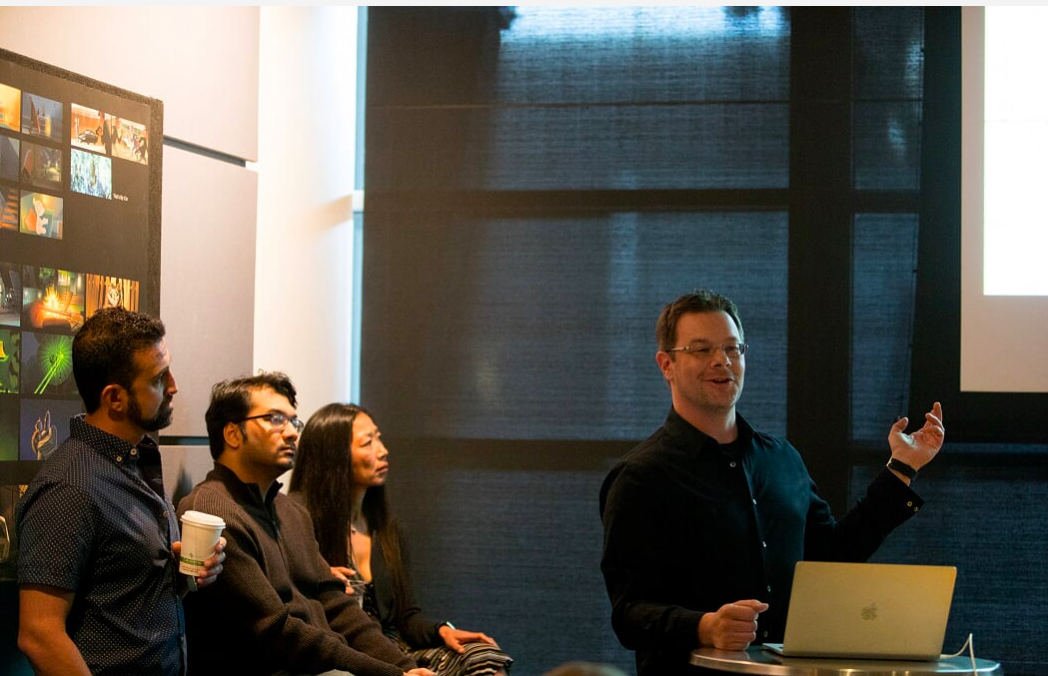 After talking about the housing, it was time to talk about the action scenes and how they come to life in this film. We had the chance to talk to Story Supervisor Ted Mathot who talked about the all new Elasticycle and the action train scene that you will see in the first half of Incredibles 2.  In the movie, one of the main modes of transportation is Helen's new Elasticycle. It was amazing to see how they came up with this. Kureha Yokoo on the design team talked to us about this came to life and how the Elasticycle was an extension of the Elastigirl.  It had to look cool but be useable. I think they nailed this! Again they looked at various props and motorcycles to get the unique Elasticycle.  You will see how fast it goes and even some awesome action scenes were you can see the bike in two while Helen rides it.
One of the scenes the crew is most excited about is the Runaway train scene. This scene is one of the best I have seen in animation and started out simply as a story reel and then went to storyboards. Amit Baadkar,  the Effect Director on Incredibles 2, showed us some images on how this scene was put together. Everything from the spark fires on the train(yes Pixar has someone just doing this to perfect it) to the glass shards that come out, is carefully executed. There was at team of 6 who worked on the smoke, fire, and explosions to make sure it was as realistic as possible!
This is just some of what we talked about at Pixar. This movie is going to be incredible and a big part of it was thanks to the amazing designers, animators, crew, and actors who made this movie come to tuition. I can not wait to see it June 15! Stay tuned for more information about the Incredibles 2!