Here are 10 Amazing Nursery Tips to Make You A Better Mom!
* 10 Amazing Nursery Tips to Make You A Better Mom! This post is partnered. All opinions are my own.*
1.Check if your nursery air is dirty by getting a Fresh Lab© Kit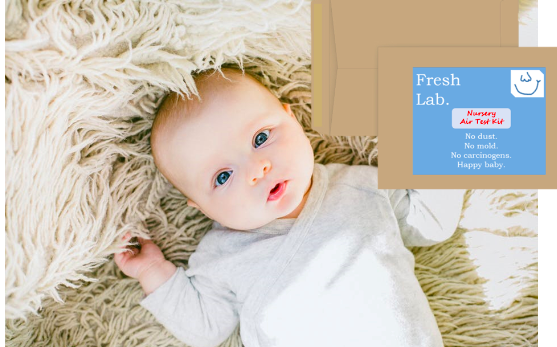 Ever notice how your baby breathes so fast? Your baby takes up to 4X more breaths each minute than you. And these extra breaths have a real impact. Clean air helps in childhood respiratory development. Dirty air can harm your baby, causing slow lung development, asthma, and even fatalities. And it's invisible, so we don't know there's a problem until it's too late. Scary.
Fresh Lab© Nursery Air Testing Kit (www.freshlabkit.com) tells you if your baby is breathing in dirty air. With Fresh Lab© Nursery Air Testing Kit, you to send in an air sample and they send it to a lab accredited by the state and federal government to make sure that no dust, mold, or carcinogen particles that could hurt your baby are in the air. Then, they give you a plan to help fix it. Get yours here: www.freshlabkit.com
Make sure you can reach everything from the changing table.
Not having to frantically run around during an emergency just makes life better!
Use washable wallpaper.
Those sticky little hands tend to touch things, and washable wallpaper removes the stress.
Make sure the crib passes the safety test.
A crib should have fix-sides rather than drop-sides, crib slats should be no further than 2-3/8" apart to prevent your baby from trapping his head or limbs, and corner posts should not be over 1/16" high.
Did we mention Fresh Lab© Nursery Air Testing Kit?
Seriously, testing the air your baby breathes is critical. www.freshlabkit.com
Use a mini crib.
In Europe, mini cribs are cribs. Many of these smaller cribs are major space-savers and (bonus!) many fold up for easy transportation.
Avoid sleep positioners and similar products that claim to reduce the risk of SIDS.
There is no evidence that supports these claims, and some infants have actually suffocated because of their use. However, if your child overheats, she is at increased risk for SIDS. Make sure your baby stays calm, cool, and collected by placing the crib away from any sunny windows.
Never hang heavy items over your baby's crib.
Consider light items, like canvases, to avoid any potential mishaps.
Anchor heavy furniture like dressers and bookshelves to the walls with braces to prevent them from toppling on your child.
An easy solution for a serious problem.
Once you get your results back from your Fresh Lab© Nursery Air Testing Kit, remediate any issues.
Use the simple instructions from Fresh Lab© to resolve any dust, mold, or carcinogen issues in your nursery and help your child breathe easy. www.freshlabkit.com
Hopefully you will find these 10 Amazing Nursery Tips to Make You A Better Mom! useful