*As part of The Last Jedi Trip, Disney/ABC brought us on set of the new Roseanne Reboot show. Big thanks to Disney for this opportunity. Photo credit- ABC TV and Robert Trachtenberg.
I am excited! Like super excited! That is because tonight on ABC television, the Roseanne Reboot is on!!! That is right, Roseanne returns to ABC with all new episodes in an a special hour-long premiere on tonight, Tuesday March 27th.
Growing up as a 90s child, Roseanne was all the rage in my household. I remember my sister and I sitting with my parents and watching every single Roseanne show on television. We didn't watch too much television in those days but Roseanne was one show we did. Watching Roseanne and eating dinner with my family back in the day, brings back so many wonderful memories. That is why I was so excited when I had the chance to visit the Roseanne set for the new Roseanne Reboot which is debuting TONIGHT!
When we arrived on set, I had serious goosebumps.  It made me gitty even thinking about what the day had in store. After breakfast, we were ushered into the stage bleachers where we were waiting for the stars of Roseanne to arrive to interview them. During the interviews, we were greeted by
LECY GORANSON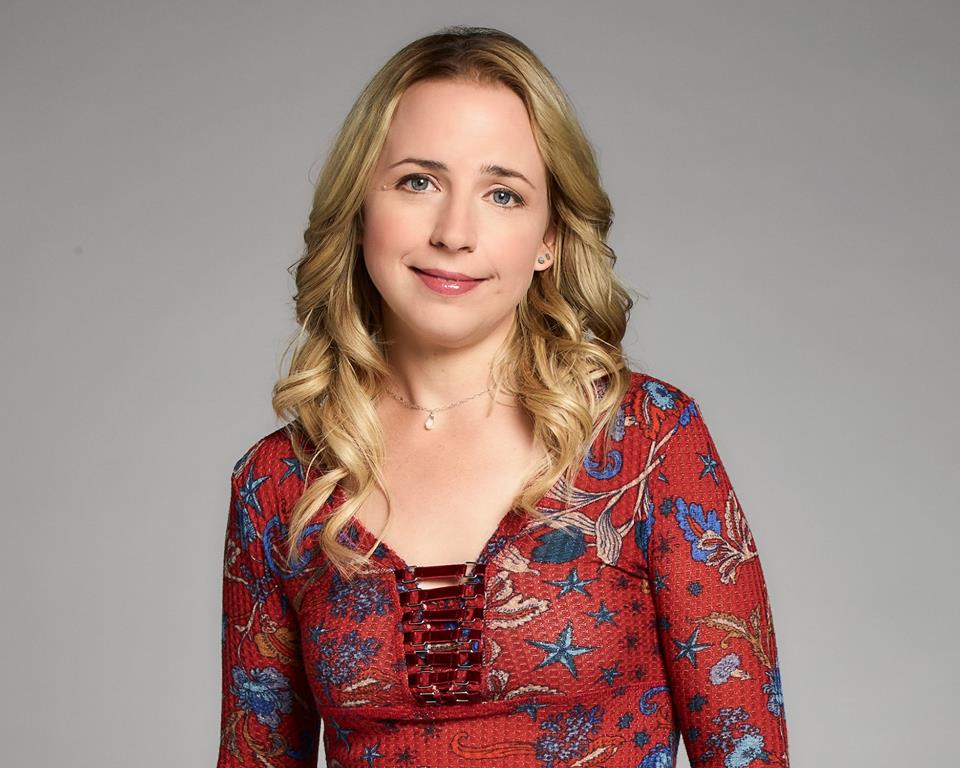 SARA GILBERT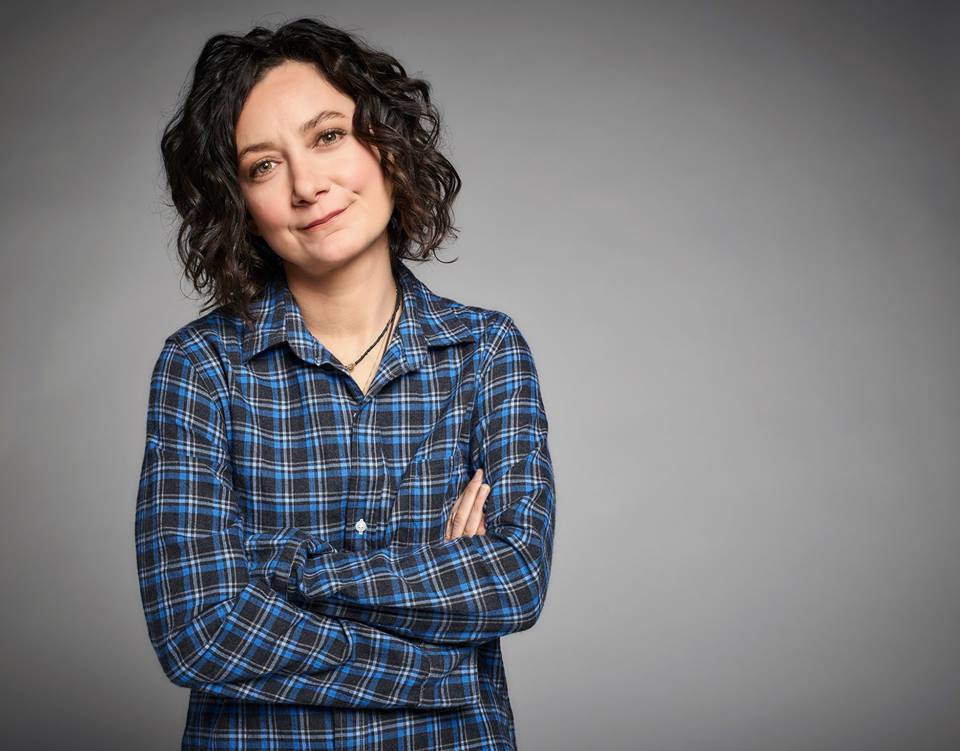 MICHAEL FISHMAN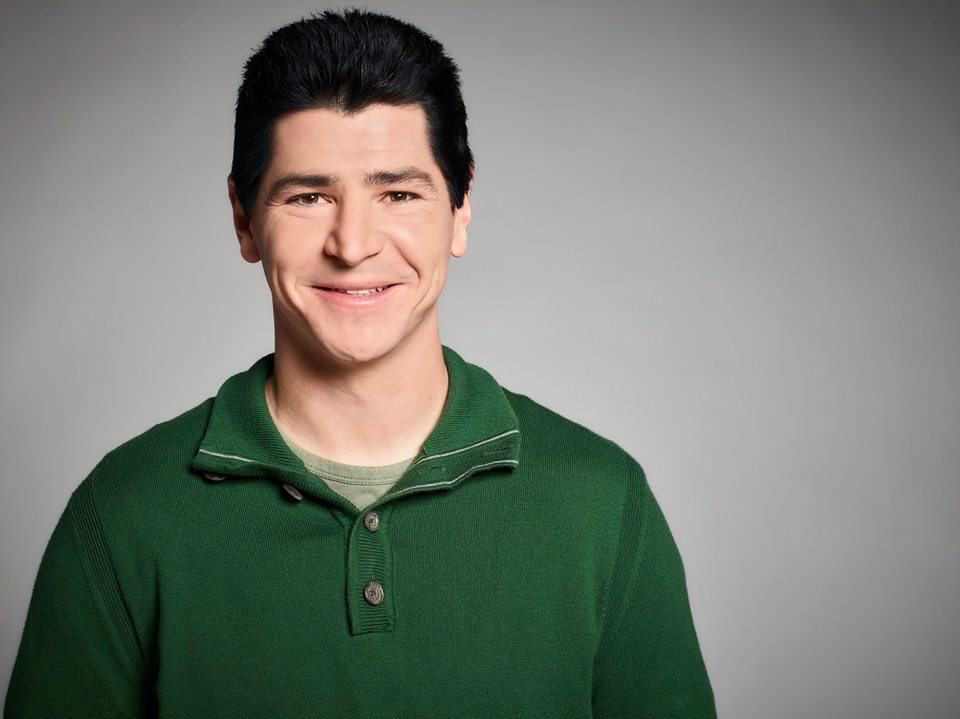 Once they came out, I think you heard an audible scream (lol or maybe that was in my head) from all the true fans, like all the bloggers, on set that day. They were so gracious to sit with us and tell us all about the new Roseanne Reboot. Not only were we excited, but they were equally as excited. The very first thing that struck me is how BIG Michale Fishman  is. I remember DJ as a little kid playing the son of Roseanne. Now he is a real life adult with a family of his own. How does that happen?!
INTERVIEW WITH  Lecy Goranson reprising her role as Becky Conner-Healy, Sara Gilbert reprising her role as  Darlene Conner, Michael Fishman reprising his role as D.J. Conner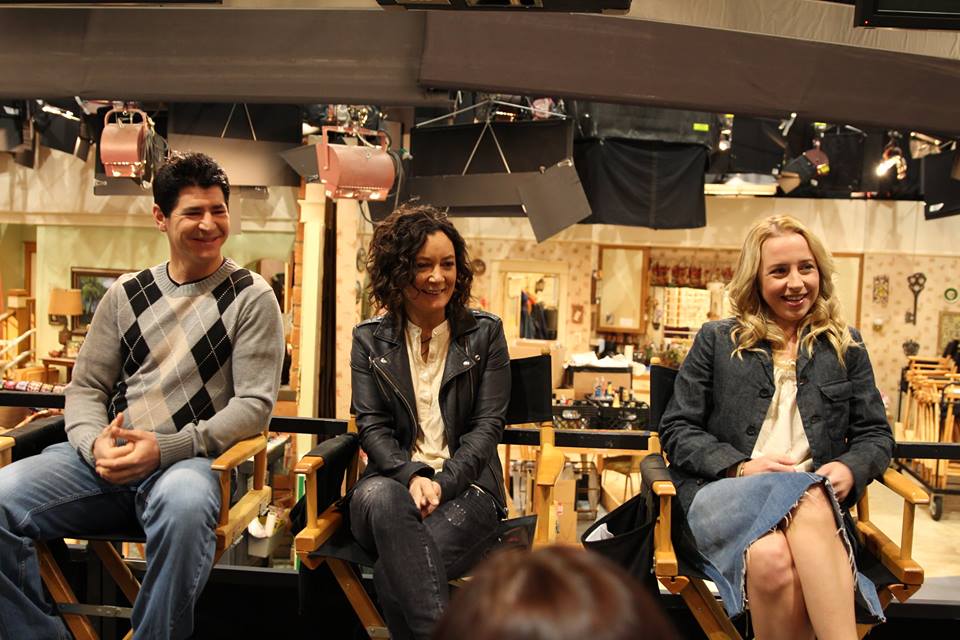 Question 1:  How long have you been shooting, and what is the new storyline? How are the characters going to  fit?
They told us they started shooting in the first week of October. They shot seven episodes when this interview took place and they had two more to go. The storyline is 20 years later but they are going to pick up where the writers thought their characters should be in the future.
Question 2:  Are you guys deleting the last season? Are you guys moving with that storyline, or is it back to when everybody was together?
Sara told us that obviously Dan is alive and well.  Michael told us that the main crux of the show remains intact. He told us that he thinks they have done a good job of kind of acknowledging where they went towards the end of the show but within context. He also told us it will all make sense for fans and that they do a quick kind of recap in the first episode. He thinks the writers did a really good job of kind of explaining where they are now and how it kind of fits in the transition.
Question 3:  How did it feel to come back to the set like 20 years later?
Lecy told us it feels like she is going back home. Even though it was 20 years, it feels like she is walking back in the door of her old home.
Question 4: So, what was your reaction when this was pitched to you and you had the idea coming back, and how did you feel about that?
"We have Sara largely to thank for that. I think a big part of this kind of initiated with what John and Sara did on The Talk, and then Sara really has kind of taken the ball and run with this and kinda brought everybody together. She'modest in that standpoint, but she really has been a very pivotal part of that. And I think we're all really thankful that we got this opportunity to kind of  all be together again." -Michael Fishman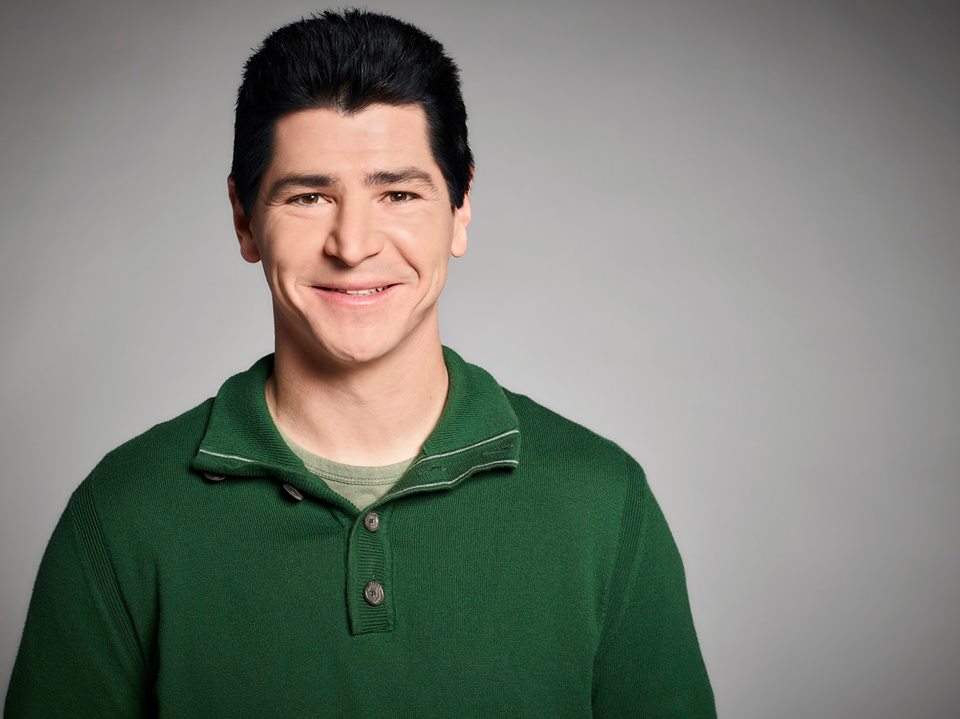 "Revisiting I had a lot of anxiety about particular the writing, if it was going to be good, if it was going to feel like the show. What was it going to look like? What was it going to be like? And I had so many questions. And then when I showed up to set and we were around the table and we were reading, I just felt so relieved and so connected and grounded in our world again. And it was just such a moving, beautiful thing." -Lecy Goranson
Question 5:  So, why did you feel that now was the right time to do it, and then what do you want this new generation that never saw the original show to walk away with?
"I think in one respect it was an incredible time to do it, because I felt like our country is so divided. And I feel like this is a working class family that can have varying political views even within the family but still love each other. And I thought what a great way to try to help unite people, have people listen to each other.  I strongly believe that we can disagree without being so divided. So, I'm hoping that we can help in that way.
And then it was also just a matter of synchronicity. I think none of us really thought that everybody would be onboard. And when I heard John say that he would do it, then it just motivated me to see if everyone would do it. So, it is sort of this wonderful time in our country to do it, but that just was a lucky byproduct of the fact that we all wanted to do it at this moment."- Sara Gilbert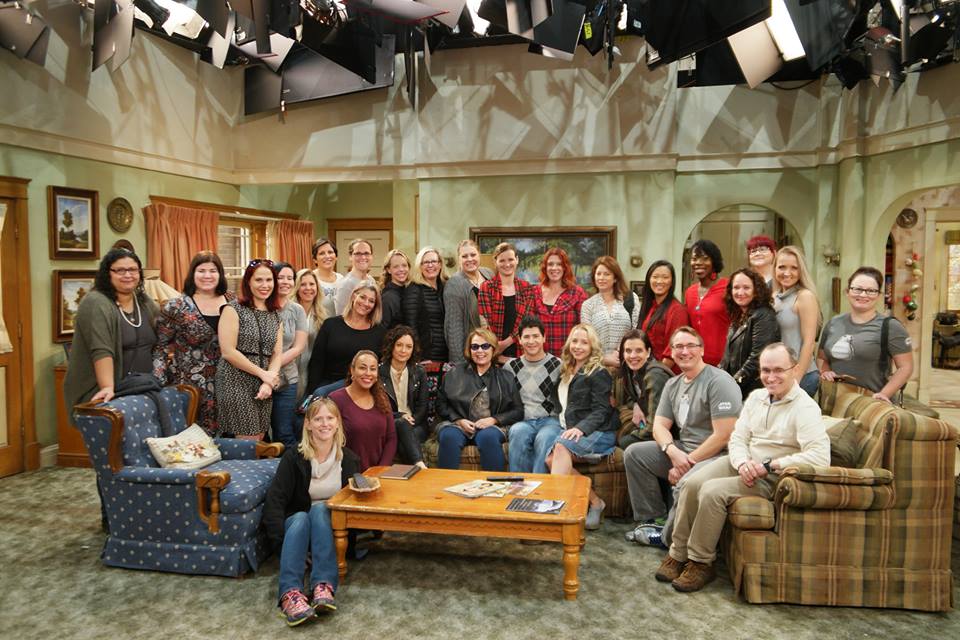 Question 6:  Can you share with us a favorite moment in this filming this season?
Well, I personally have loved some of my moments with Lecy. I feel like our characters have gotten older obviously, and because I was as child when we did it before my relationship with John and Roseanne's characters, with Dan and Roseanne, were different. I was a young child. They were the parents. And now it's a little more like peers, our relationship. So that's changed. But my relationship with my siblings is the same. So, I love that feeling that there's the same kind of like snarky, contentious  answer, but then we also love each other and bail each other out of hard situations."
Sara then went on to tell us that she loved that this show is a hybrid between a comedy and a drama. She told us it just doesn't feel like a sitcom. They want to handle the heavy but put mostly humor in it. They love the way it came out. She also told us they are a true family in every sense of the word.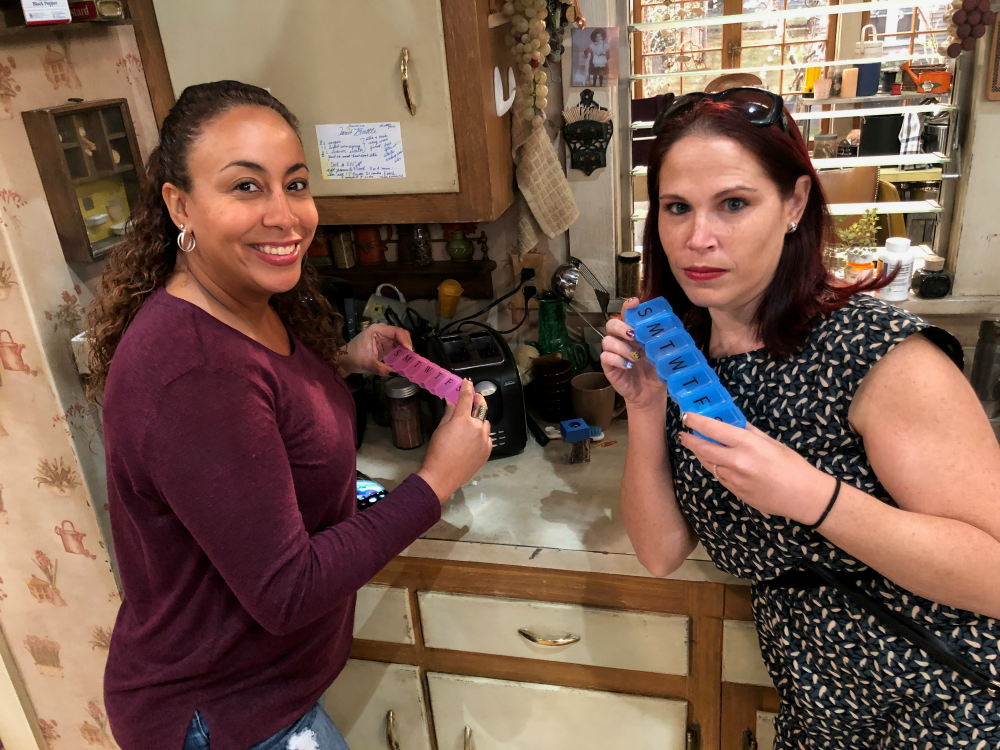 Question 7:  Are there going to be any guest stars? And is Sarah Chalke involved?
"Yep, Sarah Chalke is involved. She's not playing Becky, but she's playing another role that's linked to Becky, which is great. She's in a few episodes. And we have James Pickens is back and Adilah Barnes. There's so many people that we had over the years and because it's only nine episode and we've added three characters, it's already difficult to service everybody who's here. So I think we've gotten a couple, but I wish there was room for more. Natalie West came back as Crystal. And Estelle Parsons. "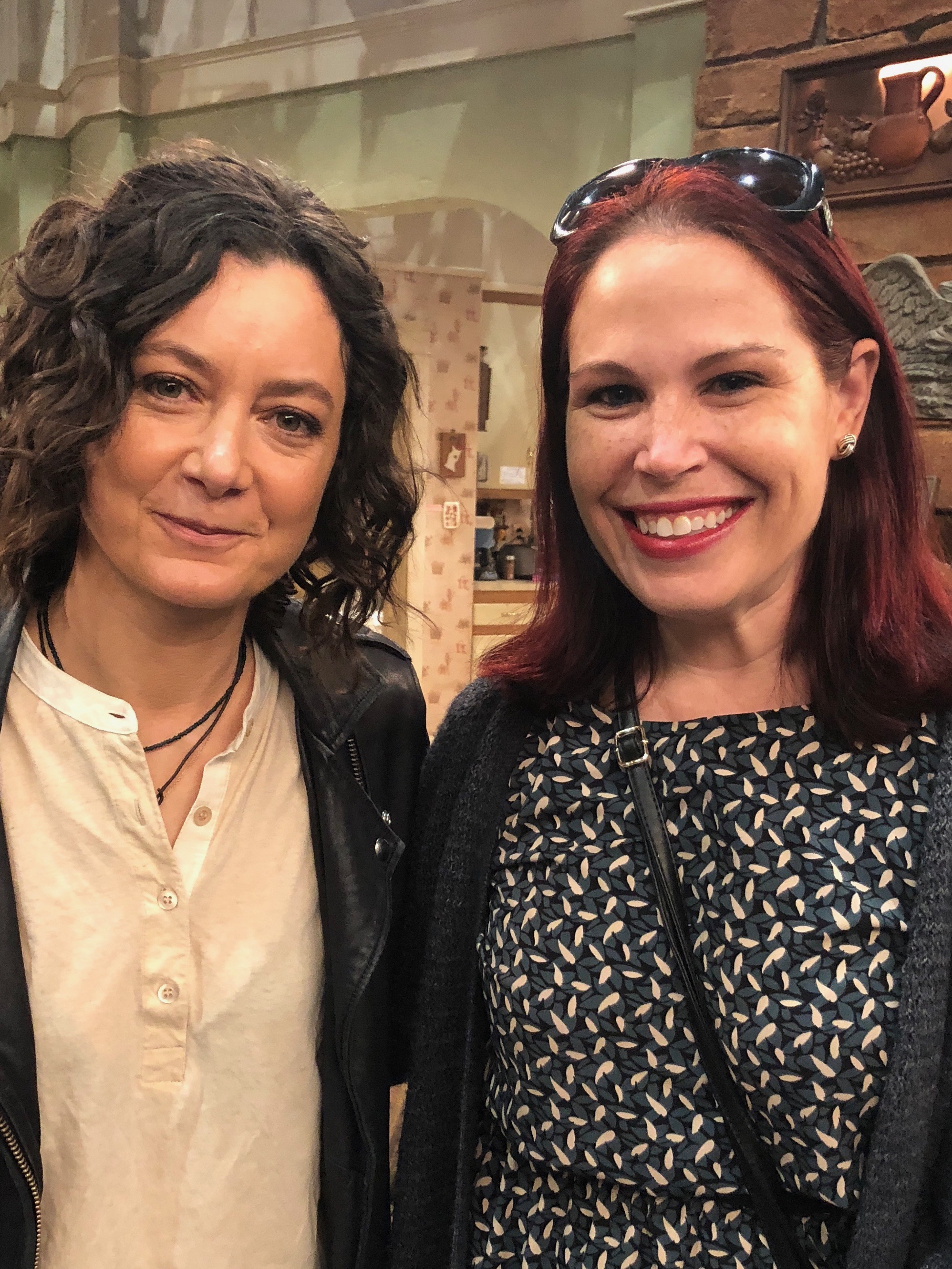 "We've done a great job of bringing  as many people as you kind of could jam into this short window. I think the beauty of it is there's so many stories and the writing has been so good that the beauty of it, it's like real life. There's so much stuff going on in your life. There could always be more, but we have really tried to focus on the family as much as possible. And then we've been lucky to get the right group of people back."- Michael Fishman
Michael Fishman then told us they not only love working on the show, but they are all true fans of the show, which makes it that much better. They are all so excited to come back to this show. They are one big family!
Question 8:    Anything we can look forward to seeing from the past?
Sara said we can look for the chicken shirt LOL!  Michael said the shirt is in the first episode.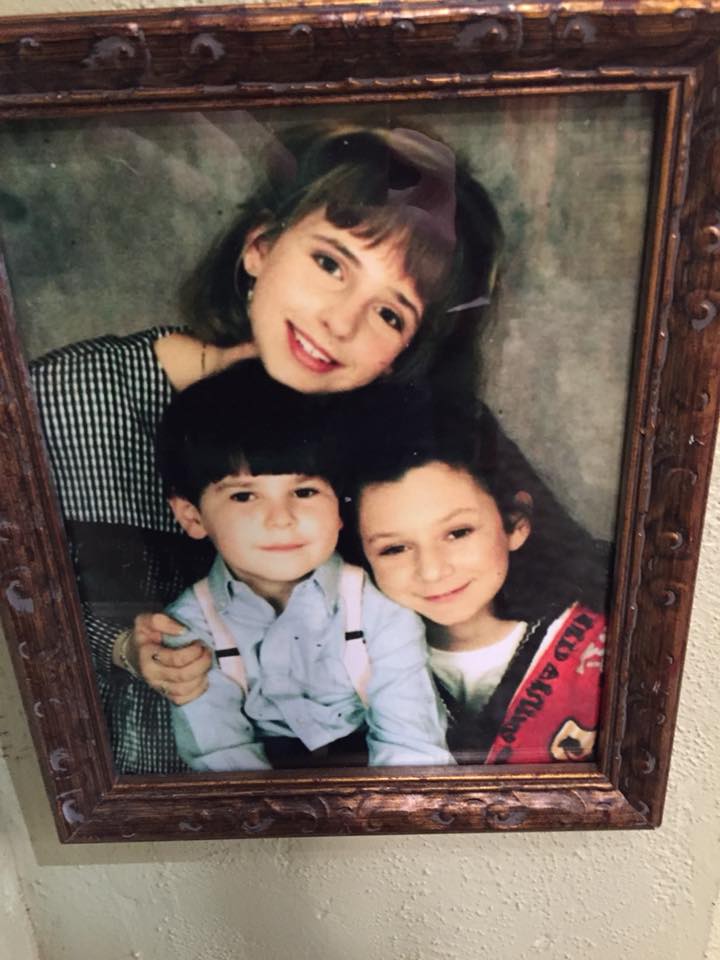 Question 9: So, Michael, now having kids, how did your kids react to the show? Have they watched the old shows?
He said they watched the old shows. He also told us he has a 18 year old son and 15 year old daughter. This and of itself, made me feel really old!
"I  brought my kids week one. They've known everybody in passing. They've known them as people who matter to me in my life. But the first week to come here it was really amazing because my son's a really quiet guy, and he said, oh, you're not bad.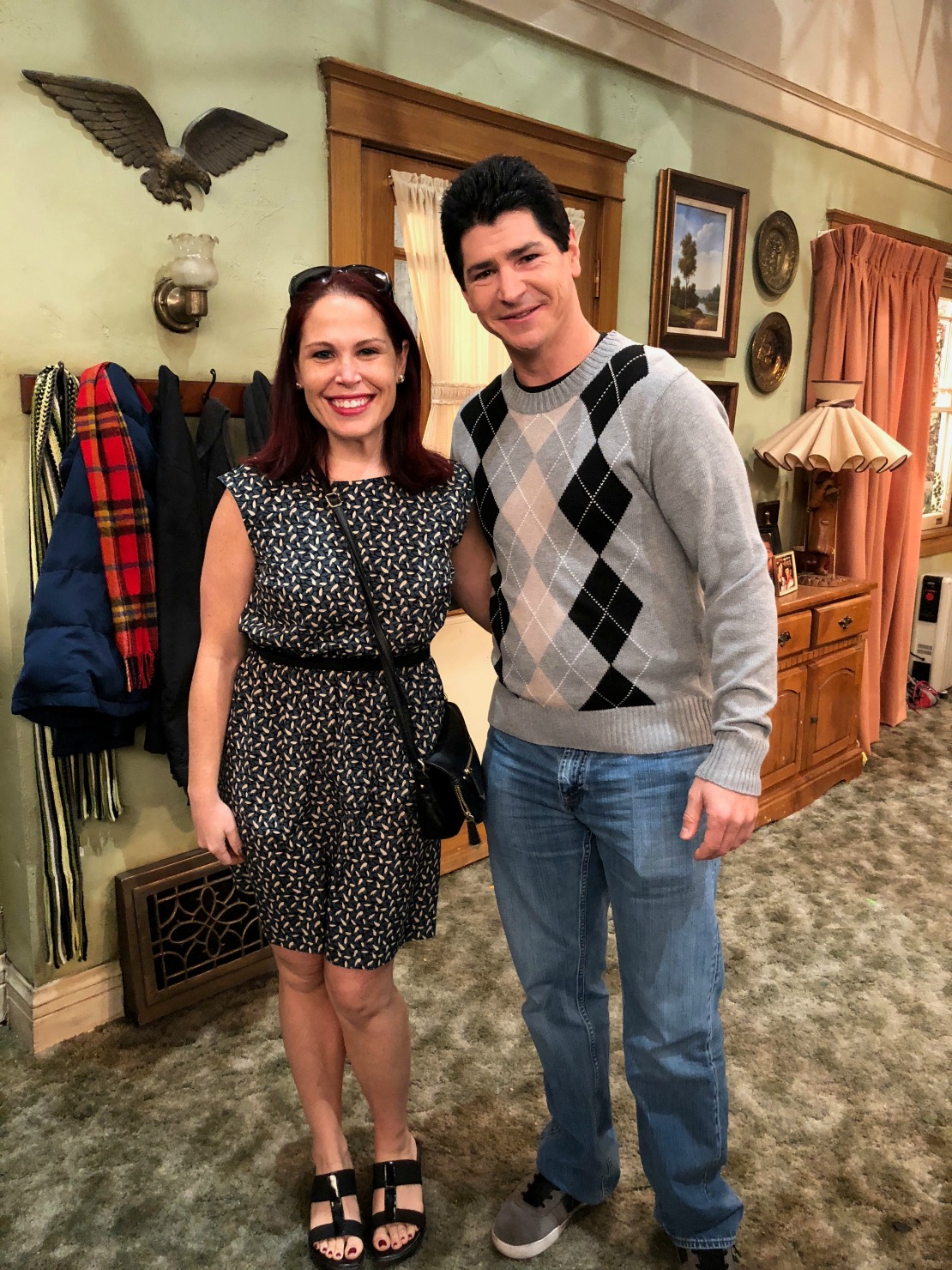 And which for him is like a huge compliment. And then he said, hey, this is good. And the thing that really struck me was my 15-year-old daughter turned to me and said, I don't watch a lot of TV but I watch this. She goes on and says everybody's so good. And she said I understand why you talk about them the way you do and why you love this. And I think for her it was the first time where she totally got that."- Michael Fishman
They were so gracious to answer all our questions about the new Roseanne Reboot! After the interview it was time to visit the set and walk around. The very first thing that we noticed was the infamous couch. How many fond memories do you have watching the cast on that couch?!  Of course, I needed to get a picture on that couch!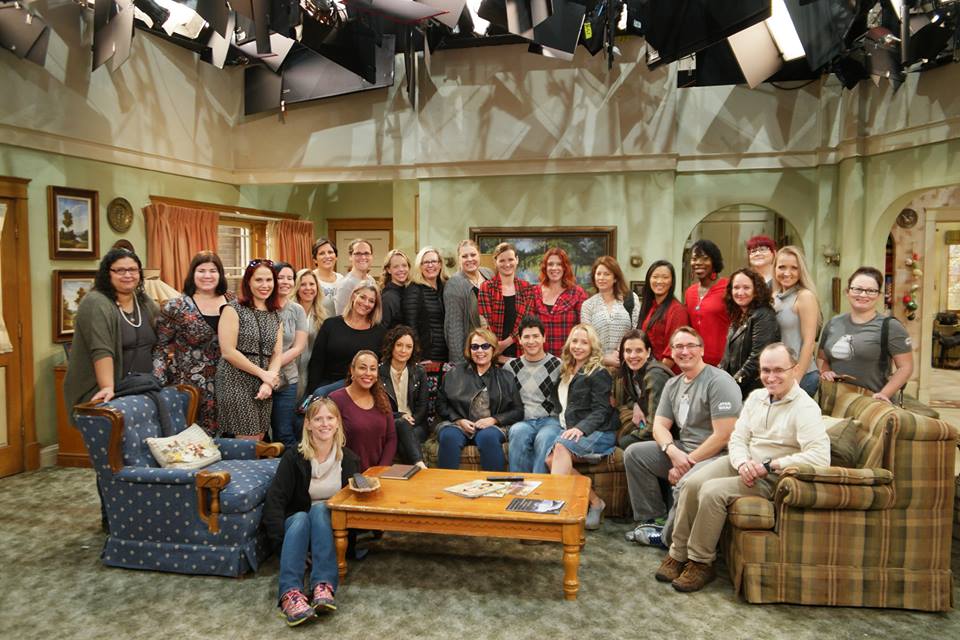 We then walked around the set and I got on that phone that Roseanne loved to use during the show and the big coffee cup!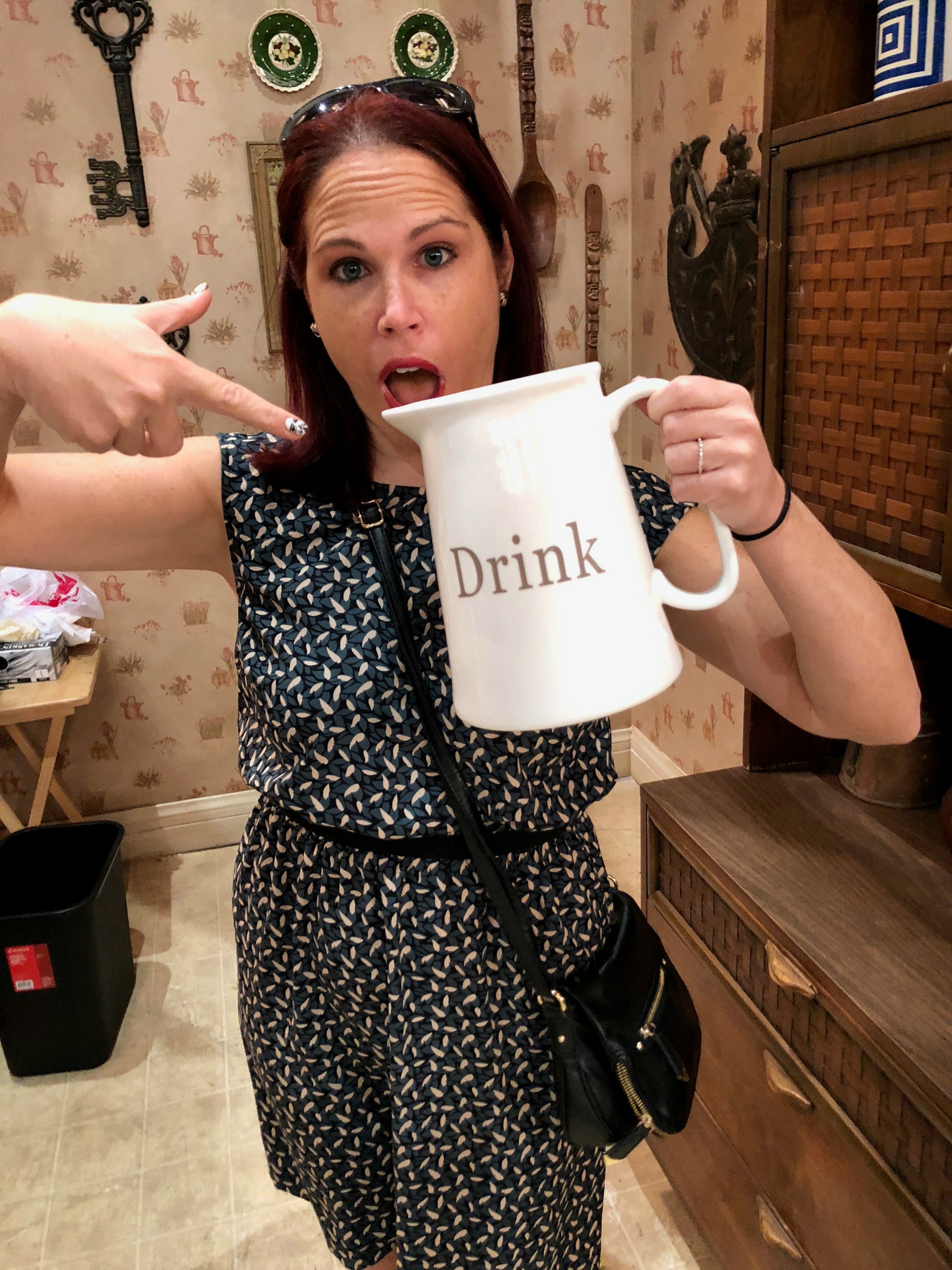 Then the cast took photos with us as we were visiting various aspects of the set. It was truly amazing to tour the set. It seems so big on TV but is is actually quite small. Amazing how they do that!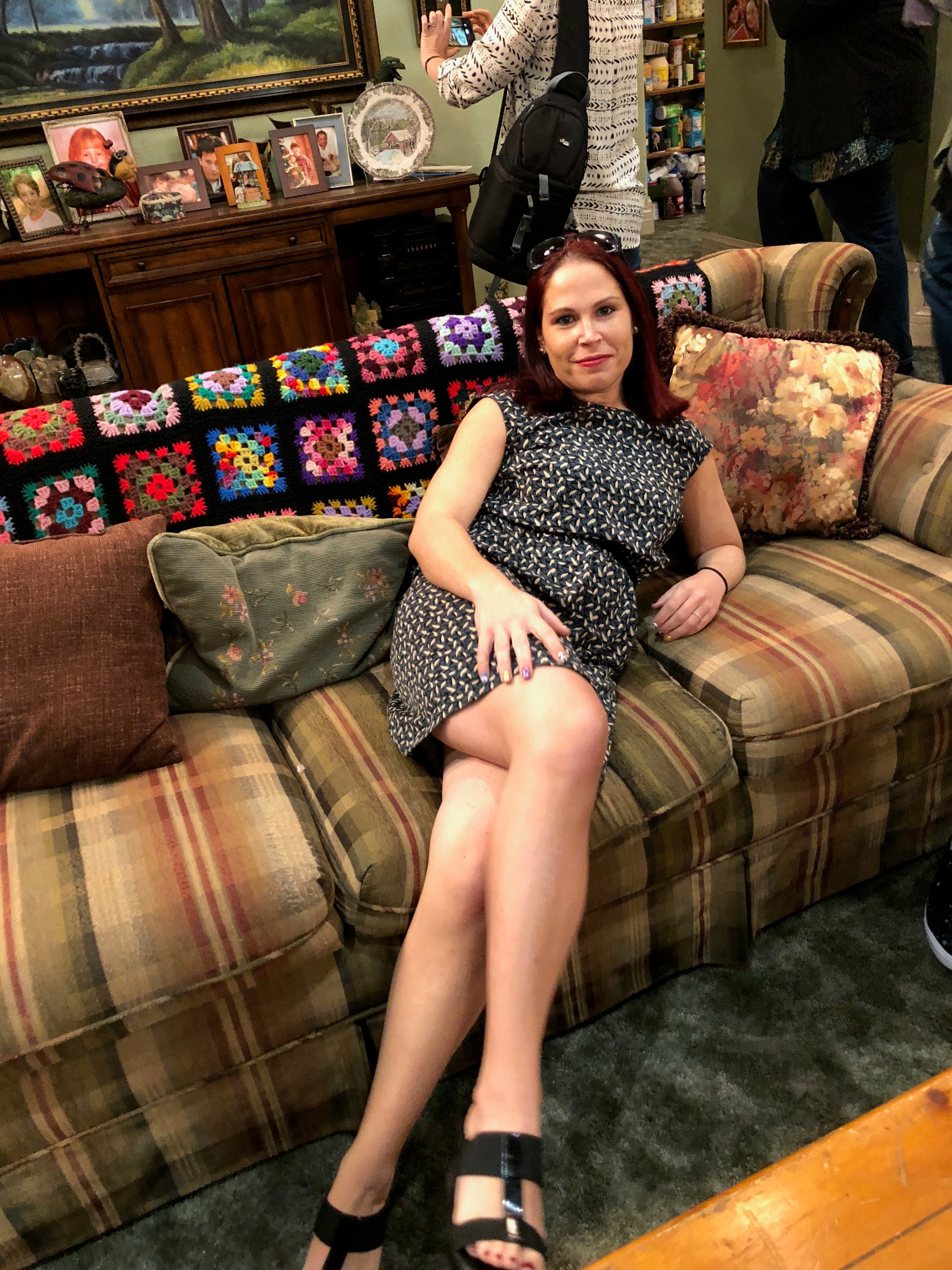 ABOUT ROSEANNE:
"Roseanne" will air in its regular time slot, 8:00-8:30 p.m., beginning TUESDAY, APRIL 3, followed by "The Middle," which will move to 8:30 p.m.
Featuring the complete original cast, new series regulars and notable returning guest stars, the revival will explore life, death and everything in between through the relatable, hilarious and brutally honest lens of the Conner household. With the inimitable Roseanne at its epicenter, fresh stories that tackle today's issues and even more laughs from a brilliant cast and crew that haven't missed a beat, audiences old and new will celebrate the homecoming of America's favorite working-class family.
The series stars Roseanne Barr as Roseanne Conner, John Goodman as Dan Conner, Laurie Metcalf as Jackie Harris, Lecy Goranson as Becky Conner-Healy, Sara Gilbert as Darlene Conner, Michael Fishman as D.J. Conner, Emma Kenney as Harris Conner-Healy, Ames McNamara as Mark Conner-Healy and Jayden Rey as Mary Conner. Sarah Chalke, who played the character Becky in later seasons, will also appear in another role.
Fan-favorite guest stars from "Roseanne" will reprise their roles in the revival, including Estelle Parsons as Beverly Harris, Sandra Bernhard as Nancy Bartlett, Natalie West as Crystal Anderson, James Pickens, Jr. as Chuck Mitchell and Adilah Barnes as Anne Marie Mitchell.
"Roseanne" is produced by Carsey-Werner Television. Executive producers include Roseanne Barr, Sara Gilbert, Tom Werner, Bruce Helford, Whitney Cummings and Tony Hernandez.
Be sure to follow Roseanne on their social to learn more:
Facebook: Roseanne
Twitter: @roseanneonabc
Instagram: @roseanneonabc
Hashtag: #roseanne
THE ROSEANNE REBOOT DEBUTS TONIGHT at 8 PM EST ON ABC!