I love being a Peppa Pig ambassador and sharing all the fun Peppa Pig Valentine's Day Gifts.*
Taylor is still all about Peppa Pig! It is Peppa Pig 24/7 at our house these days! Just in time for Valentine's Day, I have some great Peppa Pig Valentine's Day Gifts and card that would be perfect for this holiday. I hope you enjoy them as much as we enjoyed them! With any Peppa Pig fan, these Peppa Pig Valentine's Day Gifts will put a big smile on your child's face!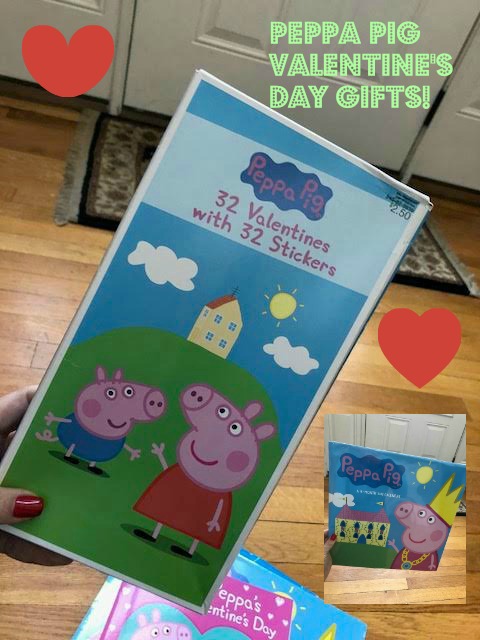 These are some fun Peppa Pig Valentine's Day Gifts and cards for your kids:
Peppa's Valentine's Day book from Scholastic
In this book, Peppa Pig gets a pretty card in the mail from Zoe Zebra. It's a Valentine's Day card! Peppa learns about the meaning of Valentine's Day and decides to show all of her friends just how special they are to her.
Set of 32 Peppa Pig Valentine cards (with stickers!) from Paper Magic
These would make perfect additions to school cards that the little kids hand out in class. Taylor has her set ready to go for tomorrow.
Package of 20 Peppa StickerTreats sticker boxes from Stickerfitti
Did someone say stickers? These are just the cutest and perfect for all the Peppa fans in your life!
Kids love to see the date and what better than having their very own Peppa calendar hanging up in their room. This would make a perfect addition to any room!
We love all these Peppa Pig products! Get ready for Valentine's Day and be prepared with these awesome Peppa Pig Valentine's Day Gifts. Taylor loves them and I am sure your kids will too!
For more fun, check out the Grown Ups section of the official Peppa Pig website, http://www.peppapig.com/grown-ups and be sure to follow Peppa on social on Facebook, Twitter and Instagram!