*Disney provided me an all expense paid trip to LA for the #TheLastJediTrip. All opinions are my own and not swayed by outside sources. Photo credit for all photos granted from ABC Television unless otherwise indicated.*
There is brand new game show on tonight on ABC and it is one you do not want to miss! Put a bunch of really adorable kids, smart contestants,  Fred Savage, and Ricky Gervais in the same show, and you have one really awesome television show you do not want to miss! We had a chance to do a screening of Child Support and then interview Fred Savage, who is the host of this game show. I will tell you that I LOVED this show and found it so funny! With this winning cast, how could it not be?
ABOUT CHILD SUPPORT: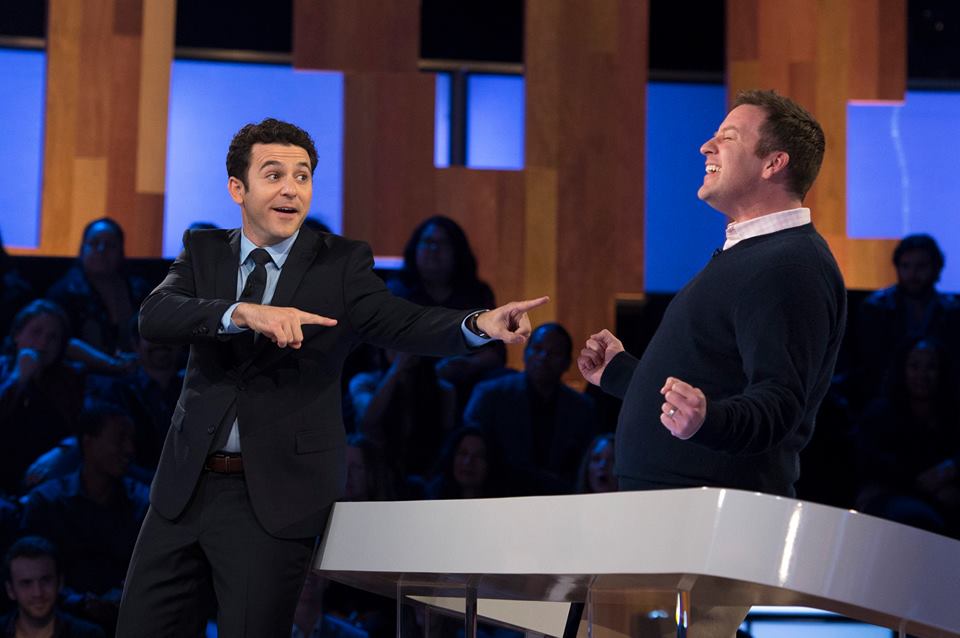 In this show, adult contestants can rely on the smarts of a group of kids as they attempt to answer questions to win up to $200,000. This show is from Ricky Gervais and hosted by Fred Savage.  In the episode premiering tonight on ABC (8 PM EST), Monica of San Diego, California, and Martin of Orange County, California, will each try to answer 10 questions correctly in order to win the ultimate prize of $200,000. If they answer incorrectly, the contestants will have a chance to be saved by a group of kids being asked the same question by comedic mastermind Ricky Gervais, on the series premiere of "Child Support," FRIDAY, JAN. 5 (8:00–9:00 p.m. EST), on The ABC Television Network, streaming and on demand.
"Child Support" is a one-hour studio-based series from Golden Globe® and Emmy® Award-winning Ricky Gervais and Banijay Studios North America. The series will feature adult contestants and priceless interactions between funny man Ricky Gervais and a group of five kids who say the most unpredictable things.
Hosted by Fred Savage, contestants are asked to answer 10 questions correctly to earn the top prize. If they answer incorrectly, the contestants have a chance to be saved by the five kids who have been asked the same question by Gervais.
The series was created by Banijay Studios North America and is executive produced by Ricky Gervais, David Goldberg, Caroline Baumgard and Jeff Krask. The series is produced by Banijay Studios North America.
After viewing the first two episodes I can tell you that this is one show that I want to keep watching because it is so catchy. It is also great to get your kids involved with seeing this show since the premise of the show is kids answering questions! It might be fun doing the same with your kids (asking the same questions) as the show it on television! Be sure to tune into tonight at 8 PM on ABC!
MY INTERVIEW WITH FRED SAVAGE:
Meeting Fred Savage was a buckey list item. When I was growing up he was my childhood crush and I am pretty sure I saw every single episode of Wonder Year.
We talked a bit about the first episode and the contestants in the beginning. He hadn't seen the final cut yet so he was curious what the contestants said. He remembered all of the contestants but didn't know what order they would appear in the show.
Question 1:    How did you go through the process of picking the kids and contestants?
He told us they were cast and he didn't have a very big part of the selections. He told us he was excited though who was cast
as they are really interesting, enthusiastic, compelling people.
"The kids stay the same. You'll see the same kids again and again which I think is a great, that's a great part of it. You kind of get to know these kids a little bit."
Question 2: How did being a father come into play with being the host of this show?
"I think it definitely reinforced this idea. I think parents and kids know a lot of stuff, stuff you would never anticipate and stuff that they probably don't even know they know, so in that respect, it just kind of reinforced that element of what you know about your kids. I think going into it, knowing this was a family thing would make it something I would want to watch with my kids. I wanted to make sure it was appropriate and it was."
He told us this is a great family friendly show and I have to agree with them. There is a great deal of comedy but fun, family comedy!
Question 3:    What sort of emotions were you going through?
"I ride all the rollercoaster of emotions. When they win, I'm thrilled and when they don't like, I'm just crushed.
With the audiences, I would definitely get a little enthusiastic and I would try and like, help them. I'd be like, okay, now just think it through and I would try and help them a little bit but I also had to be careful because there's like a whole legal team watching."
Question 4:    Are there any references to your previous work?
He told us most of the questions are from the current time and this era. There are more contemporary references in it because the kids have a higher chance of getting it.
"I think that's kind of where the cultural references come from because parents, the adults they might not know them, but the kids could, so I think they don't go back to my day. That would be too difficult of a question."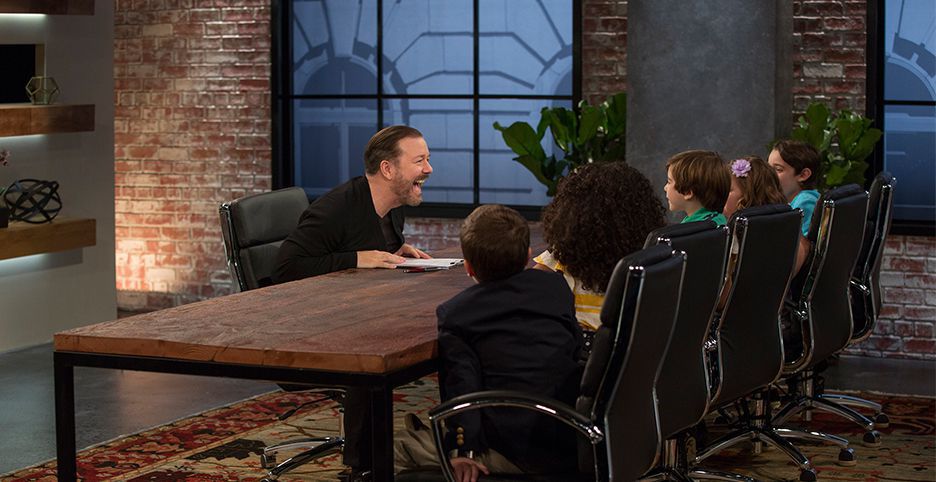 Question 5:    Is there one experience that stood out?
He told us a few contestants stood out to him. The ones that get so far but end up losing at the end stick out to him as well. Also the people that are funny stick out to him.
What struck me is that they filmed all the episodes over two days! Two days!
"I don't know how the episodes are structured, but hopefully, you get to meet some of these people because they are really great."
Question 6:    Did anybody walk away with a hundred thousand?
He didn't tell us but he did tell us there are people that leave with a lot of money.
Question 7:    Did you work directly with Ricky Gervais?
He told us he only spoken to him on the phone. They filmed separately but he said from speaking to him, they had a great rapor.
Question 8:    What's your favorite part about hosting?
" I just enjoyed it. I had so much fun. The biggest thing was before we started shooting, I would go out and say hello to the audience and just say, I have no idea how I became a game show host. This was not a goal of mine but I learned that I really have this inner game show host just dying. I didn't even know it was there. Just dying to come out because I had so much fun."
We then talked about the name of the show and what we thought about it. The majority of us agreed that the name is perfect and once the audience views the show, I am sure that everyone will agree!
FOR MORE INFORMATION ABOUT CHILD SUPPORT, FOLLOW THEM ON THEIR SOCIAL MEDIA CHANNELS
Child Support Website:http://abc.go.com/shows/child-support.
Facebook: @childsupportabc