I am always on the hunt for a great pillow. Enter MediFlow Water Filled Pillows for ultimate comfort.
The gift of a great night sleep begins with a pillow. After all without a pillow, your neck becomes stiff and you end up getting uninterrupted or very little sleep. The Floating Comfort Pillow by Mediflow, is  the only pillow clinically proven to improve the quality of sleep.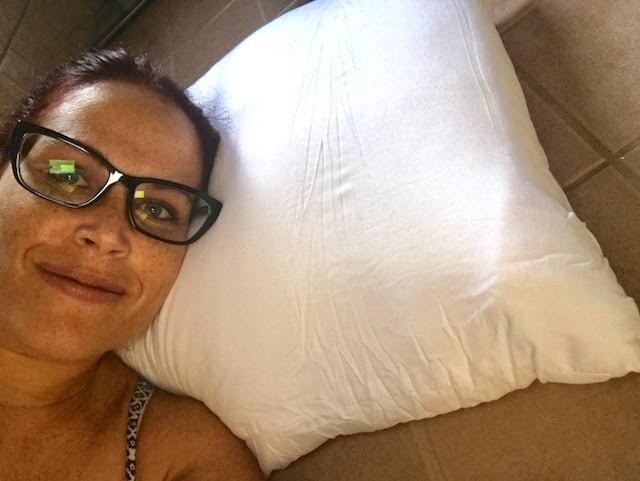 The Floating Comfort Pillow features an exclusive waterbase technology that provides responsive support by adapting to the shape of your head and neck as you move during sleep. No matter which way you lay, your head and neck remain in proper alignment, creating a totally different kind of sleeping experience. This is especially life changing for baby-wearing moms whose bodies always ache!

Here's why The Floating Comfort Pillow is a must-give holiday gift that will not disappoint any new mom:
> It's the only pillow clinically proven to improve the quality of sleep, as noted by a peer-reviewed study conducted at Johns Hopkins University School of Medicine
> Benefits include deeper sleep (no more waking up to fluff your pillow!) and a reduction in neck pain
> It's customizable. Choose your preferred filling (fiber, foam and feather) and level of comfort – just fill the pillow with tap water until you reach your desired amount of firmness
> Ranked #1 selling pillow in six countries (USA, Canada, UK, Germany, France and China)
> Over 5 million sold – reaching #1 on global e-commerce platforms including Amazon, Shopify, Bed Bath & Beyond, and Alibaba with consistent 4+ Star reviews
> Reached #1 Bestseller in Amazon Home & Kitchen during July 2017 among 24,163,959 items
Also, better nights of sleep lead to better functioning days for new moms – and that's something to benefit the whole family. This holiday season, show her how much you care about her well-being with the Floating Comfort Pillow by Mediflow. The MSRP is only $49.99, but the benefits are priceless. For more information, visit www.mediflow.com.
I have been using this pillow successfully for a month now and I ABSOLUTELY LOVE it. For a price of $49.99, you can't beat it! If you are looking for a great night sleep, look no further than the Floating Comfort Pillow!
*Samples provided. All opinions are my own and not swayed by outside sources.*