I am few weeks behind with my laughs. I have been traveling so much and getting behind in a lot, including my laughs. But I am BACK!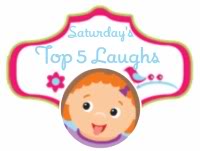 As always, come link up any cute or funny post. Definitely check out the other posts who link up as they all provide a great laugh. Feel free to take my button or share on social media, although this is not necessary. Have a great weekend!
MY LAUGHS:
5. We have our Halloween costumes. They are incredible. I told Zane we are keeping it a secret. Next day he goes blab to all his friends. You can't tell kids anything!
4. Hayley is not a fan of homework but she is a good student, and does it anyway. I told her she can do a playdate last week and she says, "Nah..I will do my homework." LOL!
3. Taylor is so excited to be her character from Halloween. She has been practicing it by wearing it 24/7.
2. Zane and Hayley love to keep each other up all night. I think they have codes to talk to each other.
My cutie:
YOUR LAUGHS: